As high school students challenge themselves with rigorous Advanced Placement courses across the nation, Florida governor Ron DeSantis has blocked students in his state from taking an AP African American Studies course. Florida's Department of Education Office of Articulation sent a letter to College Board, the nonprofit organization that handles AP courses, which claimed that their course on African American Studies was "inexplicably contrary to Florida law and significantly lacks educational value."
The Florida law in question is The Individual Freedom Act, also known as the Stop Woke Act, which restricts how race is taught in schools, as well as a law banning Critical Race Theory from being taught at state funded institutions. While Black history is required under the Stop WOKE Act, these pieces of legislation ban any criticism of colorblindness and mandate that history be taught in a manner that the state deems "objective." Teachers are not allowed to make students feel "guilty about past discrimination by members of their race."
What is missing from the law is concern for students of color, academic freedom and rigor, and the development of critical thinking skills.
But that's par for the course for a Governor who has turned latching onto Right-wing culture wars into an art form. DeSantis has bragged that Florida is where "woke goes to die," a slogan that has catapulted him ahead of former President Donald Trump in polling about 2024 matchups.
Using the word "woke"—a term created by Black people to refer to systemic injustice—and disregarding what Black people mean by it in order to ridicule it is anti-Black. So in some ways, his administration banning an African American Studies AP should not surprise us.
But it should dismay us. Contrary to what DeSantis may wish you to believe, research has shown that an inclusive curriculum improves academic outcomes for students of color and white students. Discussing concepts like system inequity does not made students resent one another—quite the opposite.
Yet in a state that is 15 percent Black, African American Studies is a bridge too far. What is DeSantis afraid of? Why would he not want students to explore inconvenient academic concepts like institutional and systemic racism and the ineffectiveness of a colorblind approach?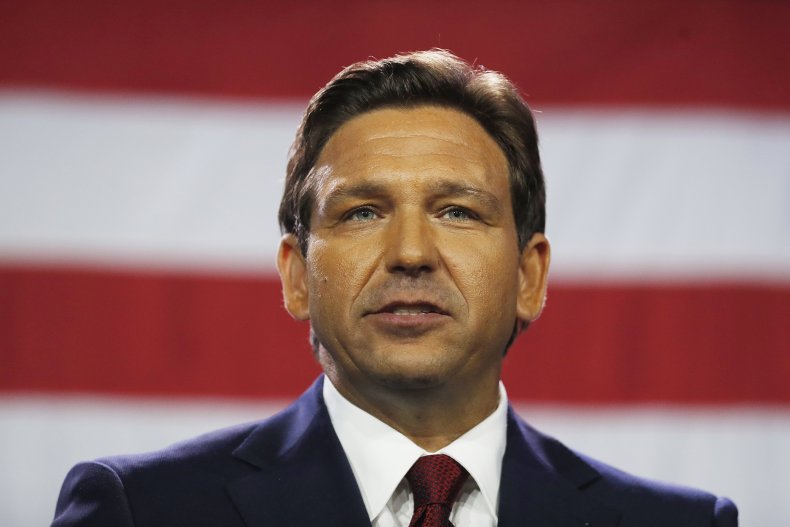 Perhaps students will begin to question Governor DeSantis on why Florida still celebrates three Confederate holidays. They may also wonder why the state has 75 Confederate Monuments, the result of a miseducation campaign by the United Daughters of the Confederacy. Students at Robert E. Lee High School in Duval County may already be wondering why their school venerates the name of a man who fought for the pro-slavery Confederacy.
Beyond symbols and paraphernalia, Florida has been ground zero for systemic racism. Students in Miami-Dade may learn that Overtown, an impoverished section of the city, was once a relatively prosperous Black community dubbed "the Harlem of the South" before city and state officials built highways right through Overtown, displacing thousands of Black residents and upending its business district. Residents were unable to live and set up their businesses in white communities, leaving Black Miamians in overcrowded communities that have been economically decimated for generations.
Colorblindness hasn't lifted the victims of that economic devastation out of poverty. Should students ever get to take the African American Studies course, they may begin to question how you solve a color problem by being blind to it. You don't cure cancer by being "cancer blind." If anything, that would lead to worse outcomes. Problems are solved by addressing them directly.
DeSantis himself may have to answer for how a state with a lengthy history of Black and brown voter suppression, including the brutal Ocoee Massacre, established a police force for "election crimes and security" when it's been proven that election fraud is exceedingly rare. Florida's election police arrested 20 people, at least 14 of whom were Black. At least three of the cases have already been dismissed.
Perhaps students taking this course would begin to look at their own governor and see parallels between his migrant flight stunt and the "Reverse Freedom Rides" organized by Little Rock's White Citizens' Council in 1962, which duped working-class Blacks with promises of jobs and housing to arrive in quaint, posh Hyannis, Massachusetts, home to the Kennedy family. Racist Southern whites funded a bus ride for Black citizens, believing that wealthy white liberals in the north who supported desegregation would be disturbed by having Black people around. The organizers of the Reverse Freedom Ride wanted to target Ted Kennedy, who was running for the Senate in Massachusetts. Many of the Reverse Freedom Riders ended up in Boston with the help of the NAACP and others.
Sound familiar?
It should, to anyone who was following DeSantis's Martha's Vineyard stunt. Political stunts like these are a tradition for Governors that goes back to the Jim Crow era of Orval Faubus and Ross Barnett.
Most of all, Americans who are concerned about free speech should be terrified by reactionary government officials like DeSantis, whose answer to complicated questions is authoritarian censorship, book banning, and curtailing academic freedoms.
African American Studies does not tell students what to think. It allows them to come to their own conclusions. Perhaps that's what DeSantis fears.
DeSantis has been trying to tell us who he is. It's time we believe him.
Dr. Jason Nichols is an award winning senior lecturer in the African American Studies Department at the University of Maryland College Park and was the longtime editor-in-chief of Words Beats & Life: The Global Journal of Hip-Hop Culture.
The views expressed in this article are the writer's own.