Ron DeSantis Briefing Stalled by Man Claiming Governor Is 'Afraid' to Meet With Public
A press conference held by Florida's Ron DeSantis was held up on Tuesday as a community activist confronted the governor's response to the coronavirus pandemic.
Miami news station WPLG first reported that Ben Frazier, president of the Jacksonville Northside Coalition, arrived ahead of DeSantis at his scheduled media appearance at the Florida Department of Health in Duval.
"Your governor, by the way, throughout this pandemic has been asleep at the wheel," Frazier said to an apparent staffer for the governor. "And in recent weeks, during the upsurge of the variant, this governor has been mysteriously missing in action."
"It's time for him to address the people," Frazier added. "Go and get him."
After several minutes, during which Frazier called DeSantis the "enemy of the people" and accused him of being "afraid to meet with people," police entered the area and handcuffed him.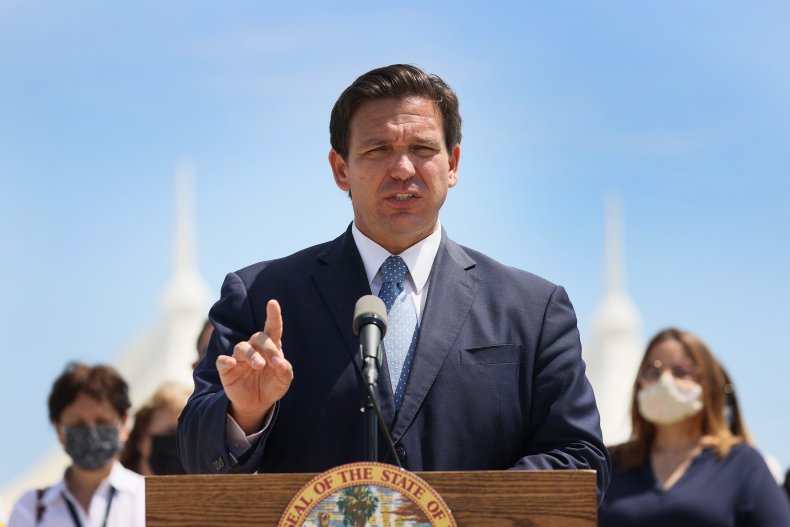 Christina Pushaw, a spokeswoman for DeSantis, told Newsweek in an email that it was their understanding that Frazier was arrested by Jacksonville police for trespassing. The Jacksonville Sheriff's Office told Newsweek that Frazier was issued a Notice to Appear and released in lieu of a physical arrest.
"The press conference is for credentialed media to cover information from the governor's office and state leaders that is important for the public to hear. Mr. Frazier is an activist, not a member of the press," Pushaw said. "Every citizen has the right to protest in public places—but not to trespass in a secured facility in order to disrupt a press briefing and prevent information from being conveyed to the public."
DeSantis was criticized by his opponents for not appearing in public as coronavirus cases reached record-highs in the state. A banner reading "Florida is on fire and Ron is missing" made its way across the skies over Miami and South Beach last week before the governor stepped out with his wife on New Year's Eve.
On Monday, the governor held his first press conference since mid-December to discuss monoclonal antibodies and testing as Florida experiences shortages of both amid the Omicron surge.
"As a point of fact, Governor DeSantis meets with the public frequently. On New Year's Eve, he and his wife attended two public events, and yesterday, the governor had a press conference on COVID-19 treatment in Broward County," Pushaw told Newsweek. "Members of the press in Florida have opportunities to ask questions of the governor at his press conferences, which take place in different parts of the state on a near-daily basis."
Several counties in Florida have seen virus cases soar 500 percent or more over the past two weeks. DeSantis on Monday acknowledged a "crunch" on the number of tests available for residents, and his administration outlined new guidance for those who should get screened.
"It's really time for people to be living, to make the decisions they want regarding vaccination, to enjoy the fact that many people have natural immunity and to unwind this preoccupation with only COVID as determining the boundaries and constraints and possibilities of life," said Florida Surgeon General Dr. Joseph Ladapo.
Newsweek reached out to the Jacksonville Northside Coalition for comment.
Update 01/04/22, 1:50 p.m. ET: This story was updated with more information and background.