Ron DeSantis Called out by Jewish Leaders Over Doug Mastriano Rally
Jewish and Democratic leaders in Florida have spoken out against Florida Governor Ron DeSantis' upcoming appearance at a rally in Pittsburgh, where he is set to campaign for Pennsylvania's Republican gubernatorial nominee, Doug Mastriano.
Rabbi Mark Winer, president of the Florida Democratic Party Jewish Caucus, said on Thursday that DeSantis' association with Mastriano provides an "active comfort" to bigotry and racism.
"His going out of his way to campaign for Mastriano just underlines for all of us in Florida the extent to which Governor DeSantis provides such comfort—such safe harbor—to bigots and racists of every kind," Winer said in a video call with reporters on Thursday, according to the Pennsylvania Capital-Star.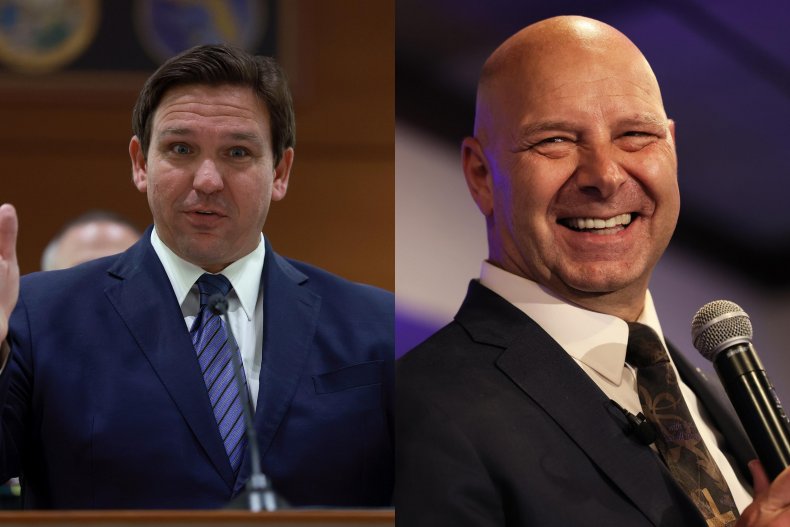 Mastriano, who is currently a state senator, has been rebuked for his association with Gab, a far-right social networking site that has been used by more conservative extremists. In addition, Mastriano was notably present at the January 6 Capitol riots in 2021. He won the GOP nomination for governor after being endorsed by former President Donald Trump.
Allegations of Mastriano being antisemitic were fueled after the senator praised Gab CEO Andrew Torba, who has previously expressed disdain for Jews, including Mastriano's challenger, Democratic gubernatorial nominee Josh Shapiro.
"Let's not mince words here: Mastriano is an antisemite," Fred Guttenberg, an anti-gun violence activist whose daughter died in the Majorie Stoneman Douglas High School shooting in 2018, said on Thursday, according to the Capital-Star. "He has shown himself to be with words and actions over an extended period of time. Any embrace of Mastriano is an embrace of antisemitism, full stop."
Leaders in Jewish Democratic communities called on the Florida governor to cancel his appearance at the campaign rally in Pittsburgh on Friday. The rally is organized by Turning Point America and will take place at the Wyndham Grand Pittsburgh Downtown hotel.
"When Ron DeSantis goes to Pennsylvania to campaign for Mastriano, what he's doing is he's encouraging all of the bigotry—not he himself expressing it—but by supporting Mastriano and Mastriano is at least one or two steps ahead of Ron DeSantis in his fomenting this bigotry," said Winer, according to the Capital-Star.
Guttenberg also called out DeSantis, saying, "Hate has no place and it leads to the violence that we continue to see, which really gets to why I am raging at this meeting that is going to take place with my Governor DeSantis and Mastriano," according to the Capital-Star.
"If you show up there tomorrow, that is a full embrace of the antisemitism which some people fear you are embracing," he added. "And we are now going to see it in the open."
Newsweek reached out to a representative for Ron DeSantis for additional comment.