Ron DeSantis Calls for Gas Tax Relief in Florida as GOP Hammers Biden on Inflation
Florida Governor Ron DeSantis is pushing for more than $1 billion in gas tax relief for his state's residents—and blaming the Biden administration for soaring inflation.
The Republican governor announced Monday that he wants Florida lawmakers to address the issue in their upcoming legislative session. According to the governor, the proposal will save the average Florida family $200 over a five- or six-month period.
"Gas prices have been rising due to inflationary pressures from bad federal policies, so we here in Florida need to step up and provide relief to our citizens," DeSantis said as he made appearances at gas stations in Daytona Beach and Jacksonville.
As of Monday, the average price for a gallon of regular unleaded gas was $3.409—more than a dollar higher than the average price one year ago—according to a tracker from the American Automobile Association (AAA).
In Florida, the average price of a gallon of regular unleaded gas is slightly below the national average at $3.354, but still higher than it was at this point last year.
"It's $1.31 more than it was a year ago today just right here, and that's really true throughout the rest of the country—people having to pay a lot more for gas," the governor said. DeSantis added that several businesses, including Buc-ee's and Wawa, told him they would lower their gas prices if this initiative went into place.
The governor pointed the blame at the federal government: "Obviously this is being driven by inflationary policies out of Washington. Florida's obviously not causing this, it's happening all across the country, but what can we do to make an impact?"
DeSantis' comments came as Republican officials across the country drill President Joe Biden's administration on the rising costs of gas, food and other goods. Consumer prices rose last month at the fastest pace in three decades.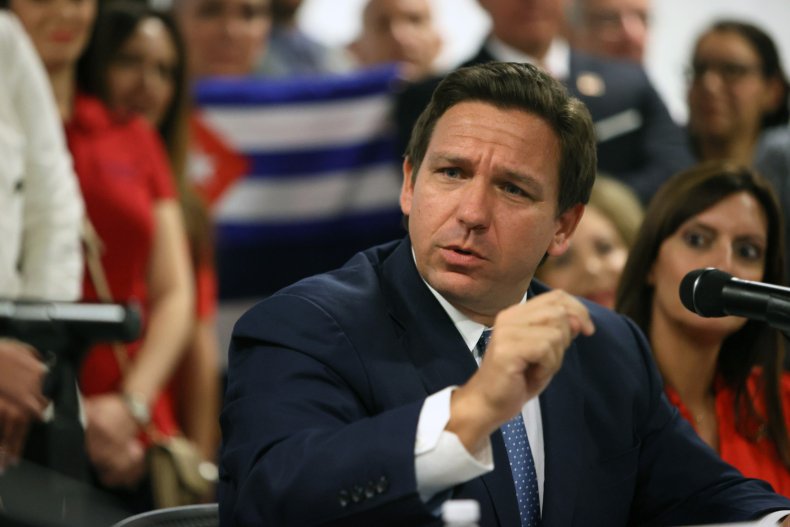 As Biden signed the $1.2 trillion bipartisan infrastructure bill into law, Senate Minority Leader Mitch McConnell labeled the price increases the "Democrats' inflation crisis" during a floor speech.
"The same Democrats who spent months denying that inflation was a lasting problem, the last people in America to wake up to this reality, are now convinced they're just the people to fix it," the Republican leader said.
House Minority Leader Kevin McCarthy has accused the administration of "only exacerbated the anxiety families face as we approach the most expensive Thanksgiving on record that will involve soaring prices and a scarcity of goods."
Last week, Biden called on the Federal Trade Commission to investigate whether illegal conduct is responsible for driving gas prices up citing "mounting evidence of anti-consumer behavior by oil and gas companies."
The administration has also been pushed to tap emergency petroleum reserves to drive down prices. Bloomberg reported Monday that officials have been contemplating eventually releasing more than 35 million barrels from the Strategic Petroleum Reserve, but a National Security Council spokesperson told Newsweek that nothing has been decided yet.