Ron DeSantis Calls Russia's Military 'Third Rate,' No Threat to NATO
Republican Governor Ron DeSantis of Florida on Monday downplayed the threat Russian President Vladimir Putin's military poses on the world during an appearance on Fox & Friends.
"The fear of Russia going into NATO countries and all of that and steamrolling...That has not even come close to happening," DeSantis said. "I think they've shown themselves to be a third-rate military power. I think they've suffered tremendous, tremendous losses."
The Republican leader also criticized President Joe Biden's approach to the war in Ukraine as the president made an unannounced trip to Kyiv ahead of the one-year anniversary of Putin's invasion. Speaking on the Fox News morning show, DeSantis slammed the president for giving more aid to Ukrainian President Volodymyr Zelensky.
DeSantis said the Biden administration should "identify what is the strategic objective that they're trying to achieve" in Ukraine rather than giving Zelensky "an open-ended blank check."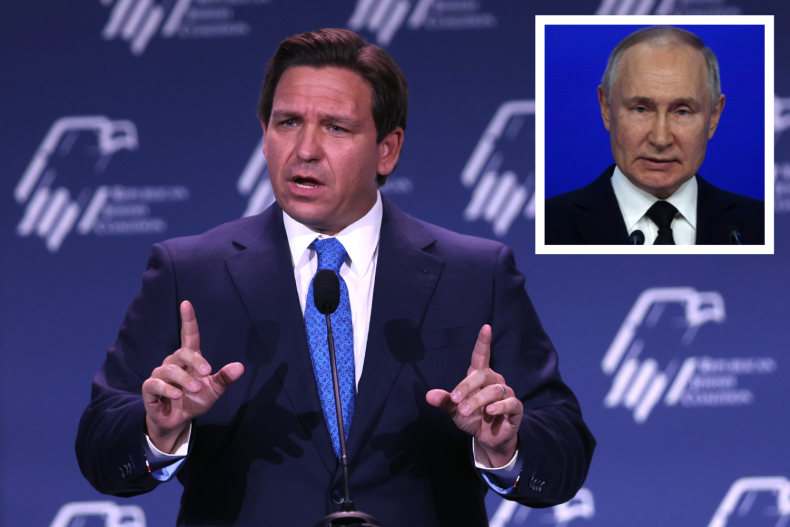 The governor also suggested that the Ukraine war may not have occurred if Biden had handled the 2021 withdrawal of American troops from Afghanistan differently.
"I don't think any of this would have happened, but for the weakness that the president showed during his first year in office, culminating, of course, in the disastrous withdrawal in Afghanistan," DeSantis said.
Speaking more on Russia, DeSantis said he doesn't feel the United States should be "getting involved over things like the borderlands or over Crimea." He further cautioned about starting "a proxy war with China," who he said presents more of a danger to the U.S. than Russia.
"I think Russia has been really, really wounded here. I don't think that they are the same threat to our country—even though they're hostile—I don't think they're on the same level as China," DeSantis said.
DeSantis' interview on Fox & Friends came during a stop on a tour he's undertaking to promote law enforcement in cities that have liberal leaders. On Monday, he was in Staten Island, New York, and he will next visit Philadelphia before making a stop in Chicago.
"We need everyone around the country to support the people that wear the uniform, to support policies that keep community safe and to abandon this woke nonsense, like just releasing these criminals or electing prosecutors that don't follow the law," he said while discussing his pro-police tour.
Before his Fox & Friends appearance wrapped, DeSantis was asked if he has any plans to announce whether or not he will run for president in 2024. He answered by saying he will be promoting his new book in the upcoming weeks and then focusing on the start of Florida's new legislative session on March 8.
"So those are what we're going to be doing over these next few months," he said. "As we get beyond that, then then we can decide from there."
Newsweek reached out to DeSantis, Fox News and the Russian Ministry for Foreign Affairs for comment.