Florida Governor Ron DeSantis, a vocal critic of mask mandates since the beginning of the pandemic, celebrated Monday's ruling from a federal judge that struck down the Biden administration's mask mandate for airplanes and other public transportation.
"Great to see a federal judge in Florida follow the law and reject the Biden transportation mask mandate. Both airline employees and passengers deserve to have this misery end," DeSantis tweeted.
Earlier in the day, U.S. District Judge Kathryn Kimball Mizelle overturned the mandate from the U.S. Centers for Disease Control and Prevention (CDC), saying the order exceeded the authority of the agency and that its implementation violated administrative law.
The CDC announced last week that it would extend the mask mandate for airplanes and trains through to May 3, citing rising COVID-19 cases and new variants.
Mizelle, who was appointed to the federal court in 2020 by former President Donald Trump, wrote that the mandate was "an exercise of the CDC's power to conditionally release individuals to travel despite concerns that they may spread a communicable disease (and to detain or partially quarantine those who refuse)"—a power she said should be limited to travelers entering the U.S. from outside the country.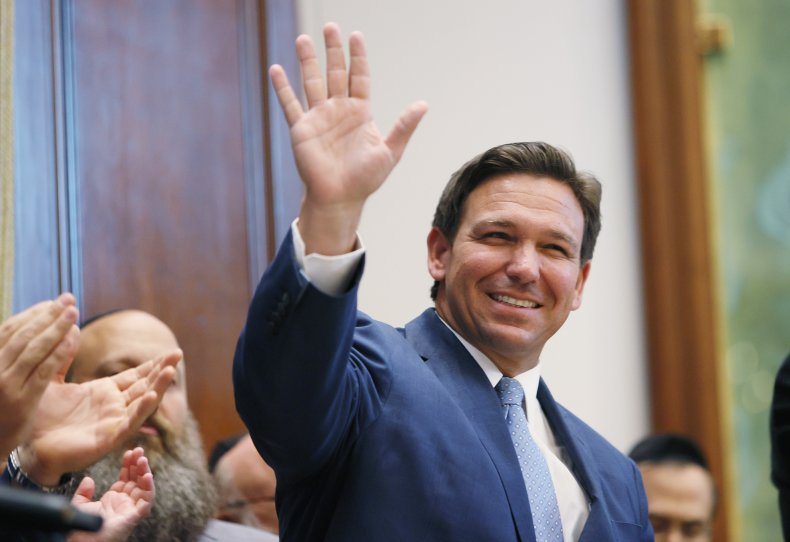 Less than a month ago, DeSantis and his attorney general filed their own lawsuit against the mask mandate for public transportation on behalf of Florida and 20 other states.
"Florida has led the nation in standing up to misguided federal government policies and fighting back against heavy-handed mandates that have no scientific backing," the governor said in a March 29 press release.
Alabama, Alaska, Arizona, Arkansas, Georgia, Idaho, Indiana, Kansas, Kentucky, Louisiana, Mississippi, Missouri, Montana, Nebraska, Ohio, Oklahoma, South Carolina, Utah, Virginia and West Virginia were also listed in the complaint.
"If politicians and celebrities can attend the Super Bowl unmasked, every U.S. citizen should have the right to fly unmasked. It is well past time to get rid of this unnecessary mandate and get back to normal life," DeSantis said.
Flight attendants and industry groups have also called on the Biden administration to lift the mandate, citing the rise in unruly passengers. According to the Federal Aviation Administration, face mask-related incidents accounted for more than 6 in 10 reports of unruly passengers this year.
"Serving onboard during these contentious times and enforcing mask compliance is one of the most difficult jobs we have ever faced as flight attendants," TWU Local 556, the union representing attendants with Southwest Airlines, wrote in a March letter to the president.
It remains unclear how quickly the ruling will be implemented or if the Biden administration will file an appeal. When reached for comment, the U.S. Transportation Security Administration referred Newsweek to the CDC.
Newsweek reached out to the CDC for comment.
Delta Airlines also referred Newsweek to the federal health agency for comment.