Ron DeSantis Defends Controversial Florida Anti-Riot Bill, Says It Is 'Really Necessary'
Florida Governor Ron DeSantis has defended an "anti-riot" bill he signed this week after Democrats and activists argued that it would stifle lawful protest and their First Amendment rights.
In an interview with Fox News on Tuesday night, Gov. DeSantis said it was "not at all" the case that the state legislation impeded people's right to assembly under the Constitution. The Republican also said the bill was "really necessary" in the wake of violent protests last year.
Asked if the legislation infringed First Amendment rights, Gov. DeSantis replied: "Not at all. If you're throwing a brick at a law enforcement officer's head, which many people were doing throughout the summer, that is nothing to do with the First Amendment.
"If you break into a store and damage people's property, or steal people's property, doesn't have anything to do with the First Amendment.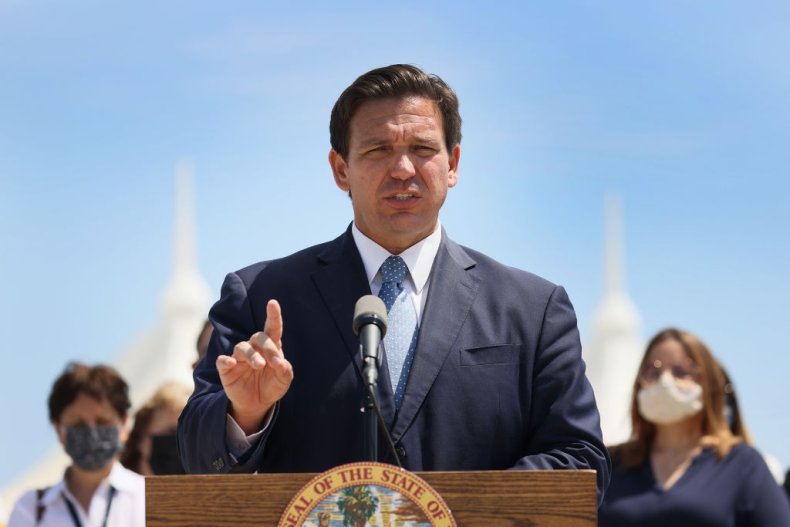 "If you have a mob of people descend on an innocent civilian, and intimidate and harass them, doesn't have anything to do with the First Amendment. And so I think this was a really necessary piece of legislation."
Under the HB1 bill, protesters who deface or damage statues, memorials and other historical properties in Florida will face felony charges and restitution fines. Demonstrators who obstruct traffic deliberately will face misdemeanor charges.
Local authorities believed to have obstructed or curtailed law enforcement responses to protesters and riots will also lose civil liability protections under the legislation.
Similarly, penalties for crimes committed amid riots and violent protests, such as looting, will be more severe under HB1, which came into effect on Monday.
Gov. DeSantis was joined by officers from Polk County Sheriff's Office on Monday as he signed the Combating Public Disorder Act onto the Florida statute book.
"In Florida, we are taking an unapologetic stand for the rule of law and public safety," the Republican governor said.
In an interview with Breitbart on Monday, he said protesters had been allowed to "run wild" in cities such as Minneapolis.
However, a number of Democrats and civil rights groups have criticized his bill, arguing that it infringes on liberties set out in the Constitution.
"Gov. DeSantis signed a racist, anti-democratic, un-American bill into law Monday," the American Civil Liberties Union of Florida tweeted on Tuesday. "We will always fight for Floridians' First Amendment rights."
The Florida Democratic Party called the bill an "extremely dangerous" piece of legislation designed to scare "those with differing opinions" while criminalizing forms of peaceful protest.