Ron DeSantis, Trump's No.1 GOP Rival, Flexes His Fundraising Muscles
Florida Governor Ron DeSantis has reportedly raised over $100 million for his Florida gubernatorial campaign—all through donations.
According to figures filed with the Florida Secretary of State, between January 1 and December 31, 2021, DeSantis received a total of $109.869 million—with $6.6 million of total contributions coming from the Republican Governor Associations alone, and $5 million from Kenneth C. Griffin.
The Sunshine State governor's ability to raise that large a sum—through both major donors and grassroots voters across all states—makes him likely to be Trump's number-one challenger for the role of GOP presidential candidate in the 2024 election.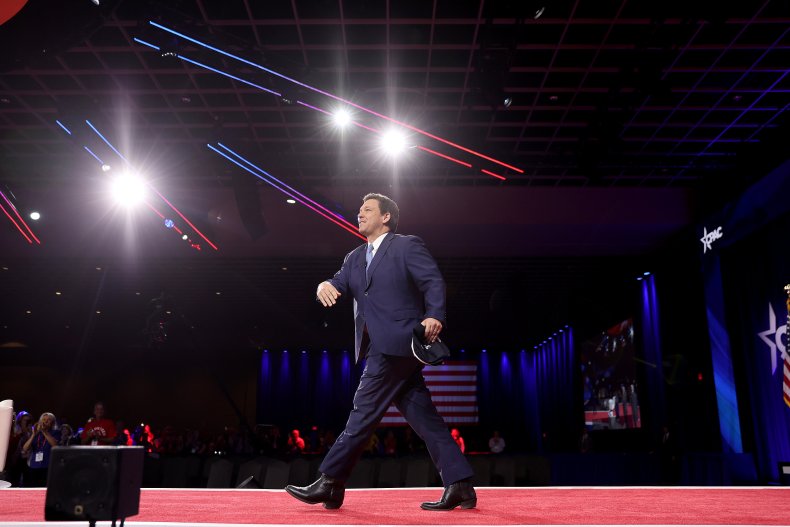 By comparison, former President Donald Trump raised $51 million in the final six months of 2021—down from $82 million in the first half of the year—and currently has $122 million on hand.
Even more significant is that many among DeSantis' funders are former Trump backers, including Home Depot co-founder Bernie Marcus, WeatherTech CEO David MacNeil and billionaires Richard and Elizabeth Uihlein.
DeSantis' popularity has grown since his election in 2019 thanks to his approach to the pandemic—opposing restrictions—and controversial laws like the 'Don't Say Gay' bill, banning teachers from kindergarten to third grade from talking about gender and sexual orientation to their pupils.
"He is a powerful candidate with a platform that he has trialed in Florida, and is carefully tailored to appeal to GOP primary and caucus voters," Nigel Bowles of the UK's University of Oxford tells Newsweek.
But although the ability to raise conspicuous sums of money is key to present oneself as a robust presidential candidate, this skill alone doesn't necessarily ensure a successful candidacy within the party.
"A cautionary note on his financial strength is that abundant resources ensure attention, but do not guarantee votes," Bowles says.
"John Connally [former governor of Texas], a more experienced and probably more capable politician than DeSantis, raised and spent $11 million on his 14-month campaign for the Republican Presidential nomination in 1980, but withdrew from the primaries having gained the commitment of just one GOP convention delegate."
Trump himself told The Washington Post last week that he doesn't believe DeSantis would run as a candidate against him. He said the same about Mike Pence and Mike Pompeo.
"If I ran, I can't imagine they'd want to run," Trump said. "Some out of loyalty would have had a hard time running. I think that most of those people, and almost every name you mentioned, is there because of me.
"In some cases, because I backed them and endorsed them. You know Ron was at 3 percent, and the day I endorsed him, he won the race," Trump responded to the newspaper's journalist asking him if he had "made" DeSantis.
None of the three Republicans has officially ruled out running as presidential contenders. Former Secretary of State Pompeo told Fox News reporters his family "make their own decisions."
DeSantis is backed by many Republican voters, with supporters on Twitter rallying around the hashtag #DeSantis2024, with some calling Florida's governor the "OG MAGA" and others saying that it's "time to move on" from Trump.
"At this point, Ron DeSantis seems like the most probable alternative to Trump as a GOP presidential nominee—but the operative word is 'alternative'," Thomas Gift, director of the Centre on U.S. Politics at University College London, tells Newsweek.
"Trump still has to be considered the prohibitive favorite if he throws his hat in the ring in 2024, and any primary that pits DeSantis against Trump is one that pits David against Goliath.
"There's a good case to be made, however, that DeSantis would actually make the stronger nominee in a general election. A 'Trump-like' candidate without all the Trump baggage, DeSantis would still be capable of energizing the Republican base, and with potentially more crossover appeal among moderates and swing voters," Gift adds.
On the other hand, Nick Iarossi, co-founder of Capital City Consulting and DeSantis fundraiser, doesn't believe the rivalry between DeSantis and Trump exists.
"Florida is among the most expensive states to run a campaign and the Governor is running for re-election in November," he tells Newsweek.
"DeSantis has national popularity because of how he governs and as a result is public enemy number one of the far left, so he's building a robust campaign arsenal to fight back. Any narrative about a Trump rivalry is promoted by his opponents or manufactured for entertainment where there is none."
A poll conducted by POLITICO and released in March showed that a staggering 56 percent of Republican voters would support Trump's candidacy in 2024, against a meager 13 percent supporting DeSantis' candidacy.
Twenty-seven percent of Republican voters would like Trump to name DeSantis as his vice-presidential running mate.
DeSantis told Fox News the White House race is "not anything that I'm planning for."
Newsweek has reached out to DeSantis for comment.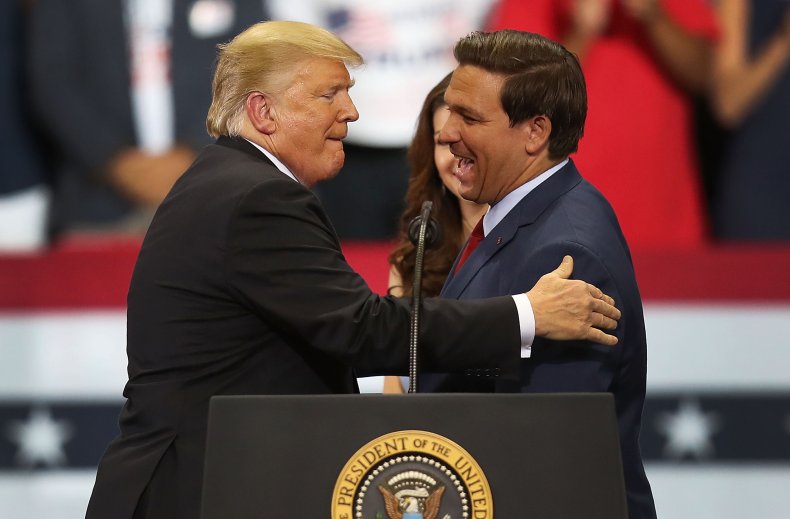 04/11/2022 1:35 p.m. ET. This article was updated with comments from Nick Iarossi.