Ron DeSantis Event Disrupted by Florida Gun Control Activists
A ticketed event on Thursday hosted by conservative political commentator Dave Rubin and starring Florida Governor Ron DeSantis was suddenly interrupted by gun control activists who tried to draw the governor's attention over the issue of gun safety.
Activist Maxwell Alejandro Frost, a Gen Z-er Democrat who's running for Congress in November, interrupted DeSantis speaking at the event at Orlando's Plaza Live, suggestively titled "Don't Burn This Country," asking what action he was going to take to curb gun violence.
"Governor DeSantis, we're losing 100 people a day due to gun violence," Frost can be heard telling the Republican governor in a clip the activist shared on his Twitter account. "Governor, we need you to take action on gun violence."
DeSantis, who was initially trying to continue talking over the activist, then waves his hand in his direction and says: "Nobody wants to hear from you."
The activist does not desist and continues telling DeSantis, "We need to take action."
"Floridians are dying," Frost continues shouting over the crowd's loud booing.
Frost is then apparently escorted out by police as he continues asking for DeSantis to act on gun violence, as people in the crowd start chanting "Loser, loser."
Three other activists intervened at the same event, including Jack Petocz and Jen Cousins.
"Governor DeSantis, why don't you care about my life? Why are you making it easier for dangerous people to get guns?," Petocz yelled at the stage.
Petocz shared a clip on Twitter documenting the moment. He said he was also escorted out by security and DeSantis did not address his question.
Another clip shared by Cousins on Twitter showed the activist asking DeSantis if he's really "gonna make it easier to put guns in the hands of dangerous people." Again the event's participants boo at the interruption.
Frost told Newsweek that the activists had planned action at the event after hearing that DeSantis was a guest at Rubin's show. "We found folks who were willing to help us get inside the venue. And we waited till Ron DeSantis came up. And in five-minute intervals, we stood up and we walked up and we asked questions."
Frost said that the group of activists was moved to act by the governor's silence on gun violence following the Uvalde shooting, and by the fact that the event was held in the heart of Orlando's Milk District, "one of the most vibrant queer communities in our city." DeSantis has championed a law dubbed the "Don't Say Gay" bill that bans school teachers in the state from talking to students in certain grades about gender and sexual orientation.
"We collectively decided we can't let him come to that venue in our city without being pressed and asked about what he's going to do to keep us safe," said Frost.
"We weren't yelling or we weren't saying, 'Screw you' to DeSantis or anything like that. We were just simply asking to help us. We need our leadership right now. We need a bill on gun violence," Frost told Newsweek. "And instead of taking the opportunity to engage with the constituents, which is an obviously frustrated constituent that's worried about being gunned down in the street, he took the opportunity to bully and make fun of me."
DeSantis has recently repeated his support for a change in state law that would allow residents to carry concealed guns without needing permits, saying he "will get it done."
"I can't tell you if it's going to be next week, six months, but I can tell you before I am done as governor, we will have a signature on that bill," said the Republican governor during a press conference in late April in rural Levy County.
DeSantis has not recently commented on the deadly shooting in Uvalde, Texas, where 19 children and two teachers were killed by 18-year-old gunman Salvador Ramos.
Newsweek has contacted DeSantis for comment over the incidents at the Orlando event.
The event in Orlando was preceded by protests on Wednesday organized by Gen-Z for Change, the same group the two activists who disrupted Thursday's event belong to. Protests were also attended by DeSantis' Democratic challengers Charlie Crist and Nikki Fried.
A picture shared by Rubin on Twitter after the event shows an apparently full arena, where the capacity of the venue was for over 900 seating places and over 1,200 standing places.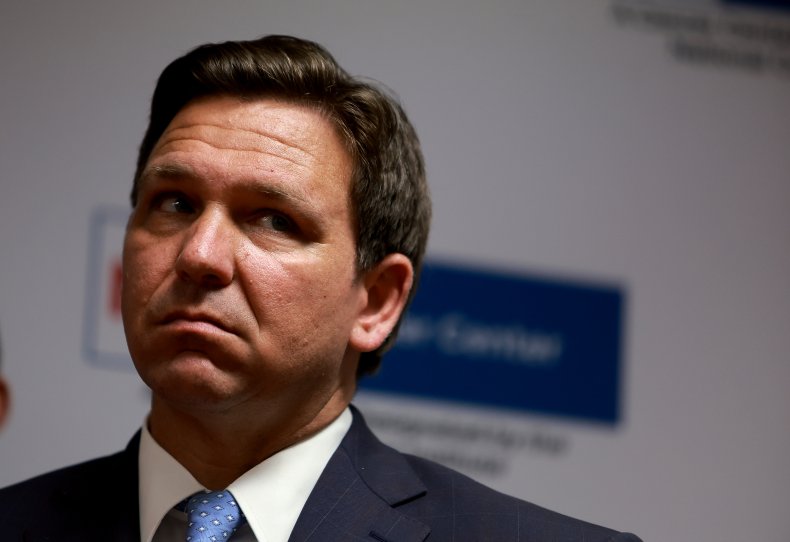 Update 6/3/22 12:33 p.m. EDT. This article was updated with comments by Maxwell Alejandro Frost.