Ron DeSantis' Florida Congressional Map Is One of the Most Biased in U.S.
The Florida House of Representatives approved a new congressional map for the U.S. House of Representatives on Thursday that is one of the most biased in the country, according to analysis from poll tracker FiveThirtyEight.
The GOP-controlled House voted in favor of Republican Governor Ron DeSantis' proposed map amid protests from Democrats in the chamber, who staged a sit-in against the measure, which will eliminate two districts held by African American Democrats.
The new maps will allow Republicans to gain four new seats, according to the analysis by FiveThirtyEight, while Democrats will likely lose three of the seats they now hold.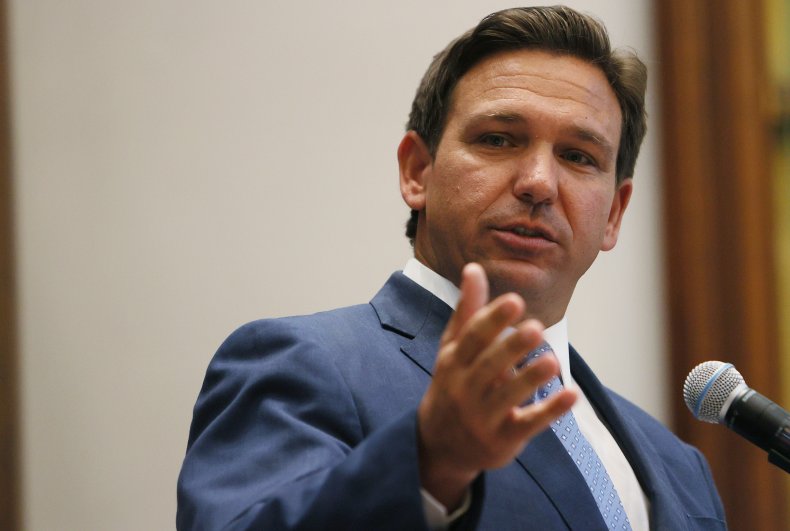 FiveThirtyEight reported on Thursday that its analysis showed 18 of the proposed districts have a partisan lean of +5 or more for Republicans, while eight seats have a partisan lean of +5 or more for Democrats and the remaining two are highly competitive.
FiveThirtyEight's senior elections analyst Nathaniel Rakich said the map shows "extreme bias" in favor of the GOP.
"This is about as big of a Republican bias that Florida's congressional map could have—and darn close to the most egregiously partisan map in the country," Rakich wrote.
He added that the map was "right on Texas's heels for the 'honor' of having the biggest bias of any state." FiveThirtyEight ranks the Florida map as the second-most biased after Texas, while California comes in third place.
However, the map may not be implemented in time for the 2022 midterm elections as Democrats are likely to take the matter to court and argue that it's illegal.
Under DeSantis' maps, which he is expected to sign into law, Representative Al Lawson's 5th district and Representative Val Demings' 10th district would cease to exist in their current form.
Demings isn't seeking re-election to the House this year because she's challenging Senator Marco Rubio (R-FL) for his seat, but Lawson's political future will be at serious risk if the maps are allowed to go ahead.
Demings issued a statement to Newsweek on Friday about the new map.
"Every day, come election time, my mom and dad made their way to the polls to cast their vote," Demings said.
"They did it because they knew their voices mattered on that day as much as the richest man or woman in town. Our democracy—our right to vote—is the foundation for everything else in our society, from our public safety to our economic opportunity," she said.
"Florida voters have made their opinion clear: we want fair elections and fair districts," Demings went on.
"Last year, we passed legislation to end partisan gerrymandering, because when cynical partisanship determines district lines, voters have their voices taken away. Florida voters should pick their representatives, instead of politicians choosing their voters."
Democrats have accused Republicans of carrying out racial gerrymandering and Democratic lawmakers staged a sit-in on Thursday.
Members of the the Florida Legislative Black Caucus shouted: "When Black votes are under attack, what do we do? Stand up. Fight back," as Republicans filed out of the chamber.
Objections to the new map are based in part on a 2010 amendment to the Florida state constitution, known as the Fair Districts amendment, which requires compact districts that do not favor one party.
Contender For the Top Job
However, DeSantis, who is considered a strong contender for the 2024 Republican presidential nomination, has argued that protecting minority districts is a violation of the 14th Amendment to the U.S. Constitution as it amounts to racial gerrymandering, which may make the the Fair Districts amendment itself unconstitutional.
The governor had previously claimed that Lawson's district violated the 14th Amendment by prioritizing race and threatened to veto earlier proposed maps that preserved it.
The Florida House then proposed new maps that reduced Lawson's district and centered it on the city of Jacksonville, but DeSantis vetoed that proposal on the same basis.
Alex Kelly, DeSantis' deputy chief of staff who drew up the new map, told a committee hearing of the state Senate on Tuesday that he didn't draw the new districts with race or political outcomes in mind.
Democratic state Senator Randolph Bracy asked Kelly if he had previously considered that Black voters in the current 10th district, represented by Demings, could end up being represented by a white Republican based upon his maps.
"It would have violated the law for me to go anywhere near an analysis like that," Kelly said. "I didn't draw a single district in this map based on race."
Newsweek has asked the offices of Ron DeSantis and Al Lawson for comment.
Update 04/22/22 09.50a.m. E.T.: This article was updated to include a statement from Representative Val Demings.