Ron DeSantis Out of Breath in Video Prompts COVID Speculation
Speculation is growing about the health of Florida Governor Ron DeSantis after he appeared to struggle to speak during a press conference.
On Wednesday, DeSantis was in Kissimmee, Osceola County, to announce that nearly $10 million would be awarded to support semiconductor and other tech manufacturing. But as DeSantis stood at the podium behind a sign that read "Manufacturing Florida's future," his voice wavered as he spoke.
A video of the press conference has been widely shared, with some suggesting that his apparent difficulty in getting to the end of sentences was caused by a COVID-19 infection.
It follows criticism from some quarters that DeSantis was not seen in public over the Christmas period.
There has been no official confirmation that he has the virus and Newsweek has contacted his office for comment.
"Here is a second angle of Ron DeSantis struggling with breathing problems during his event today," tweeted the left-leaning PAC Meidas Touch. The accompanying video had been viewed more than 1.5 million times by Thursday morning.
"The longer this clip goes on, the worse it gets," the Meidas Touch tweet added.
"I'm not saying Ron DeSantis has COVID, but I'd reaaaaaally encourage everyone in that room to quarantine for the next 10 days," tweeted commentator Bryan Tyler Cohen as he shared the video.
Steven M. Brown, a Twitter user from St. Louis who said he had been a lung doctor for 35 years, posted: "To my very experienced eyes and ears, there is a respiratory issue.
"His phrasing, limited breath support, and use of accessory muscles of respiration are telling. Doesn't confirm it's #COVID19, but something appears to be wrong."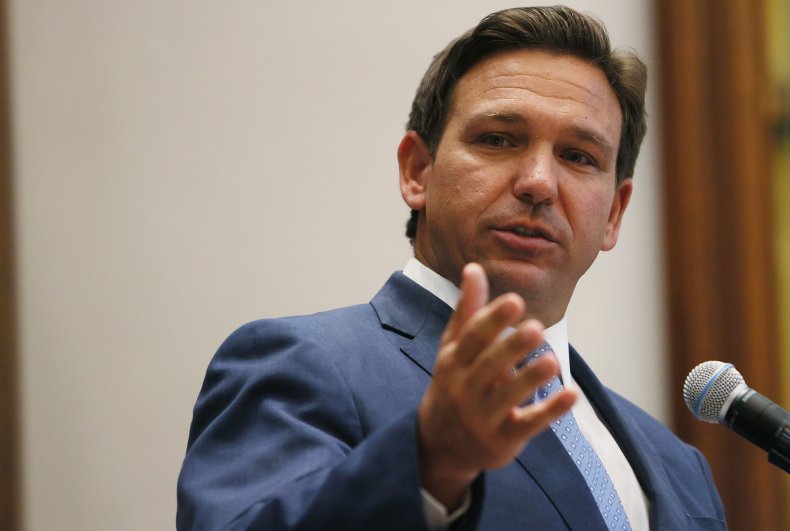 Sharing the clip of DeSantis, journalist Will Bunch tweeted: "This is how I've been talking this week. I have COVID-19."
A tweet from the account Duty to Warn said the governor had "clearly struggled with breathing today. He looked lousy, his chest heaved repeatedly, and he sounded like he has or had Covid."
The writer Michael Harriot tweeted: "I'm not saying Ron DeSantis had COVID. I'm just saying he disappeared for two weeks with no public appearances and came back breathing real funny."
This referred to criticisms that DeSantis had been "missing in action" over the holiday period, when the Sunshine State was hit by a surge in COVID-19 cases.
Last week, two Florida elected officials, an MSNBC host and the head of a group seeking to remove DeSantis from office hit out at the GOP governor.
DeSantis' spokesman Kyle Lamb rejected claims that the governor was on vacation, saying he was simply "doing work behind the scenes with a lighter public schedule, just like last year."
Lamb tweeted on December 31 that the criticism of DeSantis was a "desperate attempt to make a controversy where none exists."
DeSantis has battled with the Biden administration over vaccine and mask mandates. While COVID rates soar in his state, he has promoted the jab as the most effective COVID measure, although his office has not yet confirmed whether he has received a booster shot.