Ron DeSantis Displays Presidential Credentials Ahead of Milestone Address
Ron DeSantis looks set to try and position himself as the future of conservative politics as the Florida governor delivers his State of the State address on Tuesday.
DeSantis, who is strongly rumored to confirm in the coming weeks he is running for president in 2024, will deliver his address to the Republican-dominated legislature in Tallahassee while touching on a number of topics that could form the focus of his presidential campaign—namely battling against the "woke agenda" and forcing hardline bills targeting education, race, sexuality and gender.
The address arrives as DeSantis has essentially already begun his national presidential campaign over the last few weeks in all but name, with his speech another opportunity for the governor to showcase his credentials while noting his success and popularity in Florida.
In February, DeSantis visited police unions in New York City and the suburbs of Philadelphia and Chicago, boasting about how he has been tough on crime in the Sunshine State.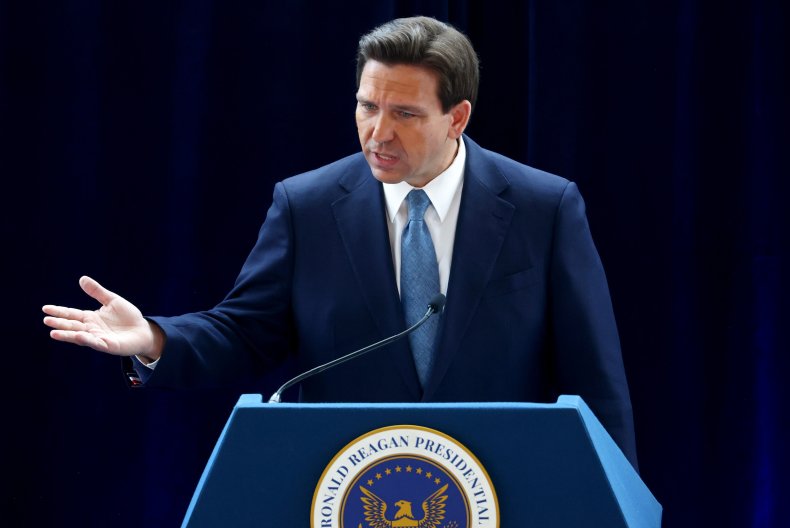 Last week, DeSantis skipped this year's Conservative Political Action Conference—where Donald Trump headlined— and instead spoke at a donor retreat hosted by the influential Club for Growth, to which the former president was not invited. During his appearance, DeSantis attacked Republicans who "sit back like potted plants" instead of engaging in the culture wars.
On Sunday, DeSantis also gave a speech at the Ronald Reagan Presidential Library in the Democratic stronghold of California to argue that left-wing ideology across the country was failing.
"The American people as a whole in some ways have voted about this experiment because they voted with their feet," DeSantis said. "And if you look over the last four years, we've witnessed a great American exodus from states governed by leftist politicians, imposing leftist ideology and delivering poor results."
DeSantis has long been considered the biggest challenger to Trump for the Republican Party's 2024 presidential primary nomination, with a number of polls also suggesting he is the one to replace Trump as the de-facto leader of the GOP.
While Trump was blamed for the GOP's poor midterm performance after a number of his endorsed MAGA candidates lost their national races, DeSantis cruised to re-election. He has also been praised for flipping Florida from a swing to a red state in his five years as governor while centering himself as the most successful Republican warrior in the culture wars.
However, DeSantis has also been criticized for his hardline policies, including the controversial legislation dubbed the "Don't Say Gay" bill which banned the discussion of sexual orientation and gender identity in certain grades at Florida schools.
DeSantis was also criticized by Democrat figures for his fight against "critical race theory" which saw the governor banning the teaching of an Advanced Placement African American studies course in the state school curriculum.
Florida Democrat Maxwell Alejandro Frost, the first Generation Z congressman to serve in office, said DeSantis' policies against Black, gay and transgender people are akin to "fascism."
"This is what we're up against in Florida right now and it's hard to keep track of because it seems like there's a new victim, there's a new bill every day," Frost told CNN Newsroom on Sunday. "But we have to call it for what it is: He is abusing his power and using the state to target political opponents and political enemies. And there's a word for that, and it's fascism, and we have to be honest about it."
"It's just a problem for Florida now, sure. But in a few years, it can be a problem for the nation," Frost added.
Another person who has long dismissed DeSantis' credentials is Trump, who frequently attacks his former ally and has shared polls showing the former president heavily beating the Florida Governor in hypothetical primary matchups.
In a post on Truth Social ahead of DeSantis' address, Trump wrote: "FLORIDA WAS DOING GREAT FOR MANY YEARS, LONG BEFORE RON DESANCTUS GOT THERE. THE SUNSHINE AND OCEAN ARE WONDERFUL THINGS TO HAVE!"