Ron DeSantis Gets Fundraising Boost Amid Declining Approval Rating, Recall Petition Growth
Amid growing support for his removal from office, Florida Governor Ron DeSantis' PAC saw a boost in contributions in August after months of declining fundraising numbers.
DeSantis' PAC, Friends of Ron DeSantis, raised more than $5 million in contributions last month with money coming in from more than 8,400 contributors, according to data on the PAC's website. Facing criticism over his handling of the COVID-19 pandemic, DeSantis' fundraising has far outnumbered the Democrats looking to challenge him for the governorship in 2022 with the majority of his contributors living in Florida.
The Florida governor is in the midst of a legal battle over his fight to bar schools from mandating masks in classrooms. He's bucked calls to leave it up to the schools to decide and resisted pressure to allow local officials to implement mask and vaccine mandates.
Despite sharp increases in cases and deaths, DeSantis has held firm in his response to COVID-19, defending it for being based on personal responsibility and a way to keep the state's economy afloat. However, with the devastation from the pandemic at the highest level since it began last year, DeSantis is seeing a drop in his approval rating.
A poll from Morning Consult released on Thursday found voters are evenly split on DeSantis' job performance with 48 percent approving and 48 percent disapproving. It's a 6 point decline in approval and an 8 point increase in disapproval since the end of June.
That decline in approval was seen across the board, regardless of a person's political affiliation. DeSantis' largest increase in disapproval was among independents, at 13 points, followed by Republicans at 5 points. Democrats' disapproval rating is highest, at 76 percent, a 4 point increase from the end of June.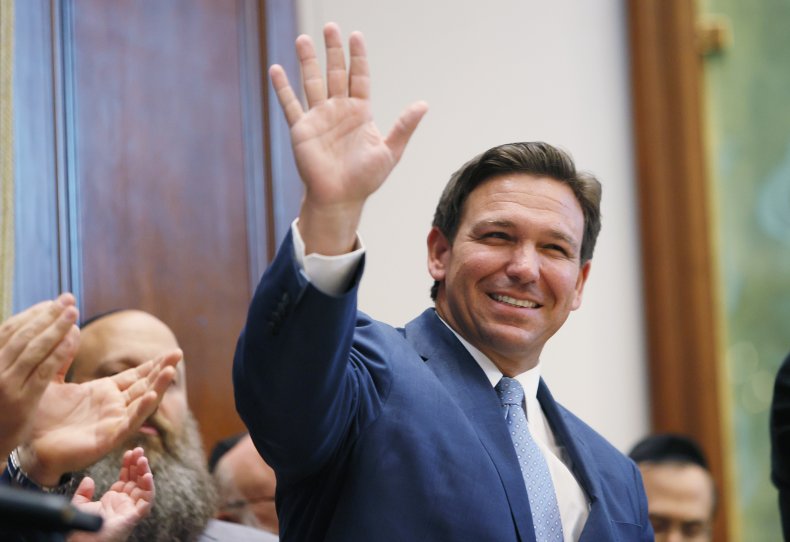 While DeSantis commands a stronghold on voters within his own party, according to the poll, Republicans alone might not be enough to give him another term in office. DeSantis hasn't announced whether he'll run for a second term and it's possible he's waiting to see if former President Donald Trump runs for the presidency in 2024, as DeSantis is another top contender for the GOP nomination.
In Florida, registered Democrats outnumber registered Republicans, despite there being only one Democrat in a statewide elected position. It's a slim margin, but if Democrats had a heavy turnout in the governor's race, it would mean DeSantis would have to both mobilize Republicans and appeal to independent voters.
A Change.org petition is trying to mobilize people to oust DeSantis from office before the next election through a recall. It's garnered nearly 90,500 signatures since its introduction and started to gather steam over the summer. It accuses DeSantis of making it "impossible" to file for unemployment during the pandemic and going against guidelines from the Centers for Disease Control and Prevention (CDC).
While it signals there could be some opposition to DeSantis as the leader of the state, the petition is little more than a symbolic gesture, as Florida has no way of recalling a governor.
Amid rising COVID-19 case rates, hospitalizations and deaths, DeSantis' PAC started seeing a drop in donations in May. Going from nearly $14 million in April, DeSantis' PAC raised only about half of that in May and then only about $5.5 million in June, according to campaign finance data. That number dropped to $4.2 million in July, but rose in August by about $900,000.
The increase can likely be partially attributed to a $500,000 contribution from the Republican Governors Association, but DeSantis' fundraising still trended downward in June despite a $1.8 million donation from the organization.
The Republican Governors Association pushed back on criticism DeSantis faced over the COVID-19 pandemic, posting on Twitter that he "remains proactive in offering the best resources to Florida." The RGA pointed to DeSantis' promotion of the monoclonal antibody treatment.
DeSantis opened more than 20 clinics across Florida so residents could receive the Regeneron antibody cocktail free of charge. Monoclonal antibodies have shown to be helpful in keeping people out of the hospital and their widespread use could help alleviate strains on Florida's health care systems.