Ron DeSantis Gives Republicans Path to Block Biden Agenda
Florida's new congressional map is set to boost the Republican Party's chances of retaking the House of Representatives in November—and poses a threat to President Joe Biden's legislative agenda.
The map, signed into law by Governor Ron DeSantis this past Friday, alters the lines of several Democratic-held or competitive congressional districts to add more Republican voters.
This leaves Republicans poised to win a larger number of Florida's congressional seats, which should help the GOP retake the House in November's midterms. The GOP's advantage will likely grow from 16-11 to 20-8, as the state gained a new seat because of its population growth. Should Republicans gain majority control of the House, Biden's domestic agenda will likely be in peril.
Congressional Republicans have been highly critical of the president and his policies since he took office—with some basing their campaigns around opposing his agenda. Meanwhile, Biden's wide-reaching social and climate spending bill has failed to garner any GOP support in Congress and remains stalled in the Senate after House passage of the nearly $2 trillion measure last November.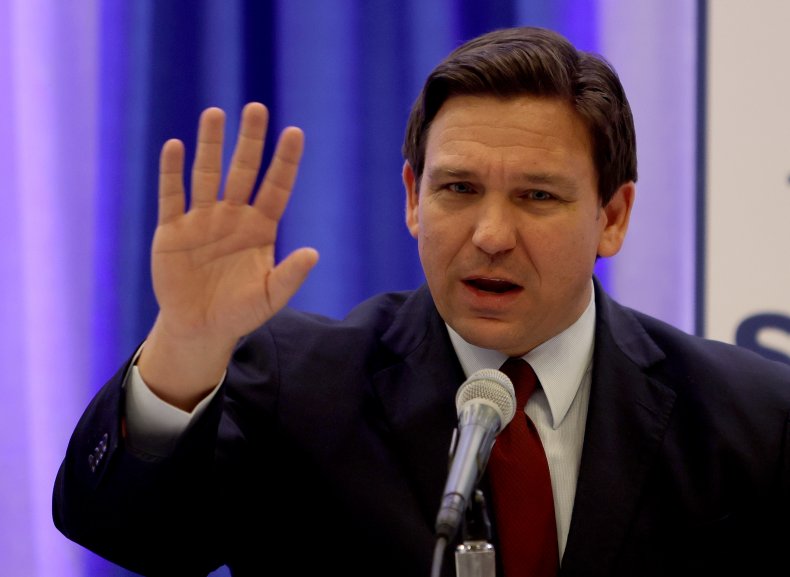 Should Republicans retake the House—as they are likely to do, since a president's party typically loses seats during the midterms—they will use their new power to limit or block Biden's ability to get legislation passed. The president will then have to focus on bills that can get bipartisan support—which will be a challenge, given the largely liberal policies reflected in his domestic agenda.
Florida's new map will make it easier for the Republicans to win at least three districts, which could help them gain at least a narrow majority in the House in November, as national polls point to close races. The map does so by dismantling Democratic districts, as well as competitive districts containing Democratic cities.
One of the biggest changes comes in North Florida, where a Democratic-held district stretching from Tallahassee to Jacksonville, currently held by Representative Al Lawson, was chopped into several conservative-leaning districts.
The district, as previously drawn last decade, was intended to boost Black voters' power by linking the two cities. Under the new map, these voters are split among three different districts, all of which have a significant GOP lean.
In the Tampa Bay area, a competitive seat held by outgoing Democratic Representative Charlie Crist—who is running for governor—was drawn to lean more Republican. The new map puts the most Democratic parts of Tampa and St. Petersburg into one district.
A competitive suburban seat near Orlando, held by retiring Representative Stephanie Murphy, was redrawn to take in more conservative areas north of the city.
Democrats had initially hoped to protect Biden's agenda by offsetting Republican redistricting gains in Florida and other red states by doing their own gerrymandering in blue states. However, a court struck down their preferred map in Maryland. In New York, meanwhile, a court recently ruled that Democratic lawmakers illegally gerrymandered a 2022 map. The party is appealing the decision.
Florida's map has also prompted criticism from civil rights activists, who accused lawmakers of diluting the power of Black voters. Civil rights groups have already filed a lawsuit challenging the map.
In a statement sent to Newsweek Monday evening, a DeSantis spokesperson cited April 12 remarks where the governor defended the map against allegations that it is a racial gerrymander and said it was drawn in a "race-neutral manner" that would be more compact.
Update 4/26/22, 9:15 a.m. ET: This story was updated with a comment from Governor Ron DeSantis.