Ron DeSantis Goes All-in on Cuba Fight Ahead of 2024 Decision
In Texas this past weekend, sitting side-by-side with its governor, Greg Abbott, for a press conference about the border, Florida Governor Ron DeSantis talked about the effects of immigration into his state.
But in a Fox News appearance afterwards, DeSantis tied immigration back to the issue he has thrown himself into over the last week: The plight of Cubans revolting against the Cuban dictatorship.
"It's a double standard," DeSantis said. "They have a hundred-times stronger case for political persecution leaving a communist dictatorship than the other migrants who are coming across the border, who are basically coming across the border because they want more economic opportunity."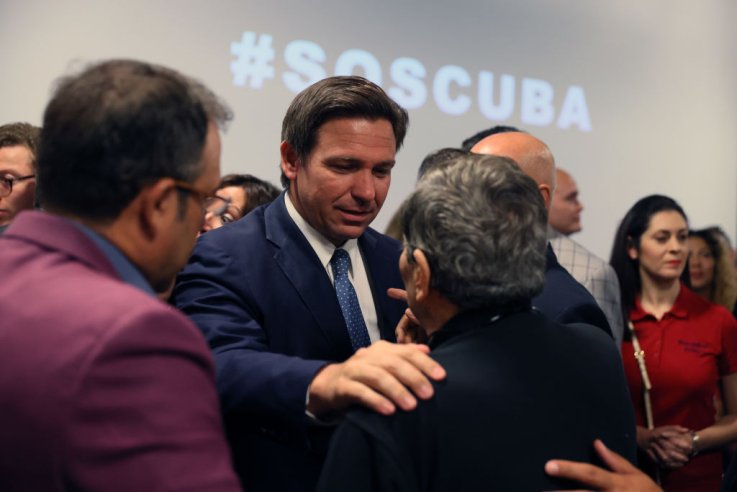 "[Cuban refugees] have a hundred-times stronger case for political persecution leaving a communist dictatorship than the other migrants who are coming across the border, who are basically coming across the border because they want more economic opportunity," Florida Gov. Ron DeSantis told Fox News. In this photo, DeSantis greets people after holding a roundtable discussion about the uprising in Cuba at the American Museum of the Cuba Diaspora on July 13, 2021 in Miami, Florida.
Joe Raedle/Getty Images
Since images and video of Cubans taking to the streets to protest the government and lack of food and medicine reached cable news and social media, DeSantis has seemed intent on using his role as governor of the state where the heart of the U.S. Cuban-American community resides to support the protests.
But Democrats question the sincerity of his interest in Cuba, arguing that it is politically motivated ahead of a reelection campaign for governor and a possible presidential run.
"It's absolutely a lie, he's lying to score political points," former Florida congresswoman Debbie Mucarsel-Powell told Newsweek of DeSantis' charge that Biden is treating Cubans differently at the border.
"Someone has to remind DeSantis that it was the Trump administration that deported thousands of Cubans seeking asylum at the border," she said. "They were the ones who closed the embassy, and hundreds of Cuban families were asking for the Cuban family reunification program to be reinstated."
The governor has been busy, holding a roundtable at the American Museum of the Cuban Diaspora that featured Cuban exiles, Republican elected officials and activists. They called for the Biden administration to support dissidents, and pushing the White House to find a way to increase internet access for Cubans.
Florida Republicans argued that DeSantis is not new to the Cuba issue, and his selection of Cuban-American Jeanette Nuñez as his lieutenant governor not only shows respect for the issue, but also increases his understanding of it.
But Nelson Diaz, the former chair of the Miami-Dade Republican party, told Newsweek it's not just about DeSantis being pro-Cuba.
"For us Cubans, understanding what socialism is, and wanting to stop it in this country, we see him as an anti-socialist fighter," he said.
Ana Carbonell, a well-respected Republican operative in Florida who has helped Senators Marco Rubio and Rick Scott win past campaigns, told Newsweek that DeSantis has long had a "natural conviction" regarding the Cuban cause for freedom, and sketched the work he'll be doing on the issue moving forward.
"I think it's two-fold, looking for concrete ways to break through the information blockade by using the pulpit of the governorship to find concrete solutions, as well as pushing the administration on a greater commitment to the cause for freedom," she said.
After the protests in Cuba broke out, Department of Homeland Security chief Alejandro Mayorkas told Cubans not to come to the U.S., as he had done previously with Central Americans early in Biden's presidency at the urging of Republicans.
Jose Parra, a senior communications advisor for the Florida Democratic Party, said one of Biden's first acts was to reconstruct the tattered asylum process, which helped Cuban migrants. He said DeSantis' big talk on Cubans and immigration would change if they began coming to Florida.
"Where the rubber meets the road is if there is an exodus from the island, let's see whether he would accept tens of thousands or even hundreds of thousands of Cubans arriving on his shores," Parra said. "My bet is he would not because he has always rejected immigrants."
Democrats have pointed to the so-called "anti-riot" law DeSantis signed aimed at curtailing future protests like the Black Lives Matter demonstrations that swept the country last year, but which has not been invoked as Cuban-Americans have taken to the streets in Florida, even shutting down major highways including Interstate 95, as evidence that his actions are nakedly political.
But Diaz said the comparison is "offensive."
"It's hard to define what occurred in Miami recently as rioting," Diaz said. "Nothing was burned, no property was damaged. They were peaceful protests for freedom."
While handicapping a presidential race even before DeSantis gubernatorial reelection campaign has begun has limited predictive value, current events seem to be exerting influence on the field.
Reporting on a new poll last week, Politico said Donald Trump remains king of the GOP, but "DeSantis is looking like the crown prince."
The poll by Tony Fabrizio found Trump receiving nearly half of Republican support, with DeSantis second. But if Trump doesn't run, DeSantis is the clear frontrunner with 39% support, with former Vice President Mike Pence far behind at 15%.
While some in Trump's orbit are convinced he will run again and would delight in taking DeSantis apart, others say that by keeping the possibility of his candidacy alive Trump is also keeping donor wallets open.
In their view, Trump and DeSantis are in a delicate dance that will eventually have to end.
"I don't think President Trump sees the governor as a threat right now," said Bryan Lanza, a former Trump campaign and transition official. "It's about how long can he keep up the appearance that he's running without damaging someone like DeSantis, and how does the governor interfere with Trump's messaging that he's going to run, which keeps the money spigot and influence spigot open."