Ron DeSantis Ignores Trump's Claim He Sent FBI to Stop Election Loss
Florida Governor Ron DeSantis has yet to address claims made by former president Donald Trump that the governor's 2018 gubernatorial run was saved by federal agents sent by the president to stop voter fraud.
Trump posted the unfounded allegations on his Truth Social account Thursday evening, adding to the latest attacks by the former president against his once-ally as DeSantis is continuously considered a potential candidate for the 2024 presidential election.
Trump wrote that "Ron DeSanctimonious" was "politically dead" prior to the president assisting his campaign during the GOP primaries in 2018. Trump added that he was "all in for Ron" and stepped in when "votes were being stolen by the corrupt Election process."
"Ron was going down ten thousand votes a day, along with now-Senator Rick Scott, I sent in the FBI and the U.S. Attorneys, and the ballot theft immediately, just prior to them running out of the votes necessary to win," Trump wrote. "I stopped his Election from being stolen."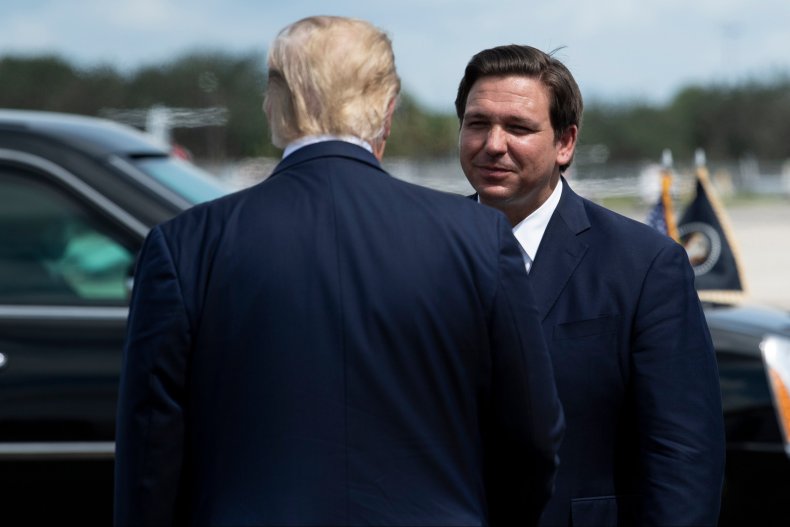 DeSantis beat opponent Andrew Gillum in 2018 by 4,076,186 votes to 4,043,723, a margin of 0.4 percent of the total ballots cast.
Trump provided no evidence that FBI agents were involved in Florida's 2018 ballot count, nor have other sources supported his claims.
The governor has yet to respond to the claims or Trump's numerous attacks, instead focusing his attention on disaster relief for Hurricane Nicole, which made landfall in Florida as a Category 1 hurricane around 3 a.m. ET on Thursday.
On Friday morning, the National Hurricane Center said that Nicole had moved into south-central Florida heading north with wind speeds reaching upwards of 30 mph.
DeSantis posted photos on his Twitter account Friday of a roadway he had expedited repairs for after it had experienced "substantial damage" from the storm.
"Under my direction, @MyFDOT completed emergency road repairs in Vilano Beach in 7.5 hrs," DeSantis wrote. "With 80 trucks and 1,400 cubic yards of material, the roadway is now reopened to traffic."
Legal experts told Newsweek that Trump's claims about the 2018 gubernatorial election "need to be taken with a pinch of salt."
University of Michigan law professor Barbara McQuade told Newsweek that she "doubts" Trump's claims are true and that if the FBI was involved in the election, "I'm sure we would have heard about it by now."
There was some concern about voter fraud in the 2018 Florida Senate recount in the race between Republican Senator Rick Scott and Democratic nominee Bill Nelson. However, the Department of Law Enforcement in Florida found no evidence of such allegations.
DeSantis narrowly beat his Democratic opponent, Andrew Gillum, by just 0.4 percent in 2018.
DeSantis has not formally announced or hinted at his intention to run for president in 2024. However, the governor did show to be a promising frontrunner after being reelected for a second term in Tuesday's midterm election. DeSantis even outperformed Trump's 2020 run in several counties, including in the former president's home, Palm Beach.
Newsweek reached out to DeSantis's team for comment.