Ron DeSantis Loses Ground Among Democratic Challengers Amid Mask Mandate Ban Criticism
Florida Governor Ron DeSantis could be headed for a tough reelection, as a new poll found two Democratic challengers have closed the double-digit lead the governor had just months ago.
A poll conducted on Monday and Tuesday by St. Pete's Polls, a Florida-based firm, found both Nikki Fried, the only statewide-elected democrat, and former Governor Charlie Crist, were neck and neck with DeSantis. The Florida governor has faced backlash for his response to the COVID-19 pandemic and his recent ban on mask mandates in schools, bucking advice from the Centers for Disease Control and Prevention.
Of the 3,952 people polled, 62 percent said they thought children should be wearing masks in schools when the new school year starts. That included nearly 84 percent of Democrats and 66 percent of Independents. Republicans were least likely to agree with masks in school and only 38 percent responded that they thought children should be wearing masks this fall.
The CDC initially said vaccinated students and staff didn't need to wear masks in schools, but recently updated its guidance to advise universal face coverings, regardless of vaccination status. The revised advice came amid a rising number of cases and additional spread of the Delta variant, which has shown to be more highly transmissible than other variants.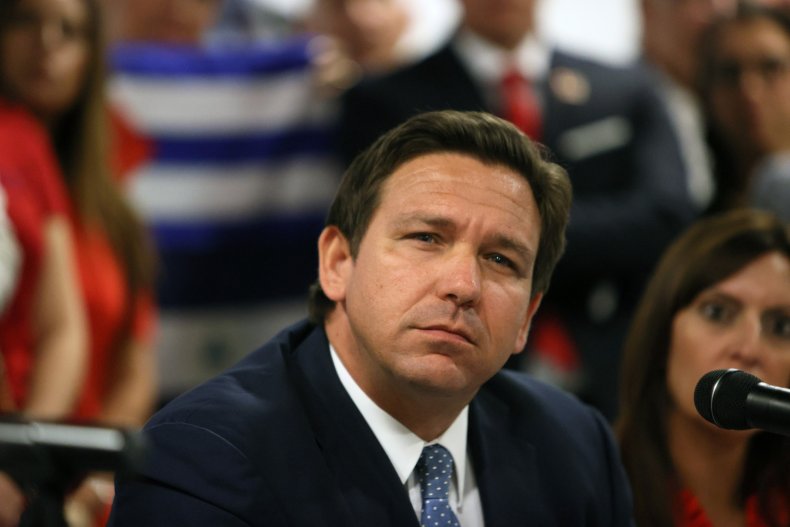 DeSantis bucked calls for universal mask wearing, saying that he believed it would send the message that vaccines are ineffective, thereby hurting efforts to convince people to get vaccinated. The governor already had the power to overrule local mandates and on Friday, he banned local school districts from requiring that students wear masks.
"The federal government has no right to tell parents that in order for their kids to attend school in person, they must be forced to wear a mask all day, every day," DeSantis said. "Many Florida schoolchildren have suffered under forced masking policies, and it is prudent to protect the ability of parents to make decisions regarding the wearing of masks by their children."
Fried agreed with DeSantis that there shouldn't be a statewide mask mandate, but the agricultural commissioner told CNN's New Day on Monday that DeSantis should allow local governments and school boards to implement their own restrictions. She added that DeSantis "handicapped" local governments by preventing them from putting any restrictions in place.
Polls from April and May gave DeSantis a double-digit lead on Fried, but St. Pete's Polls found she was within about 3 points of the governor. DeSantis had a slight edge on Fried when it came to voters within his own party, receiving support from 75 percent of Republicans, compared to Fried's 68 percent support among Democrats. Independents were nearly evenly split.
Crist, seen as another eligible challenger to DeSantis' reelection, came out ahead of the governor in the latest poll. However, his 1.5 point lead was within the poll's margin of error, which is 1.6 percent.
Likely white voters were more likely to back DeSantis, but both Crist and Fried had majority support among Black voters. Hispanic voters backed Crist by about 5 points more than DeSantis but when it was a matchup between Fried and DeSantis, the two had nearly equal support.
DeSantis is up for reelection in 2022 and he's campaigned heavily on his COVID-19 response. His campaign started selling "Don't Fauci My Florida," drink koozies and T-shirts, a reference to Dr. Anthony Fauci, director of the National Institute of Allergy and Infectious Diseases. His campaign also criticized Fauci for the "devastating consequences" of lockdowns and applauded Senator Rand Paul for sparring with Fauci during recent congressional hearings.
Opponents are rallying in an attempt to oust DeSantis from office and the "Remove Ron" political committee has raised $250,000 since it launched in February. However, they're being significantly outraised by DeSantis' supporters.