Ron DeSantis May Be Stuck Between a Rock and a Hard Place 
A proposed bill in Florida, SB1316, could restrict free speech and the First Amendment rights of bloggers.
It has been opposed by both Republicans and Democrats alike.
If the bill were to make its way to Governor Ron DeSantis' desk, he would be pressured to veto it, thus standing up for free speech and robust public discussion.
A new GOP-led bill in Florida could give Governor Ron DeSantis an opportunity to bolster his image as freedom crusader—the only caveat is that he would have to veto it should the legislation land on his desk, experts say.
Last week, Republican state Senator Jason Brodeur introduced a bill, titled "Information Dissemination," that would require bloggers who write about DeSantis, his Cabinet or state legislators and receives compensation for doing so to register with the state within five days of an article's publication.
Since its proposal, Senate Bill 1316 has received criticisms from both sides of the aisle that the legislation could pose a threat to free speech and First Amendment rights.
"The idea that bloggers criticizing a politician should register with the government is insane," former House Speaker Newt Gingrich, a Republican, tweeted on Sunday. "[I]t is an embarrassment that it is a Republican state legislator in Florida who introduced a bill to that effect. He should withdraw it immediately."
Brian Krassenstein, social media personality known for his role in the online "Resistance" against former President Donald Trump, wrote on Twitter, "Dear Ron DeSantis. I am a Florida blogger, and I will NEVER register with the state, nor pay a fine."
Civil rights attorney Alejandra Caraballo also warned that the bill is "exactly what fascism looks like" while former federal prosecutor Ron Filipkowski mocked the idea, renaming the legislation the "Don't Say Mean Things About DeSantis Bill."
The Constitution guarantees every American the right to articulate their opinions and ideas without interference or retaliation from the government, although there are some restrictions. The Supreme Court has also said that protections extend broadly to false speech, as the law regulates only a narrow category of falsehoods.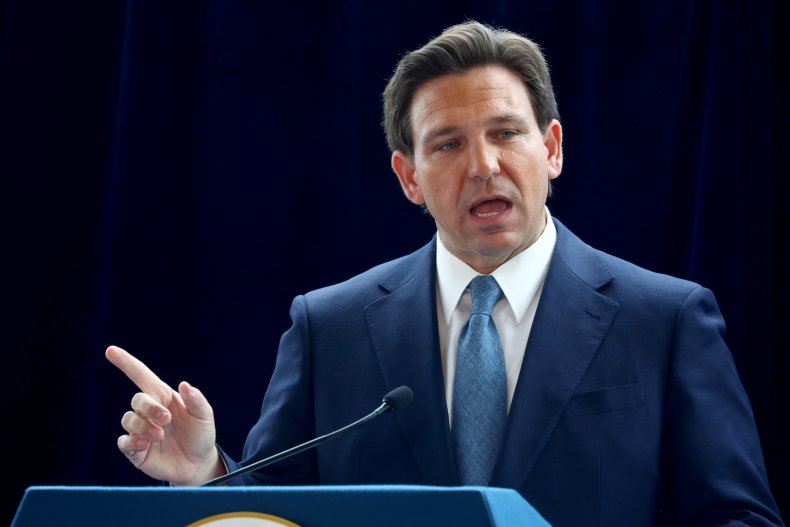 On Monday, former Trump attorney Jenna Ellis said that her advice to DeSantis, who has yet to take a public position on SB1316, is "to strongly publicly condemn it as anti-First Amendment."
DeSantis' office told Newsweek that it had not been aware of the legislation until it was filed Tuesday, but that "As usual, the governor will consider the merits of a bill in final form if and when it passes the legislature."
Under the proposed bill, bloggers who fail to register within the five days would be fined $25 per day, with the total penalty capped at $2,500 per post. The legislation defines a blog as "a website or webpage that hosts any blogger and is frequently updated with opinion, commentary, or business content," but notes that it does not include newspapers or similar publications.
Brodeur told Newsweek that he believe language of his bill makes clear that it would not apply to politically protected speech.
"It is clearly focused on commercial speech and those that are paid to advocate a position—like a lobbyist," Brodeur said. "All my bill does is require them to disclose this, which allows the reader to evaluate the context that the article is offered. It's about transparency."
However, the Foundation for Individual Rights and Expression (FIRE) called it the "latest entrant in Florida lawmakers' ongoing fight with the First Amendment."
"This bill is an affront to the First Amendment and our national commitment to freedom of the press," FIRE said in a Friday statement. "It is difficult to imagine a legislative proposal more fundamentally at odds with our nation's founding spirit than requiring citizens and journalists to register their publications with the government under pain of fines."
FIRE also noted that the First Amendment also protects the right to speak anonymously, and that requiring Americans to register with the state would go against the Constitution.
"SB1316 would compel Americans who exercise their right to criticize a state's highest officials to reveal themselves to the very government they criticize," the foundation said. "SB 1316 is not just unconstitutional. It is fundamentally un-American."
"The blogosphere is truly the wild-wild West," Republican strategist Matt Klink explained to Newsweek. "Unlike traditional journalism, there is nothing governing fair conduct by bloggers—anyone with a computer, online access and an opinion can express himself or herself."
Klink said while SB1316 may aim to stifle disinformation, it could unintentionally cause the negative consequences raised by those like Ellis and Gingrich.
Although he thinks it would he highly unlikely for the legislation to make its way across DeSantis' desk, GOP political consultant Alex Patton told Newsweek the bill would "almost universally" be seen as a "terribly unconstitutional move." Thus, as a former lawyer, the governor would feel pressure to veto it in a nod to his constitutionalist side.
"DeSantis should step up and voice his opposition to the bill," Klink agreed. By opposing it, Klink said, the governor would effectively stand up for free speech and robust public discussion, even if that speech about him and his staff may be inaccurate, unfair or downright false.
"Doing so would provide the governor with a significant advantage over politicians, particularly future Democrat opponents," Klink said. "We've seen Democrats stifle free (and accurate) speech via social media regarding COVID-19. It's an opportunity for Governor DeSantis to separate himself from the field."