Ron DeSantis and Mike Pence Lead Latest Poll for 2024 Republican Presidential Candidate
Florida Governor Ron DeSantis and former Vice President Mike Pence hold commanding leads over other prominent Republicans in a new poll of potential party nominees for the 2024 presidential election.
DeSantis was the top choice, with 17 percent of respondents supporting him, in the poll released Wednesday by GOP polling firm Echelon Insights. Pence was the runner-up with 16 percent support. Former President Donald Trump was not an available choice, with the poll asking which GOP candidate voters would prefer if Trump does not attempt to win a non-consecutive second term.
The third most popular choice, far behind the leaders with 5 percent support, was Texas Senator Ted Cruz. Former Secretary of State Mike Pompeo, former U.S. Ambassador to the United Nations Nikki Haley and Fox News Host Tucker Carlson were tied for fourth choice with 4 percent support each. Donald Trump Jr., Utah Senator Mitt Romney, Florida Senator Marco Rubio and Texas Governor Greg Abbott all registered with either 2 or 3 percent support.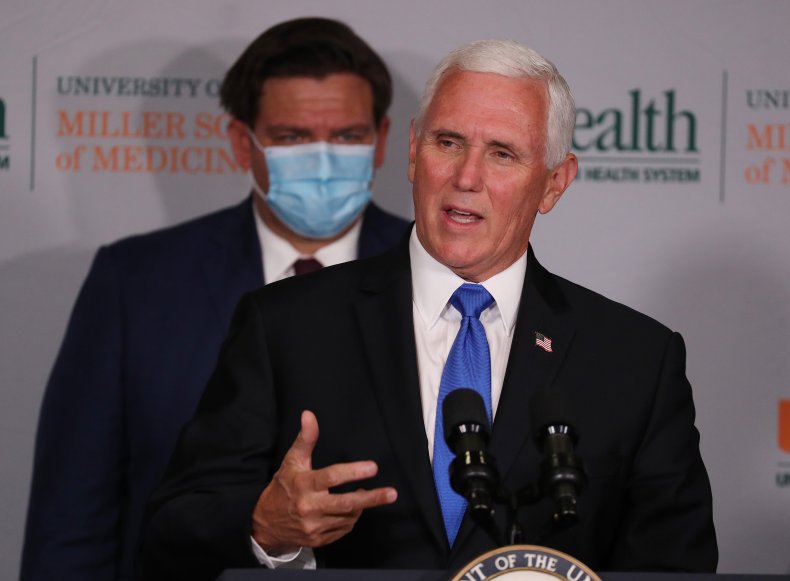 Other potential candidates, such as Arkansas Senator Tom Cotton and Nebraska Senator Ben Sasse, had the support of fewer than 1 percent of respondents each. By far, the most popular choice was "unsure," with a plurality of 35 percent saying that they did not know which candidate they would support. Another 1 percent said they intended to vote for "someone else."
If Trump were to seek the nomination, the poll indicates that he would be far and away the top choice. A full 60 percent of respondents said they would "definitely" or "probably" vote for the former president if he runs again, up from 48 percent who said the same in January. While 41 percent of respondents said they would choose another candidate over Trump in January, only 30 percent maintained that position in the new poll. The 11 percent who responded that they were unsure in the recent poll exactly mirrored results from January.
Trump also commanded nearly as much loyalty as the Republican Party itself among GOP voters. While 45 percent of Republicans and voters who lean Republican said they consider loyalty to the party their top priority, another 43 percent said that they primarily consider themselves supporters of Trump instead.
DeSantis was the top choice for those who favored Trump over the party, winning 26 percent of support to Pence's 12 percent. Conversely, the former vice president topped the poll with 22 percent of support among those with high party loyalty, with DeSantis trailing at 10 percent.
The poll was conducted among 1,008 registered voters between March 15 and March 23. No margin of error was listed.
Newsweek reached out to the offices of DeSantis and Pence for comment.