Ron DeSantis Offers Florida Law Enforcement to Help Texas, Arizona Combat Border Situation
Florida became the first state to throw its support behind Texas and Arizona amid the ongoing border situation after Governor Ron DeSantis offered the state's law enforcement agencies help in combating the rise in migrants coming to the U.S. southern border.
DeSantis announced during Wednesday press conference that Florida would send a number of officials from various state law enforcement agencies, including local sheriff's offices, Florida Highway Patrol, Florida Department of Law Enforcement, Florida Fish and Wildlife, among others to help federal and state agents in Texas and Arizona.
"The state of Florida is answering the call," DeSantis said from the Escambia County Sheriff's Office in Pensacola. "Florida is going to support Texas and Arizona."
"We believe that securing the southern border is important for our country, but specifically we believe it'll benefit the people of Florida to be able to get this under control," he continued. "So where the federal government has failed…states are stepping up and doing our best to fill the void."
DeSantis, like Texas Governor Greg Abbott and Arizona Governor Greg Ducey, has blamed the Biden administration for the influx of migrants that have arrived at the border in recent months, claiming that Border Patrol facilities and agents have become overwhelmed due to poor immigration policies.
"It's sad that we have to be doing this because when you deal with stuff—there's things that just will happen, and you've got to put out fires and there's no way an executive, whether it's a county or a state or even the federal level, can not have things happen that you have to respond to," the governor said.
"The sad thing about the reason why we're here today is because this was a created crisis through bad policies," he added. "These were deliberate bad policies.… We're happy to step up. You know, we do it and we wish we didn't have to but if they ask for our support, Florida is going to be there."
Since Biden has taken office, he has reversed a number of executive orders that then-President Donald Trump put into place during his term in office, including halting the construction of the border wall, ending the travel ban and providing deportation relief for unaccompanied migrant children.
Republicans have argued that these rollbacks have led to a surge in undocumented immigrants, as the Department of Health and Human Services is faced with an unprecedented number of asylum-seekers.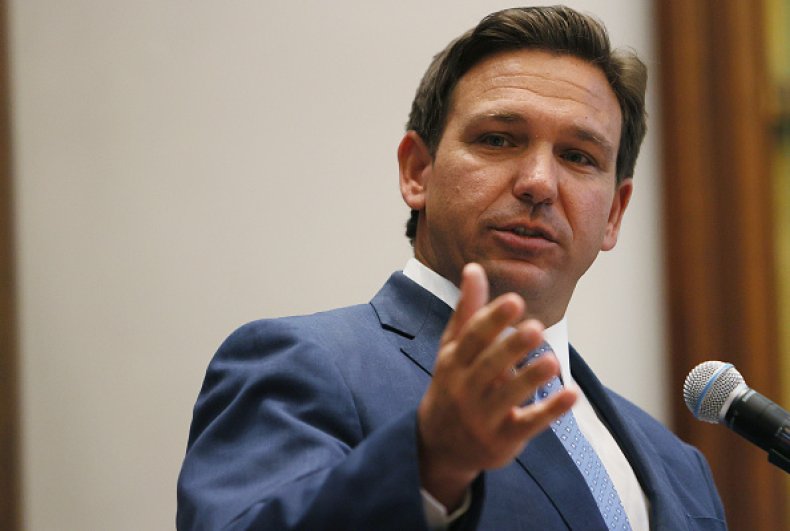 On Wednesday, DeSantis said Florida was eager to become to first state to help support Texas and Arizona, especially since those states had once provided their help to Florida during times of crisis.
"These states have sent Florida support when we responded to emergencies here in our state," DeSantis said. "[Texas and Arizona] wanted support so that they could do what the federal government is either unwilling or unable to do—secure the border and protect the people."
"We were happy to be leading on this," he added. "It is really, really frustrating though that this was a created crisis. This was a crisis created by going against policies that had been working just because you don't like your predecessors."
DeSantis predicted that other states would soon join Florida.
"We're answering the call, and I think some other states are going to follow our lead at this point," he said.
The governor said it remains to be determined how many of Florida's law enforcement officials will be sent and where in Texas and Arizona they will go, but that help has been requested for 16 days.
Texas and Arizona has also requested supplies from Florida, which DeSantis said would still need to be worked out between administrations.
DeSantis added that the reason Florida is able to provide mutual aid to these states is because the state has continued to fund law enforcement agencies, even amid last summer's calls to defund the police during the racial justice protests.