Ron DeSantis Press Secretary Compares 'Don't Say Gay' Critics to Pedophiles
Florida Governor Ron DeSantis's press secretary caused a stir on Friday with controversial tweets taking aim at critics of the state's "Don't Say Gay" bill.
Introduced in the Florida state legislature last month, the "Don't Say Gay" bill would require schools to inform parents if their child identifies with an LGBT orientation, even in cases where the information would lead to "abuse, abandonment, or neglect" of the child. It would also prohibit the teaching of certain gender identity and sexual orientation topics.
Since its introduction, the bill has faced severe backlash, particularly from left-wing and progressive voices. Hitting back at critics, Christina Pushaw, DeSantis's press secretary, called the proposal an "anti-grooming" bill and likened critics to pedophiles who "groom" underage children.
"The bill that liberals inaccurately call 'Don't Say Gay' would be more accurately described as an Anti-Grooming Bill," Pushaw wrote. "If you're against the Anti-Grooming Bill, you are probably a groomer or at least you don't denounce the grooming of 4-8 year-old children. Silence is complicity. This is how it works, Democrats, and I didn't make the rules."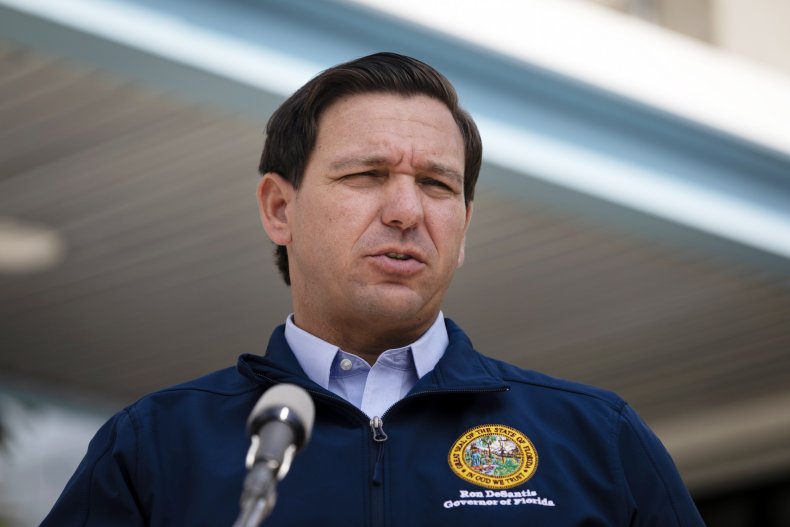 "Grooming" is defined by the Rape, Abuse, and Incest National Network (RAINN) as manipulations that a sexual "abuser uses to gain access to a potential victim, coerce them to agree to the abuse, and reduce the risk of being caught."
In response to Pushaw's tweets, Carlos G. Smith, a Florida State Representative and gay man, condemned the comments in a tweet of his own and called for Pushaw to resign.
"DeSantis' spokesperson openly accused opponents of #DontSayGay of being 'groomers'—aka PEDOPHILES," Smith wrote on Sunday. "Bigoted attacks like this against LGBTQ people are the worst of the worst. They're disgusting and dangerous and have NO PLACE in the Guv's office. [Christina Pushaw] must resign.
The text of the "Don't Say Gay" bill specifically prohibits instruction on the topics of "sexual orientation or gender identity" to students in Kindergarten through third grade, or "or in a manner that is not age-appropriate or developmentally appropriate."
The bill passed through the Florida State House easily on February 24, 69-47, owing to the legislature's predominantly Republican control. It is currently awaiting approval by the State Senate, which the GOP also holds the majority in, 24-15. The controversy generated by the bill became so strong that even President Joe Biden weighed in early on.
"I want every member of the LGBTQI+ community—especially the kids who will be impacted by this hateful bill—to know that you are loved and accepted just as you are," Biden said in a tweet from February 8. "I have your back, and my administration will continue to fight for the protections and safety you deserve."