Florida Governor Ron DeSantis said Tuesday he is interested in exploring whether it would be possible to provide Cuba's residents with Wi-Fi after Cuban authorities restricted internet access in response to protests that erupted in recent days.
DeSantis spoke about the proposed project during a roundtable discussion he held with other Florida-based Republican lawmakers, including Lieutenant Governor Jeanette Nunez, Rep. Carlos Gimenez and Rep. Maria Elvira.
DeSantis said restricting internet access is one way Cuba's Communist government tries to stifle political protests.
"What does the regime do when you start to see these images? They shut down the internet. They don't want the truth to be out. They don't want people to be able to communicate," DeSantis said.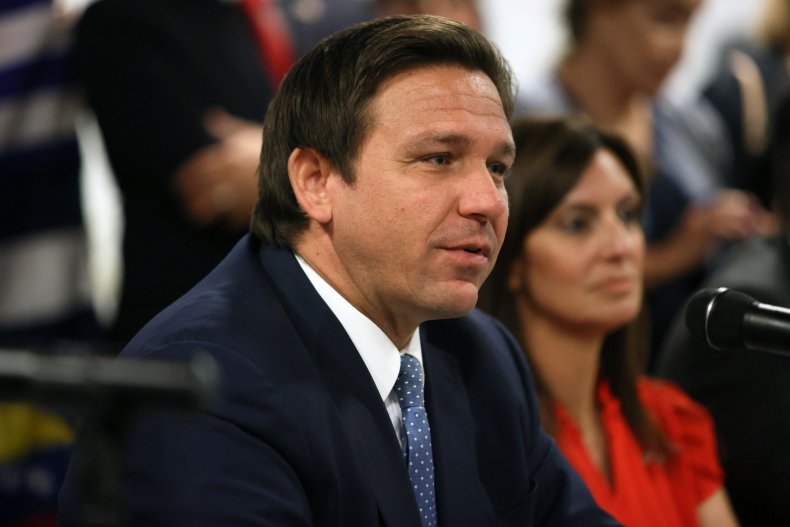 The governor said it "should" be possible to go through private internet companies or the federal government to supply that access to Cuba's residents.
"One of the things I think we should be able to do with our private companies or with the United States is to provide some of that internet service via satellite," DeSantis said.
"We have companies on the Space Coast that launch these things," he continued. "So that's going to be some calls I'm going to make to see what are the options for companies to be able to do it."
Newsweek reached out to DeSantis' office for clarification on which companies he has in mind to move his proposed project forward and what his ideal project completion timeline is but did not receive a response in time for publication.
DeSantis is one of many Republican politicians in the U.S. who has spoken out in support of Cuba's protesters since they took to the streets over the weekend. Protests are uncommon in Cuba, a reality that has contributed to the movement's celebration in the U.S. as politicians like DeSantis criticized the country's Communist government.
"Florida supports the people of Cuba as they take to the streets against the tyrannical regime in Havana," DeSantis tweeted on Sunday. "The Cuban dictatorship has repressed the people of Cuba for decades & is now trying to silence those who have the courage to speak out against its disastrous policies."
As The Associated Press reported earlier this week, Cuban authorities' move to limit internet access has become a common trend around the world during times of political uprisings. After the protests began in earnest on Sunday, authorities on Monday restricted access to a handful of social media platforms including Facebook, Instagram and WhatsApp, according to the AP.