Ron DeSantis Refuses To Say 'President-Elect' Despite Accepting Biden Win
Florida Governor Ron DeSantis declined to acknowledge Joe Biden as President-elect on Tuesday, despite Biden's win in the Electoral College.
Some Republicans have been reticent of acknowledging Biden's victory in the election. President Donald Trump has refused to concede the election to Biden. Trump's attorneys have filed litigation in some battleground states hoping to reverse the election results. All but one of the lawsuits filed on Trump's behalf have failed.
DeSantis told reporters on Tuesday that referring to Biden as the President-elect was "not for me to do."
"Obviously we did our thing in Florida, the Electoral College voted," DeSantis said. "What's going to happen is going to happen. But I can tell you I think a lot of the frustration for folks who supported the president is, we were four years with people not accepting him."
"I mean, Hillary [Clinton] the last week of the election was saying [Vladimir] Putin stole it," DeSantis added, "and I just think that that's left a lot of people frustrated with how it's going to go."
Newsweek reached out to DeSantis's office for comment.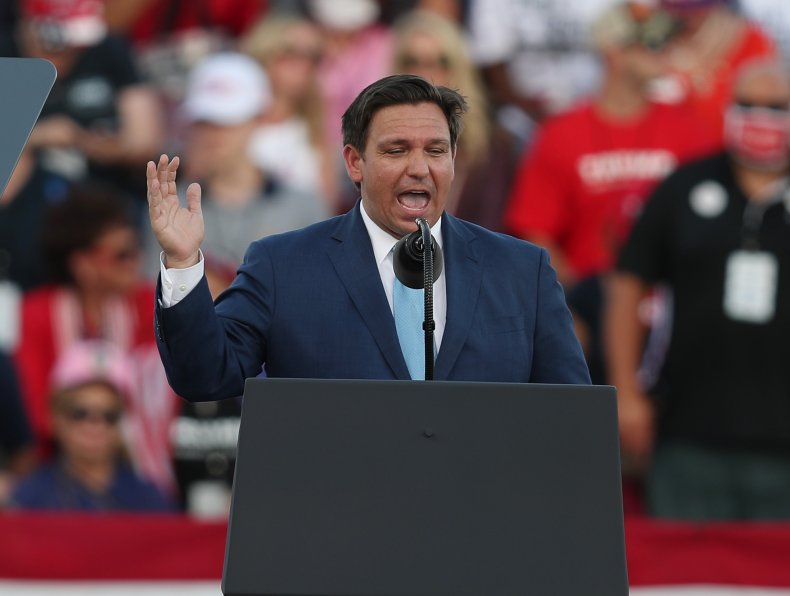 Despite Trump's attempts to invalidate the election results in some states, the Electoral College cast a majority of its votes for Biden on Monday. While Trump was awarded 232 electoral votes, Biden obtained 306 electoral votes. A candidate must receive at least 270 electoral votes to be considered President-elect.
Senate Majority Leader Mitch McConnell waited until after Biden had won the Electoral College before acknowledging the incoming administration.
"The Electoral College has spoken," McConnell said Tuesday on the Senate floor. "Today, I want to congratulate President-elect Joe Biden."
McConnell also congratulated Vice President-elect Kamala Harris.
"Beyond our differences, all Americans can take pride that our nation has a female Vice President-elect for the very first time," McConnell said.
Some Republicans have yet to follow McConnell's lead. On Tuesday, House Minority Leader Kevin McCarthy declined to answer a reporter when asked if Biden had won the election.
Among other unsubstantiated election fraud claims, Trump has alleged that tabulation machines distributed by Dominion Voting Systems were programmed to flip votes from him to Biden.
"Tremendous problems being found with voting machines," Trump tweeted on Tuesday. "They are so far off it is ridiculous. Able to take a landslide victory and reduce it to a tight loss. This is not what the USA is all about. Law enforcement shielding machines. DO NOT TAMPER, a crime. Much more to come!"
Dominion has denied the allegations. In a statement published on its website, Dominion said that claims about the accuracy of the company "have resulted in dangerous levels of threats and harassment against the company and its employees, as well as election officials."