Ron DeSantis Rejects Mask Mandates for Kids: 'We're Not Doing That in Florida'
Governor Ron DeSantis said there will be no mask mandates for children in Florida as coronavirus cases soar across the state.
"There's been talk about potentially people advocating at the federal level imposing compulsory masks on kids. We're not doing that in Florida, okay?" DeSantis said at a news conference Thursday at Indian River State College in Fort Pierce.
DeSantis was at the school to sign a ceremonial bill about early childhood literacy.
"We want kids to be able to be kids," DeSantis continued. "We need them to be able to breathe. It's terribly uncomfortable for them to do it. There's not very much science behind it."
The governor said parents can equip their children to go back to school however they want, but stressed that there shouldn't be any mandate from the state or federal government to force face coverings.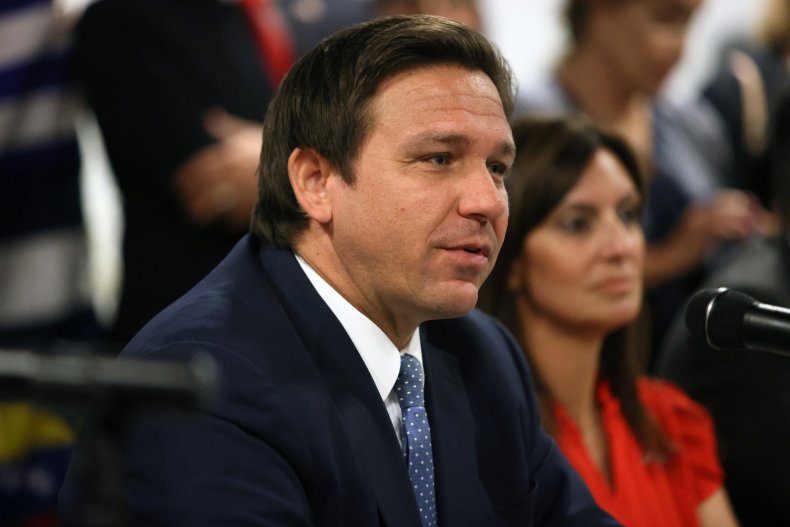 Earlier this week, amid a nationwide surge in cases, the American Academy of Pediatrics (AAP) recommended Monday that all students ages 2 and over wear masks upon returning to in-person instruction this fall.
The AAP guidance also recommended all staff, regardless of vaccination status, wear masks during school. Only children 12 and over are eligible to receive COVID-19 vaccinations in the U.S.
Public schools in Atlanta, Georgia will implement a universal mask-wearing protocol that covers all schools and buildings in the school system. Face coverings will be required for all students and staff members in all schools and buildings during the school and workday as well as in after-school activities.
DeSantis has doubled down against restrictions despite Florida's rising case numbers.
Florida alone accounted for one in five new COVID-19 cases reported in the United States last week, a White House adviser announced earlier this week. The latest data shows Florida's current seven-day average of new cases is by far the highest in the nation.
The Florida Department of Health found the state's test positivity rate last week was 11.5 percent. For the week starting July 9, the state recorded 45,603 new cases—nearly double the amount from the week prior.
U.S. Surgeon General Vivek Murthy, the nation's top doctor, said Wednesday he was "deeply concerned" about Florida's rising COVID-19 cases and urged the state's unvaccinated population to get a dose as soon as possible.
Last year, Florida was one of the first states to fully reopen amid the pandemic. DeSantis suspended all local COVID-19 lockdowns and mandates in May.
The governor said Monday that new restrictions won't be imposed in the Sunshine State.
"If anyone is calling for lockdowns, you're not getting that done in Florida," DeSantis said. "I'm going to protect people's livelihoods, I'm going to protect kids' right to go to school. I'm going to protect people's right to run their small businesses."
DeSantis later added, "We're going to lift people up, we're not locking them down."
Newsweek reached out to the Florida Department of Health for additional comment but didn't receive a response before publication.