Ron DeSantis Ripped Over Gas Tax as 'Dumber Than a Sack of Matt Gaetzes'
Is Florida Governor Ron DeSantis milking the timing of a 25-cent gas tax reduction to improve the Republicans' standing ahead of the November midterm elections?
That is the case made by Daniel Ruth in a Tampa Bay Times opinion article in which he said the Republican who has targeted Disney and the Special Olympics "knows no depth of deceit."
Ruth argued that DeSantis could have immediately implemented the 25-cent reduction in the state tax but instead is using the delay for political leverage.
"Instead, he went along with the scam, which only proves we all have a price; it's only a matter of negotiation," Ruth wrote. "And Ron DeSantis can be had at 25 cents. Such a deal."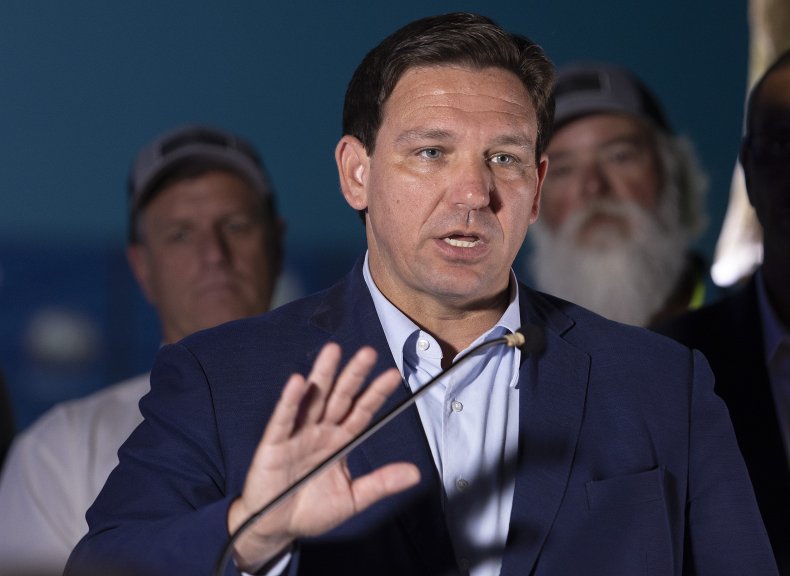 U.S. News & World Report reported that DeSantis signed a $109.9 billion state budget bill, known as House Bill 7071, that runs the gamut, including raises and salary increases for state employees and teachers in addition to a minimum-wage hike for state workers to $15 an hour.
It also included a one-month gas tax suspension approved by the Florida Legislature in May, reportedly at DeSantis' request. Republicans who supported waiting until October said that is a good time for implementation due to a reduction in tourists.
Bryan Griffin, a spokesperson for DeSantis, told Newsweek on Friday that the governor's initial proposal for the gas tax holiday was for it to run for five months, from July 1 to November 30 of this year, as part of his Freedom First Budget.
"In the course of the legislative process, the governor's tax holiday idea was adopted but ultimately written by the legislature to only run for one month," Griffin said. "It is our understanding that October was selected because it follows peak summer tourism season, so the tax holiday would inure to the greatest benefit of Florida residents rather than out-of-state visitors.
"The governor is pleased that there will be gas tax relief for Floridians. He is committed to easing the burden of Biden's gas price spike on Florida's drivers and continues to work to insulate our state from the failures of the Biden Administration."
However, the Tampa Bay Times reported that emails showed that a DeSantis aide is the one who pitched the October date.
Florida lawmakers on the other side of the aisle, such as Democrat Linda Stewart of Orlando, called for a moratorium on the Florida gas tax a week ago. She said "immediate fuel price relief" is necessary.
"Earlier this year, the legislature passed the one-month Motor Fuel Tax Relief, which is scheduled to begin in October," Stewart said, according to Click Orlando. "At the time, we were told that delaying it until then would reap the most benefits for Floridians, as opposed to tourists. The pain of these prices, however, is being felt now, and delaying this critical financial relief for several months helps no one, least of all Floridians."
In November, DeSantis began going after President Joe Biden and Democrats on inflation while proposing gas tax relief in Florida, saying that "gas prices have been rising due to inflationary pressures from bad federal policies." At the time, gas was about $3.40, or $1 higher than a year earlier.
In May of 2021, the governor appeared on Hannity and said the federal government was ignoring signs of a gas shortage. DeSantis vowed to lift restrictions "to get more fuel in the pumps."
Whether or not the gas tax reduction this fall will work is yet to be seen, but Ruth said he would not be surprised.
"Will the governor get away with the 25-cent Three-card Monte con he's pulling off on the people of Florida? Maybe so," Ruth wrote. "DeSantis is assuming the people of Florida are stupid, that they are dumber than a sack of Matt Gaetzes. It's not entirely a bad bet. Cynical, yes, but in DeSantis world, the people can't be hurt by what they don't know."
Update 6/17/22, 4:08 p.m. ET: This story was updated with comment from a DeSantis spokesperson.