Ron DeSantis Says He Wrote Book Because He's a 'Hot Commodity'
Florida Governor Ron DeSantis explained the decision behind his new memoir, saying it didn't necessarily have to do with his presidential aspirations, but more that he's become such a "hot commodity" in the world of politics.
Asked by The Times, a British daily national newspaper, on Wednesday if he wrote the book because he wanted to become president, DeSantis said, "What I would say is, I was well known. I was, you know, kind of a hot commodity. And I thought that the book would do well, I think it is doing well."
The Republican governor has spent the last couple of weeks promoting his new memoir, The Courage to Be Free: Florida's Blueprint for America's Revival, which was released earlier this week.
"We've had a great, great response," DeSantis told the newspaper's U.S. editor, David Charter, about the expected book sales.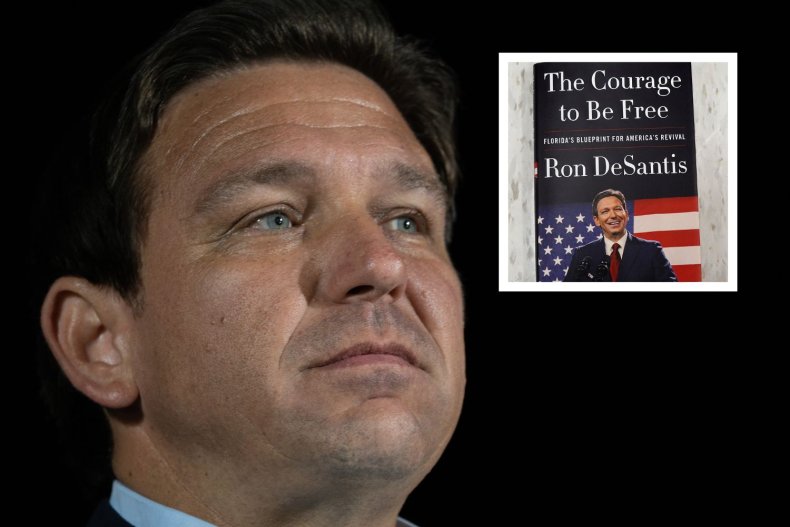 DeSantis' remarks seemed to echo an article written about him by The Atlantic last November, in the wake of the governor's decisive midterm victory. In contrast to the lackluster 2022 election for many Republicans, DeSantis won reelection with nearly 60 percent of the vote.
In a profile on the governor, staff writer Mark Leibovich wrote of DeSantis, "People who haven't met him think he's a hot commodity. People who have met him aren't so sure."
Leibovich noted that while DeSantis's supporters seem to grow with each day, he added, "People who know him better and have watched him longer are skeptical of his ability to take on the former president" in a 2024 matchup against Donald Trump, who has already announced his third bid for the presidency last November. Although polls show wide support for a 2024 run from DeSantis, the governor has not officially declared his candidacy.
"DeSantis, they say, is no thoroughbred political athlete," Leibovich wrote. "He can be awkward and plodding. And Trump tends to eviscerate guys like that."
While DeSantis is not in the race yet, Trump has already begun attacking the governor in criticisms that DeSantis "has dismissed as background noise."
Wednesday's interview with The Times is a rare media appearance from DeSantis, who has stuck to speaking with papers and outlets controlled by Rupert Murdoch, who has already stated he won't back Trump's campaign for a third time.
Last week, DeSantis's team said the governor will not engage with journalists at NBC News or MSNBC over frustrations with Washington correspondent Andrea Mitchell's comment about the governor's position on teaching slavery to Florida students.
"I think we need to take a step back," DeSantis' press secretary Bryan Griffin told bookers and producers from the network. "There will be no consideration of anything related to NBC Universal or its affiliates until and at least Andrea Mitchell corrects the blatant lie she made about the governor...and NBC and its affiliates display a consistent track record of truthful reporting."
Mitchell has since apologized on air, saying she had been "imprecise" in her remarks, clarifying that, "Governor DeSantis is not opposed to teaching the fact of slavery in schools, but he has opposed the teaching of an African-American studies curriculum... that historians and teachers say makes it all but impossible for students to understand the broader historic and political context behind slavery and its aftermath."
In response to Newsweek, Griffin called Mitchell's clarification "a typical non-apology response that doubles down on the original lie."