Governor Ron DeSantis vowed to fight a judge's ruling that the Florida governor's ban on mask mandates was unconstitutional and therefore could not be enforced.
DeSantis, who has been a vocal critic of mandated public health measures, signed an executive order barring schools from requiring students to wear a mask for in-person learning. Leon County Circuit Judge John C. Cooper sided with parents in a lawsuit, but DeSantis said he was confident an appeal would swing the pendulum back in his favor on Monday.
"Obviously it's problematic," DeSantis said in reference to the judge's ruling. "We'll end up getting it back."
DeSantis said requiring students to wear a mask violates Florida's Parents Bill of Rights. If a school district wants to mandate mask wearing, he said officials must give parents a way to "opt-out" if they feel wearing a mask is not in the best interest of their child.
The Florida governor's faced criticism for resisting public health measures and using his executive order to bar entities from requiring masks and vaccines. DeSantis hasn't wavered in his defense of his response and has backed his constituents as being responsible enough to make their own decisions.
At Monday's press conference, he said schools mandating masks have "basically taken away the right of parents" to make that decision. He noted that if the roles were reversed, and schools were banning masks from being worn, parents would likely file a lawsuit so their child could wear a mask if they deemed that was the best choice for their family. DeSantis said he believed they would have a good case.
In issuing his ruling, Cooper said the governor's executive order violated the Parents' Bill of Rights. He said it "expressly" gives school boards the ability to adopt policies concerning the healthcare and education of children in school.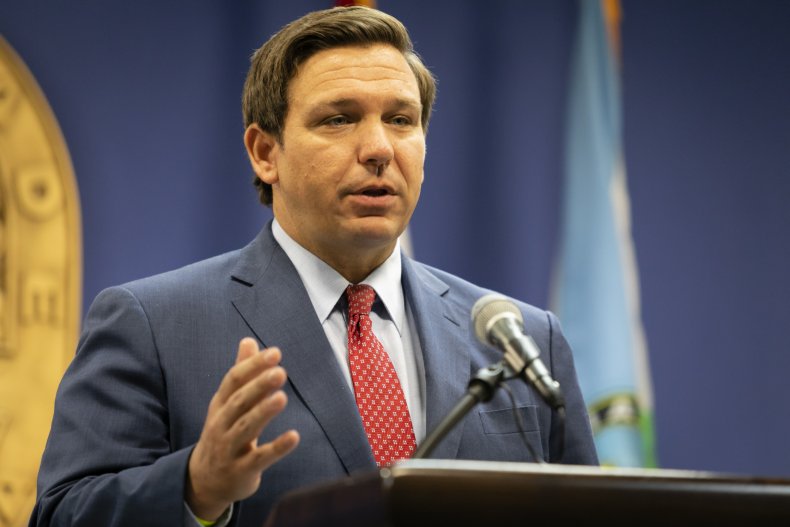 Several states have banned mask mandates in schools and on Monday, the Education Department's Office for Civil Rights informed five states—Iowa, Oklahoma, South Carolina, Tennessee and Utah—that they were under investigation. Officials are looking into whether the mask restriction prevents students with disabilities from safely returning to school for in-person education, which would violate federal law.
An investigation into Florida's mask policies had not been opened because they weren't "currently being enforced as a result of court orders or other state actions," according to the agency. However, if that changes, the agency said it is "prepared to take action."
DeSantis said on Monday he believed "a lot of parents" are more concerned about their kids doing well in school than wearing a mask, implying that both cannot happen simultaneously.
While adults make up the majority of COVID-19 cases and hospitalizations, states are seeing a rise in infections among school-aged children as districts reopen for in-person classes. Thousands of Florida students were put in quarantine or isolation because of a COVID-19 outbreak and some districts had started mandating masks despite DeSantis' order.
DeSantis acknowledged that the Delta variant is more transmissible than previous variants, but attributed the rise in cases to an increase in testing, thereby detecting more asymptomatic or mild cases. When asked about concerns that students could contract the virus at school and pass it on to the adults in their homes, DeSantis called the record "clear" that it's usually the reverse and that if parents are concerned about that, they can require their child to wear a mask.
"Every adult in Florida has had access to the vaccine since April," DeSantis noted.
Uncommon Knowledge
Newsweek is committed to challenging conventional wisdom and finding connections in the search for common ground.
Newsweek is committed to challenging conventional wisdom and finding connections in the search for common ground.
About the writer
Jenni Fink is a senior editor at Newsweek, based in New York. She leads the National News team, reporting on politics and domestic issues. As a writer, she has covered domestic politics and spearheaded the Campus Culture vertical. Jenni joined Newsweek in 2018 from Independent Journal Review and has worked as a fiction author, publishing her first novel Sentenced to Life in 2015. She is a graduate of the University of Arizona. Language: English. You can get in touch with Jenni by emailing j.fink@newsweek.com.