Ron DeSantis Says Monoclonal Antibody Brought Florida COVID ER Visits Down 70 Percent
Florida Governor Ron DeSantis has said that monoclonal antibody treatment is having a significant effect on COVID cases in his state, as he continues to lock horns with the Biden administration over the distribution of the therapy.
Along with other GOP governors, DeSantis has championed the treatment that lessens the severity of COVID symptoms, which he sees as a key pandemic-fighting policy, along with promoting vaccines.
However, DeSantis faces criticism for his opposition to mask mandates and has joined other GOP governors in threatening legal action to prevent the order announced by President Joe Biden to mandate vaccinations for workers at some companies.
But on September 20, DeSantis pointed to results he said had been achieved since August, when sites providing the treatment were opened in the Sunshine State.
He tweeted that over 100,000 Floridians have received the treatments and "COVID hospital admissions have fallen by over 60 percent."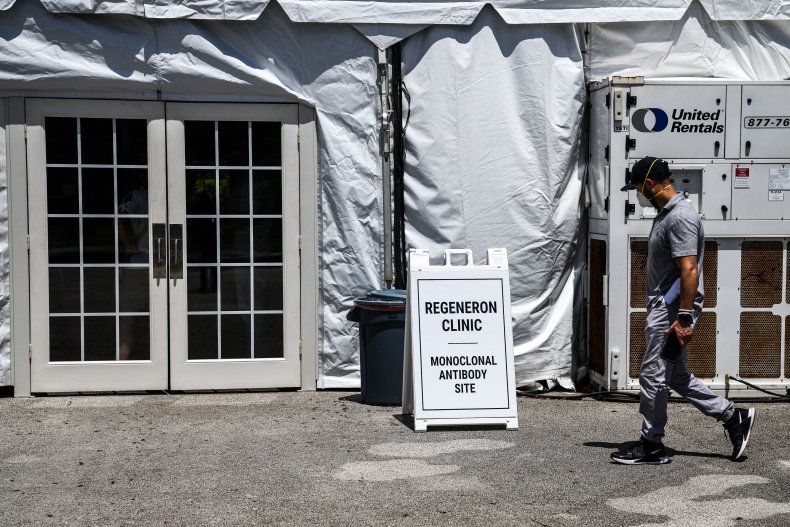 "COVID hospital census has declined for 28 consecutive days," he said, adding: "ER visits for COVID have declined by over 70 percent."
Meanwhile, in another tweet, DeSantis said: "Biden should not be cutting Florida's treatments by more than 50%. We will fight to ensure Floridians get the treatment they need."
This message was the latest salvo against the president by DeSantis, who was angered by the announcement by the Department of Health and Human Services that the federal agency would take over the distribution of antibodies, based on new case numbers and hospitalizations.
But DeSantis said this meant fewer therapeutics would come to his state and that the 27,850 doses of Regeneron it was due to receive last week was much less than the weekly average of 72,000 the state's clinics and providers had been ordering.
"We're going to fight like hell to make sure that our folks get what they need," DeSantis said last week.
Biden responded by tweeting that GOP governors "in states like Texas and Florida are doing everything they can to undermine the public health requirements that keep people safe."
"They're playing politics with the lives of their citizens," Biden added, "especially children."
Monoclonal antibodies cost much more than vaccines, and White House spokesperson Jen Psaki said last week the federal government's distribution plan for the therapies were aimed at achieving "equity" among the states, telling reporters, "our supply is not unlimited."
Other aspects of DeSantis' pandemic policy continue to cause controversy. He has threatened local governments in Florida trying to impose mask mandates and his administration was granted approval this month to keep in place an order banning mask mandates in schools.
A spokesperson for DeSantis said in a statement to Newsweek: "We hope and expect that the supply of monoclonal antibody treatment is sufficient to meet the demand."
It added that DeSantis is looking to purchases the medication Sotrovimab from another supplier, "to fill the deficit left by the abrupt decision of the Biden Administration."
Newsweek has contacted the Department of Health and Human Services for comment.
This story has been updated with a statement from Governor DeSantis' office.