Ron DeSantis' 'Scary' Actions Will 'Exacerbate' Teacher Shortage: Educator
Karla Hernández, a teacher and president of United Teachers of Dade, warned on Sunday that the recent decision by Florida Governor Ron DeSantis' administration to reject the Advanced Placement (AP) course on African American studies will "exacerbate" an existing teacher shortage.
"Teachers want to teach with autonomy and authenticity, and so they want to be able to teach real and true factual history, but we're seeing that they're criminalizing teachers as well," Hernández said on MSNBC's The Katie Phang Show.
She added: "They're doing book bans, now the teachers can be penalized for books that they have in their classrooms. These are really scary moments in the state of Florida... We know that there is a massive teacher shortage of over 5,000 vacancies in the state and this is only going to exacerbate that because nobody wants to go into a profession that they're not supported."
Hernández was referring to the 5,300 teacher job vacancies in Florida's public schools in January, which is more than double the openings that needed to be filled two years ago, according to the state's teachers union, the Orlando Sentinel reported earlier this month.
As the state continues to grapple with the teacher shortage, DeSantis' administration blocked a new AP African American studies course for high school students, sparking nationwide criticism. The course has been rejected because of issues with its content, according to a letter by the Florida Department of Education's Office of Articulation that was sent to the College Board, which oversees AP exams.
"In its current form, the College Board's A.P. African American Studies course lacks educational value and is contrary to Florida law," Cassandra Palelis, press secretary for the Florida Department of Education, told Newsweek earlier this month. "If the course comes into compliance and incorporates historically accurate content, the Department will reopen the discussion."
DeSantis said that the original course "pushed an agenda," while the state suggested removing lessons flagged by Florida officials, such as content on Black queer studies, activism and intersectionality, and advocacy for reparations, according to Politico.
The College Board told Politico last Thursday that no states or districts have seen the "official framework" that is scheduled to be released on February 1, and might include possible changes to the coursework.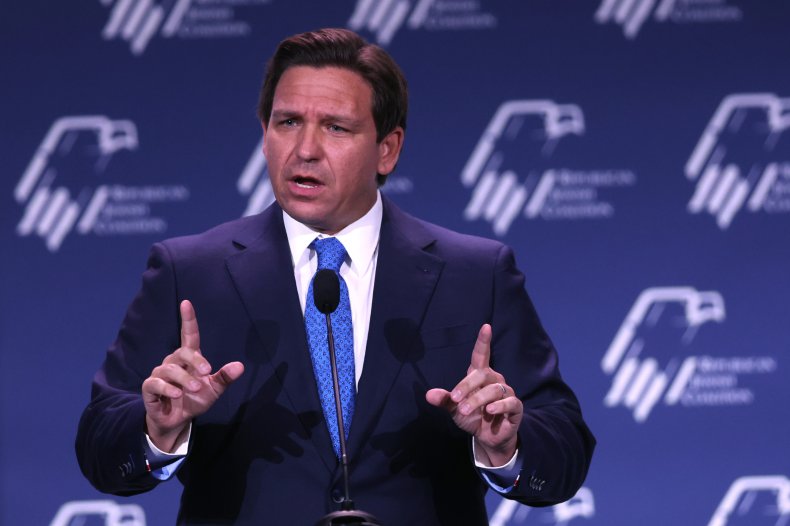 The course was part of a pilot scheme at 60 schools across the country, and is in a development phase, with "hundreds of additional schools" set to join between 2023 and 2024, according to an information page for the AP program.
A page on "Course Development" mentioned that courses "typically undergo a two-to six-year development process before they are implemented in classrooms," with development committees set up to "determine the general content and ability level of each exam."
Jeremy Redfern, deputy press secretary for DeSantis, defended the decision to reject the course, saying that its current form lacked "historical accuracy" and "educational value."
"As submitted, the course is a vehicle for a political agenda and leaves large, ambiguous gaps that can be filled with additional ideological material, which we will not allow," Redfern told Newsweek earlier this month. "As Governor DeSantis has stated, our classrooms will be a place for education, not indoctrination."
Still, Hernández said on Sunday that this move will not be good for the state, adding that the Florida Department of Education is being "weaponized."
"We certainly know that there are parents and students and teachers alike that are really upset at how this is being whitewashed, how they're taking away content," she said.
Others were also outraged by the move including Tariq Nasheed, a film producer and author, who called the decision an "anti-Black stunt." Meanwhile, Representative Ritchie Torres, a New York Democrat, wrote on Twitter: "Florida has gone from Don't Say Gay to Don't Say Black."
Newsweek reached out to the College Board, the Florida Department of Education, and the American Federation of Teachers for comment.