Florida Governor Ron DeSantis has signed a bill that effectively provides universal school vouchers in his state.
He said it would improve education and give parents more choice in what their children were being taught.
Critics say it will divert money away from public schools that are already under pressure.
Both his supporters and critics believe the move provides a sneak peak at DeSantis' potential presidential campaign—and a taste of the ideological battles to come.
After signing a bill to effectively provide universal school vouchers in Florida, Governor Ron DeSantis was typically forthright as he responded to questions, behind a podium bearing the slogan "education freedom."
"Parents have a fundamental role in the education of their kids, in the upbringing of their kids, and that's just the way it's got to be," he told the ceremony at Christopher Columbus High School in Miami.
DeSantis said that the law would improve the chances of all children in the state, regardless of their background, by increasing competition for schools to provide the best education. He went on to criticize the "phony narratives" of his critics, including disputing Democratic claims that a book on Rosa Parks had been banned in Duval County.
It was the last point that may point to how an age-old debate has been given a new twist, fueled by the culture wars—and the 2024 presidential election. It's no longer just about how well schools are teaching children, observers say, but what they are teaching children.
The School Voucher Debate
Arguments over school vouchers are seeing a resurgence in state legislative activity as the nation heads towards 2024.
Proponents argue that state-funded vouchers for attending private schools help children from poorer backgrounds gain a better education than their families could afford; opponents say they take funding away from public schools that would otherwise use it to improve their offering to underprivileged children. Advocates claim they improve competition among schools, while critics contend the playing field between public and private institutions is far from level.
This ideological contest has gained a new lease of life in Florida, where the latest expansion of school vouchers means any child of any background will be able to apply for a place at a private school. Other states, such as nearby Georgia, are considering similar, if less far-reaching, laws.
It is a policy that DeSantis, who is widely seen as a potential Republican candidate and likely front-runner in the GOP field for the 2024 presidential election, has now thrown his weight behind. Both those for and against the policy believe it is a sneak peek at the national platform on education that he might run on.
"This is an example of what he would do as the president—and I'm not endorsing him either way right now," Laura Zorc, director of education reform at the Freedom Works advocacy group, which has come out in support of the new law, told Newsweek.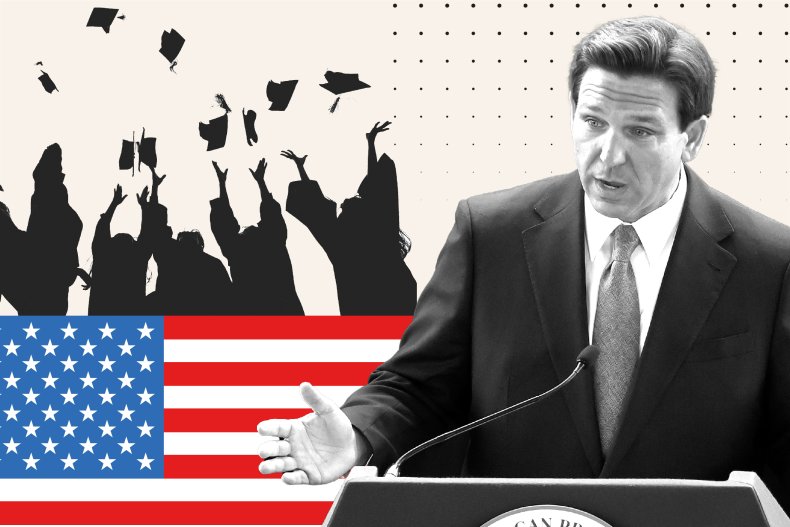 "What I'm seeing is that he is very pro-parent, he's very in-tuned to making sure our kids get what they need to be educated," she added. "And so he's not following along with the talking points of the teachers unions that all kids have to be in the public schools, because he feels that parents do know what's best for their kids and he's allowing them—us—to make that choice."
Others disagree. "He's running an agenda—including vouchers—in which he thinks will help him in his run for the White House, regardless of the impact that it has on the students and families in the state of Florida," said Andrew Spar, president of the Florida Education Association (FEA), the state's largest school staff union, which has voiced its opposition to the bill.
"It's very clear to those of us in Florida, as people are often referring to this year's legislative session not as the people's session but the governor's session. This governor Ron DeSantis's legislative session. Whatever the governor wants, he's going to get," he told Newsweek.
When asked to comment, a spokesperson referred Newsweek to DeSantis's prior remarks. He told the press conference he believed school choice was a state issue, not a federal one, but noted the legislation "will represent the largest expansion of education choice, not only in the history of this state, but in the history of these United States. That is a big deal."
Tribalism in Education
Despite school vouchers being a political talking point for years, Zorc suggested that it was now becoming part of the culture wars that have framed political debates more tribally in recent years, with the movement in Florida coming as a reaction to some of the hotly contested topics in education. DeSantis has made challenging what critics describe as woke dogma in education a priority as governor.
Zorc said in the past few years, "our administrators, our teachers' unions, they have ignored what they're really there for, and that's to educate our children. They've gotten really political; they've had their ideologies that they want to push onto our kids that don't belong there—and we're not just talking about Republican parents, or Democrat parents, we're talking about all parents are tired of this."
Zorc made reference to critical race theory—which discusses racism as part of societal systems—and debates over gender identity, as well as mask and vaccine mandates that were imposed during the coronavirus pandemic, adding: "What we're seeing now is just a repercussion of what has happened over the past several years. They're not listening to parents."
On Monday, state Republican House Speaker Paul Renner said the law would allow parents to send children to schools where their values were respected and referred to "some of the craziness that happens in our K-12 schools," the Associated Press reported.
"Can we do a better job in our public schools of making sure we're educating kids the right way?" Spar said. "Yes, but in order to do that we have to do two things: we have to make sure our public schools are fully funded, and we have to make sure that we respect and support the professionals in our schools. Neither of those things happen in Florida."
How the New Law Works, and What It Will Cost
Under the new law, all students in Florida will be eligible for vouchers that would cover around $8,000 of schooling. First priority will be given to children from homes earning 185 percent or less of the federal poverty level—roughly $55,500 for a family of four.
The bill does not place any limits on who can claim a voucher, and the Florida Policy Institute, a think tank that has spoken out against the law, stated at "even under conservative estimates" the new scheme would cost the state around $4 billion in its first year.
"This is going to drain $4 billion out of our public schools without any kids leaving our public schools, meaning that as kids stay in our public schools and dollars get diverted away, we're going to continue struggle—in fact struggle more than we do right now as a Florida public school system," Spar said, reiterating his association's calls to address the "massive" teacher and staff shortages, an issue DeSantis has previously recognized.
"What I think the biggest danger of this legislation is, is that now millionaires and billionaires will qualify for vouchers that; that they will be able to use tax money to pay for their kids who already attend some elite private schools," he added, mirroring state Democratic legislator concerns over the bill.
Zorc said the new law would allow middle-class families greater access to private schools, and noted that the bill also affords vouchers to home-schoolers, including those who want to home-school their children part-time while sending them to public school.
Florida ranks 48th in terms of funding for public school students, with an average of $9,983 per pupil per year, according to figures from the Education Data Initiative, despite receiving the third-highest amount of federal funding for kindergarten to 12th grade education.
However, Zorc—who was previously chairman of her local school board and has a background in forensic accounting—said that public schools in Florida spend nearly triple the amount of their private counterparts, around $21,000 a year compared to $8,000. She attributed the disparity to poor financial management on the part of the public institutions.
"There's a lot of waste and there's a lot of overheads that goes into the public schools," she said, adding the new law would mean "kids are going to receive just as high-quality education, or even better, than the public schools."
This view is not shared by Spar, who questioned the regulations that cover private schools that accept vouchers. He claimed some are able to operate without a proper curriculum or certified staff, and said "these fly-by-night corporate private schools" often "are there just to make money off our kids and don't in fact do a good job of educating our children."
Spar suggested this was why, according to FEA analysis of data from the past few years, 70 percent of students in Florida who take a voucher return in less than two years. He added that he had heard anecdotally that when students did return to public schools, "very often they come back way behind."
When asked to comment, a Florida Department of Education spokesperson referred to comments by its commissioner, Manny Diaz Jr., who said on Monday: "Florida will always make good on our promise to ensure every single child has access to a world-class education."
'Fear Tactics'
As well as giving parents from all backgrounds the opportunity to send their child to private school, Zorc said the new law would improve the quality of education at public schools through increased competition for students. She noted that she had school choice in her area of Florida, but had opted to send all three of her children to the public school "because that is what best fits my kids."
"What I've seen is it actually increases and offers a better quality [of education], but it also gives the parents the opportunity to put their kids in an environment that their children learn the best," Zorc commented, adding that though her children were graduating high school this year, "I'm excited because I know that it's here now for my grandkids."
Spar suggested that claims of improved competition between public and private schools played into the notion that "educating kids is a business," which he said was not how his members viewed their profession. Even if it were, he argued it was less than a fair playing field.
"You don't have one gas station on one corner receiving all kinds of support and money—with no regulation and advertising their competition across the street—where the gas station on the other side has to follow a thousand rules, and they get less support, less resources, and are told: 'By the way, you have to tell everyone to go to the gas station across the street,'" he said, by way of an analogy. "No one does that, but that is the so-called business model these non-educators continue to impose on Florida's public schools."
Zorc said that teachers' unions were against vouchers because they are "losing the power that they once had here in America," and so had resorted to "obvious fear tactics."
"They want to put a fear into the families, they want to put a fear into the taxpayers, saying they're going to strip away and tear down the quality of public schools," she said. "If our public schools are offering a good product, families are not going to want to go away."
Zorc said that the new law would see a movement of students away from public schools, which would entail a loss of public school teachers, which would in turn reduce the membership of teachers' unions. "It's all about control," she said.
Spar rejected these claims, adding that in Florida in the past 20-or-so years, there had been "an attempt to drive parents away from public schools, yet nearly 90 percent of students in Florida attend Florida's public schools."
He added that in terms of teacher movement, "it's the other way around," with most who work in private schools coming to public schools. He stressed his concerns over the standard of education elsewhere and the funding being taken away from public schools.
Spar said that DeSantis "has made it clear he wants to create a narrative across this nation that's not really about good policy, but it's about him getting elected. So yes, we are seeing some of the more extreme ideas coming out of Florida being spread to other states, vouchers being one of them."