Ron DeSantis Submits His Own Congressional Redistricting Map Unprompted by Legislature
Florida Gov. Ron DeSantis submitted his own congressional redistricting map proposal unprompted by the state Legislature.
Ryan Newman, DeSantis' general counsel, submitted the proposal, draft P 0079, Sunday night, according to Florida Politics. Days before, the Florida Senate Reappointment Committee pushed its congressional redistricting map forward.
Newman said in a statement to Wink News that the governor's office has "legal concerns with the congressional redistricting maps under consideration in the Legislature."
"We have submitted an alternative proposal, which we can support, that adheres to federal and state requirements and addresses our legal concerns, while working to increase district compactness, minimize county splits where feasible, and protect minority voting populations," Newman said. "Because the Governor must approve any congressional map passed by the Legislature, we wanted to provide our proposal as soon as possible and in a transparent manner."
The map would make 18 districts favoring Republicans, two more than the current map the state Senate passed, Politico reported. There are 28 districts in the state, according to CNN.
DeSantis can veto congressional maps the state Legislature passes, Politico reported. Legislators, however, are prohibited from considering politics in redistricting under the state constitution.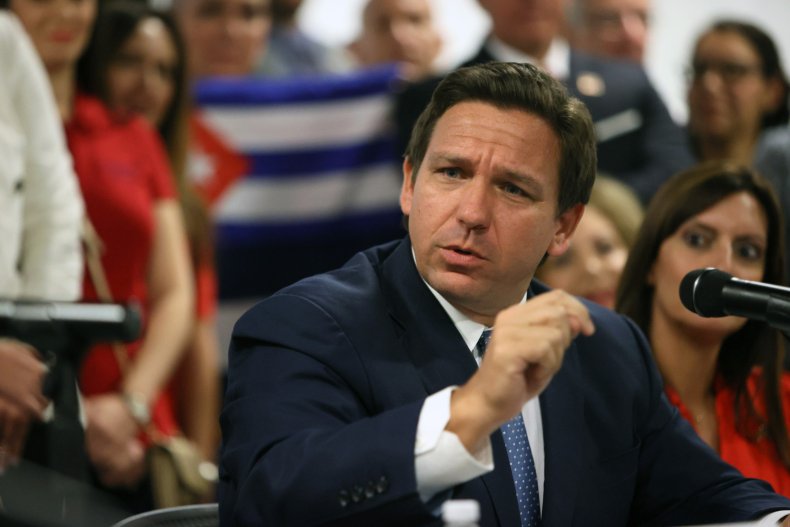 DeSantis' proposed map would change Congressional District 20, according to the Miami Herald. It is a black-majority district that used to be represented by late U.S. Democratic Rep. Alcee Hastings. A majority of the district would make a new Hispanic district, decreasing the influence of Black voters remaining. They would make up 15 percent of the district.
Congressional District 25 would also change to become Congressional District 26, the Miami Herald reported. The district would then be 61 percent non-Hispanic white. Republican U.S. Rep. Mario Diaz-Balart currently represents Congressional District 25.
A north Florida district represented by Democratic U.S. Rep. Al Lawson and a St. Petersburg district represented by Democratic U.S. Rep. Charlie Crist would also be broken up under the DeSantis' proposed map, according to The Associated Press.
Lawson said in a statement to AP that the proposal was "unprecedented" and "it is evident that DeSantis is trying to restrict minority representation, specifically African-American voters."
"I am confident that this attempt by the governor to dilute the voting rights of my constituents is in clear violation of the Voting Rights Act and the Constitution," Lawson said in a statement to AP.
"In stark contrast to the Senate maps, whoever drew these maps seems to have totally disregarded the Fair Districts provisions of the Florida Constitution and federal law,'' said Ellen Freidin, president of Fair Districts Now, the advocacy organization created to oversee the implementation of the Fair Districts amendments, according to the Miami Herald.