Ron DeSantis, Ted Cruz Lead 2024 Republican Polling if Donald Trump Doesn't Run
A new poll found that other than former President Donald Trump, most Republicans would trust Florida Governor Ron DeSantis with the presidency.
In a survey conducted from February 25 to 27 by Just the News, 363 of 1,200 registered Republican voters answered which GOP leader they would put their faith in to lead from the Oval Office. DeSantis and GOP Senator Ted Cruz of Texas led the poll, with 21 percent and 18 percent of all respondents expressing their support, respectively. All respondents recorded in the poll's final results were at least 55 years old, white and Republican.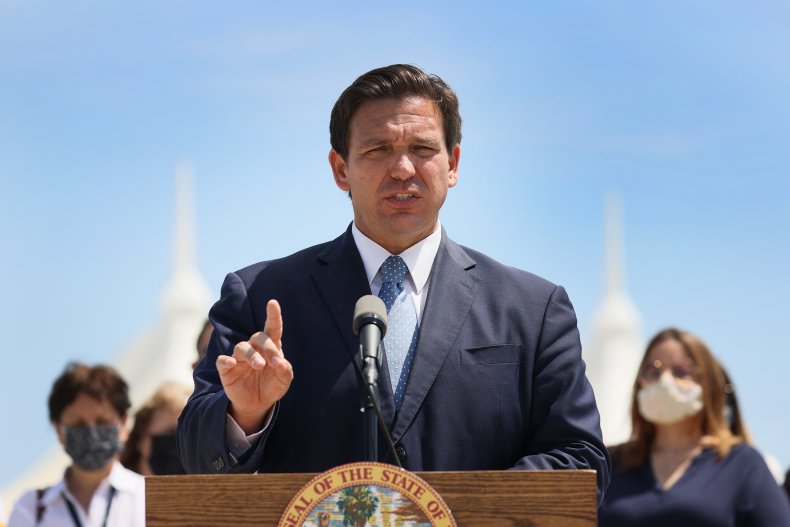 Behind DeSantis and Cruz was former South Carolina Governor Nikki Haley, who received 10 percent respondents' vote and 9 percent of respondents placed their confidence in Trump's secretary of state, Mike Pompeo.
The poll comes as DeSantis' profile as a potential Republican front-runner is rising. Trump has yet to make a call regarding his 2024 plans, so the GOP is testing out new possibilities for leadership, Politico reported. One increasingly viable option for the party is the 42-year-old Florida governor and former House representative who has grown popular amid his mitigation of the coronavirus pandemic in a key swing state which has a lot of science skeptics.
"His policies were contrarian, and he was defiant," Tony Fabrizio, a Republican pollster, said to The New York Times. "The more he stands his ground, the more he speaks his mind, the more the affinity grows for him."
DeSantis has been hailed by conservatives for keeping schools and businesses open in Florida, despite the spread of the virus, unlike other states with stricter COVID-19 restrictions, according to the Herald-Tribune. And his frequent media appearances on national Republican-preferred television channels such as Fox News have strategically increased DeSantis' name recognition—especially for a state official who has never run a national campaign before, CNN reported. Cruz, on the other hand, has served as a Senator and came in second place in the GOP race in the last GOP primary.
But as Florida rebounds from the pandemic ahead of other states, DeSantis has emerged, in the eyes of some Republicans, as the leader of the "the free state of Florida" and an example of post-Trump Republican leadership that capitalizes on conservative hot-button topics, such as Big Tech regulation, the Times reported.
"He's taken the wrong approach on some of our most critical issues, COVID being first and foremost, yet within Republican political circles, he is considered to be the front-runner for the White House," said former Representative David Jolly said to the Times. "He's worked his hand perfectly."
In February, 43 percent of attendees at the Conservative Political Action Committee voted in a straw poll in favor of DeSantis winning the GOP presidential nomination in 2024 if Trump chose not to run, the Herald-Tribune reported.
This political sign-posting of DeSantis' rising profile has continued throughout this year.
When DeSantis spoke at the Republican National Committee donor gala in Palm Beach, Florida, earlier this month, the governor received a surge in attention from conservative donors, with top GOP contributors flocking to give money to "a nicer version of Trump," according to Politico.
And a spurt of donations has also brought heightened criticism. Most recently, DeSantis received attention when 60 Minutes reported that grocery chain Publix donated $100,000 to DeSantis' reelection campaign, suggesting a foul play between the donation and the state's partnership with the store for COVID-19 vaccine distribution.
As of now, DeSantis is focused only on his 2022 gubernatorial reelection campaign, aides told Politico.
Newsweek has reached out to DeSantis for comment but did not receive a reply by publication time.