Ron DeSantis' Threat to Defund Schools that Mask Sparks Calls For Probe
Governor Ron DeSantis' backing of a Florida House Representatives measure to withhold $200 million from 12 school districts that defied the state's ban on mask mandates has sparked outrage from 11 Democratic members of Congress who are now calling for a probe.
In a letter addressed to U.S. Secretary of Education Miguel Cardona, the lawmakers argue that the funding reductions would "exacerbate an already strained school system" that they noted ranks 46 among states in per-pupil support, a measure that gages funding per student.
"The proposal by Governor Ron DeSantis and Florida House Republicans to defund school districts in our state for simply following CDC guidelines is cruel and unnecessary at this point," Congressman Darren Soto, who was the letter's first signee, told Newsweek in a statement. "As the governor continues to put politics ahead of the best interests of our children, we're pushing back to ensure that he doesn't get away with it. I hope Secretary Cardona understands the harm that this would do to our already strained systems and halts these unnecessary attacks."
"Republicans didn't learn their lesson the first time and are again punishing students, teachers, and schools for following sensible pandemic science," Congresswoman Debbie Wasserman Schultz, the letter's second signee, told Newsweek in a statement. "Inflicting harsh budgetary pain on children like this is cruel and underscores how much Republicans put their extremist, anti-vaxxer base over public health and keeping families safe. Sacrificing the educational success of school children for personal political ambitions like this is repulsive."
Under the proposal, the Orange County Public School District would lose $16.5 million worth of funding and the combined Miami-Dade, Broward, Palm Beach County school districts would lose $128 million worth of funds. The Tampa Bay Times reported that The money taken from these and other districts would be moved to the state's other 55 districts that did not defy the order.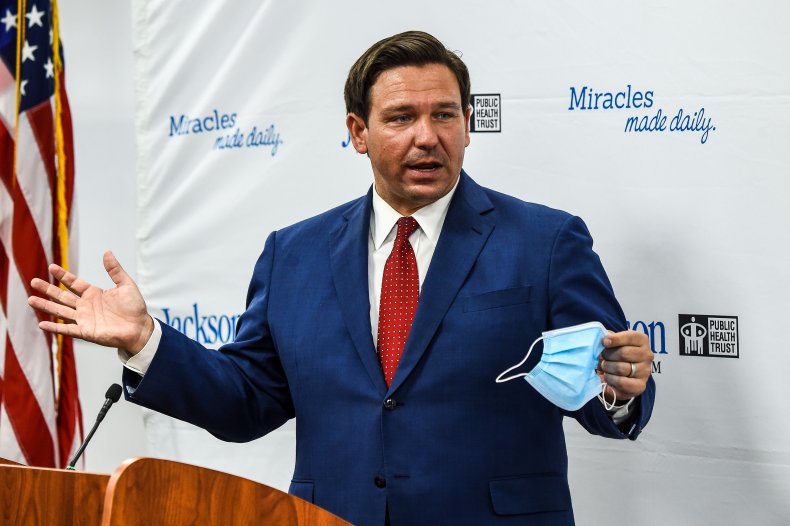 DeSantis did not originally support the measure, which was introduced by state representative and House Education budget writer Randy Fine. However, last Tuesday the representative announced that he had garnered DeSantis' support on the measure.
"What he [DeSantis] has asked, and what we agree with, is that ensuring our proviso says these reductions in growth must come entirely from central offices...there can be no programmatical cuts in programs facing students. So, the governor is on board, now," Fine said in response to a question about why the proposal did not originally garner the governor's support, WFSU public radio station reported.
As it stands, COVID-19 cases in the state of Florida have dropped by 77 percent over the past two weeks and hospitalizations have fallen by 45 percent. These numbers stand above the national figures of a 66 percent decline in cases over the past two weeks and a 44 percent drop in hospitalizations.
With COVID on the decline and the vaccine available to all those over the age of 5, the pertinence of COVID-19 regulations appears to be on the decline. Florida Democratic Party Executive Director Marcus Dixon told Newsweek in a statement that he sees the ongoing conflict over student masking as an object being used for political battles, as opposed to something aimed to support the state's children.
"Governor DeSantis and Florida Republicans are more focused on playing politics and fighting culture wars about mask-wearing than they are with adequately investing in our kids' education," Dixon said in a statement provided to Newsweek. "We can't afford to cut school funding any more, especially after the last two years, but the Governor is totally fine with throwing kids, teachers, parents, and school administrators under the bus if it means he gets a few cheap headlines out of it."
Update: 2/23/22 2:13 P.M.: This article was updated to add the statement from Marcus Dixon and Darren Soto.
Update: 2/23/22 4:59 P.M.: This article was updated to add the statement from Debbie Wassermann Schultz.