Ron DeSantis Weighs in, Says Joe Rogan Owes No Apologies for Using N-Word
Republican Florida Governor Ron DeSantis agrees with former President Donald Trump, saying embattled Spotify podcast host Joe Rogan shouldn't apologize for using the N-word.
Rogan has been under fire for spreading COVID-19 misinformation on his podcast, The Joe Rogan Experience, and is also facing backlash for using the N-word repeatedly in the past, which was displayed in a viral compilation video. Though Rogan has apologized for his racially insensitive comments, conservatives, including Trump and DeSantis, have stepped up to defend him.
In a statement released Monday, Trump said that Rogan has "got to stop apologizing to the Fake News and Radical Left maniacs and lunatics," amid the controversy.
"How many ways can you say you're sorry," Trump said. "Joe, just go about what you do so well and don't let them make you look weak and frightened. That's not you and it never will be!"
DeSantis echoed Trump's view in an interview with Fox News, saying Rogan shouldn't have apologized for his previous comments.
"Do not apologize. Do not kow to the mob. Stand up and tell them to pound sand; if you do that, there's really nothing that they're able to do to you. The only way they have power is if you let them get your goat."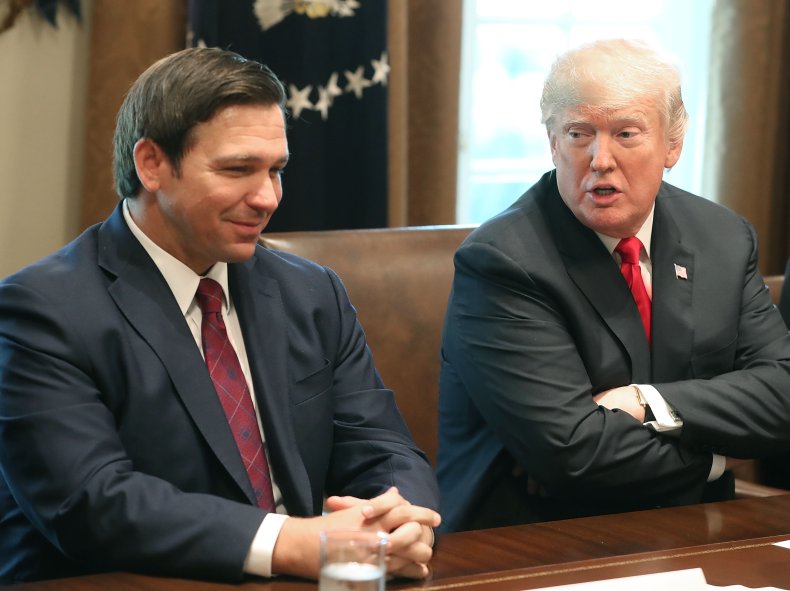 DeSantis also defended Rogan for his controversial comments surrounding the COVID-19 pandemic. DeSantis said Rogan is giving people opposing views and the information they need to make their own choices.
"No, he shouldn't have apologized. I mean, you see what happens," DeSantis said. "The mob will come after people, and they're targeting Rogan because he's threatening to upset the apple cart on some of the things that they're holding dear. And with COVID, he's just bringing opposing views."
Singer India Arie was one of the celebrities to draw attention to Rogan's racial slurs.
"I believe in freedom of speech," the singer wrote on Instagram. "However, I find Joe Rogan problematic for reasons other than his COVID interviews. For me, it's also his language around race."
Arie joined rock icon Neil Young and other artists who pulled their music from Spotify's platform in protest of Rogan's show.
In an apology video, Rogan said his use of the slur in the viral video compilation posted by Arie was "the most regretful and shameful thing that I've ever had to talk about publicly."
Spotify CEO Daniel Ek said he condemns what Rogan said; however, he will not be removing Rogan's show from the platform.