Ron DeSantis Won't Send Florida Guard Troops to D.C. for State of Union
As President Joe Biden's State of the Union address approaches, Florida Governor Ron DeSantis announced that he will not be sending State National Guard troops to Washington, D.C.
In a tweet published on February 28, DeSantis said that he rejected a request made by Biden to send State National Guard troops to the region. This rejection comes as the so-called People's Convoy approaches its target, the District of Columbia.
"Last week, the Biden Administration requested the assistance of State National Guards to deploy to Washington D.C. I have rejected this request," wrote DeSantis, "there will be no [Florida National Guard troops] sent to D.C. for Biden's State of the Union."
The comments come after a busy week for DeSantis. After getting his controversial "Don't Say Gay" bill passed through the state House of Representatives, the Florida governor appeared at the Conservative Political Action Conference (CPAC) 2022 where he received a big boost in support from Republican voters. According to a straw poll conducted by CPAC organizers, more attendees of the conference supported DeSantis as a potential Republican presidential candidate than last year; his support percentage increased by 7 points to achieve a 28 percent approval rating for the theoretical candidate.
However, he is still an unlikely candidate compared with former President Donald Trump, who is the favorite to secure the 2024 Republican presidential nomination. If Trump decides not to run, then DeSantis has been polled as being the next best option.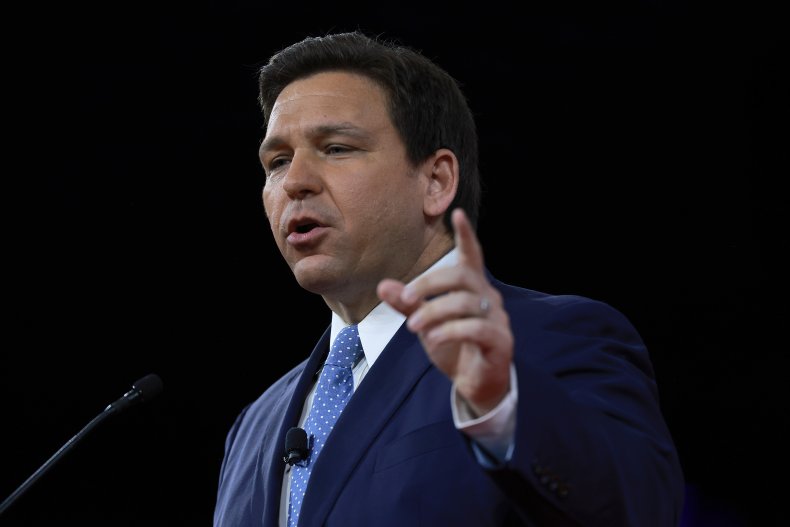 The lack of Florida Guard deployments also comes as the People's Convoy, the U.S. offshoot of Canada's Freedom Convoy, is making its way to Washington, D.C. Newsweek previously reported that around two dozen convoys are expected to arrive in the region on March 1, the same day as Biden's State of the Union address. Around 700 unarmed troops of the National Guard, none of whom will be from Florida will be stationed in the region until March 7.
Around 78.5 percent of Republicans recently polled to be supportive of the trucker convoy, with an additional 68.6 percent of independents saying similarly. However, only 15.1 percent of Democrats gave the same answer.
"We've seen other polls," said Mark Meckler, president of Citizens for Self-Governance, a group that seeks to limit the size and scope of the federal government, "in which Democratic voters support free speech for other protests—even violent ones—and therefore it's important for all Americans to understand that free speech is either free to everyone, or free to nobody."
DeSantis' office on Tuesday replied to Newsweek's request for comment by saying the federal government nor Biden "did not specify why National Guard troops would be needed at an event where US Capitol Police and Secret Service traditionally serve as security."
According to local news station WRC-TV, 700 National Guard members were activated to be deployed to the District of Columbia for the State of the Union. Out of that number, 400 troops were local to the area. Approximately 300 troops activated are from other parts of the United States, with Vermont and New Jersey each bringing 100 troops. Around 80 from West Virginia were also deployed. Although the number of troops deployed by other states is not clear, this could mean that Florida would not have had to provide a significant number of troops if the request was accepted by the governor.
The statement from DeSantis' office went on to question the Biden administration's confidence in Capitol law enforcement, and said, "The National Guard should never be misused for political purposes or regime propaganda spectacles. Last year, when the National Guard deployed to D.C. around the inauguration, they were forced to sleep in freezing parking garages. Our dedicated, patriotic service members deserve better."
While a select number of troops were stationed in an unheated garage near the Thurgood Marshall Federal Judiciary Building, the exact number of those affected is unknown. These troops were said to be at the garage after being temporarily relocated off the Capitol grounds. However, they returned to their original posts the next day. Biden, who was inaugurated as President at the time, apologized to the affected troops.
Newsweek has reached out to the National Guard for comment but has not received a response.
Update at 3/01/2022 at 11:12 a.m. ET: This story has been updated with a statement from the office of Gov. Ron DeSantis.