Ron DeSantis Won't Use CDC Guidelines in Florida Schools Since They Would Have to Close
Florida Governor Ron DeSantis slammed the school reopening plan issued by the Centers for Disease Control and Prevention (CDC) on Monday, calling it a "disgrace."
"Florida schools are open for in-person instruction. Every single parent in this state has a right to send to send their kid to in-person instruction. We have done it the right way, we are not going to turn back," DeSantis said during a press conference. "What the CDC put out, 5 o'clock on a Friday afternoon—I wonder why they would do it then—was quite frankly a disgrace."
DeSantis continued, "It would require, if you actually followed that, closing 90 percent of schools in the United States. We have been open. They will remain open, and we are not turning back."
DeSantis' comments come shortly after the CDC issued school reopening guidance amid the ongoing COVID-19 pandemic.
The CDC guidelines include a color-coded system for schools based on the current transmission rate of the virus in specific communities. The four colors include blue, yellow, orange and red.
Blue and yellow are given to communities with low or moderate transmission rate, and are encouraged to reopen for in-person learning. On the other hand, communities designated as orange or red, have much higher transmission rates of COVID-19 and may consider reopening with safety precautions such as physical distancing in place.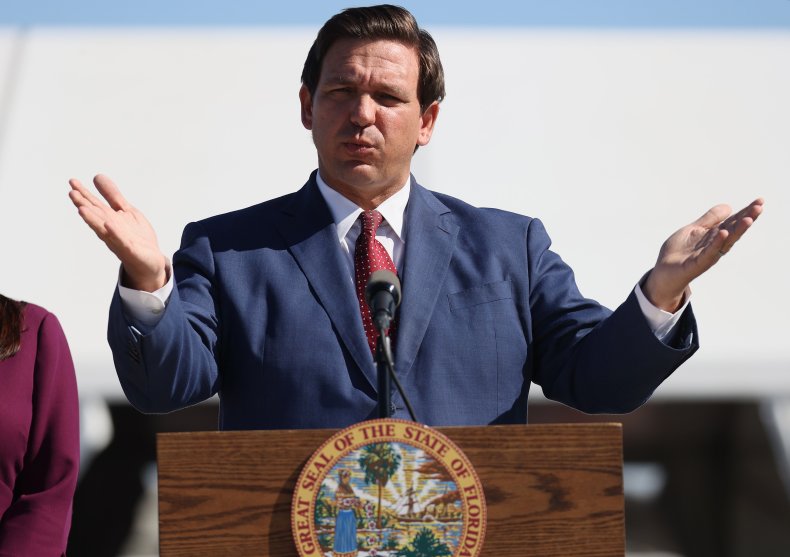 During the press conference, DeSantis went on to further criticize the CDC's school reopening guidelines, saying, "We've been open the whole time, since August. We had kids doing camps and athletics and all that over the summer and we've been in-person as much as anybody in the country and yet, we are 34th out of 50 states and D.C. for COVID-19 cases on a per capita basis for children."
"Thirty-three states have more cases per capita than Florida children and many of those don't have a lot of in-person instruction in school," he added.
As DeSantis notes, many schools across Florida have been open for several months now and Florida's Commissioner of Education Richard Corcoran made similar comments in a statement released after the CDC's guidance.
"CDC guidance is informative, although Florida school districts, public charter schools and private schools should stay the course they began in Summer 2020. The science has been clear since August, and subsequent studies and data since then show that schools are safe to reopen," Corcoran wrote in a statement on Friday. "Unlike much of the nation, Florida's schools have been operating safely for in-person instruction since last August, many also operated summer education programs, and 98.5% of early learning programs are serving families in-person."
Newsweek reached out to DeSantis and the CDC for comment but did not receive a response in time for publication.