Comedian Ron Funches Is Building People Up, Not Tearing Them Down on Positive New Quibi Show
Do you often find the good in everything? Regardless of the situation, do you spot a silver lining? Then the new game show Nice One!, from comedian Ron Funches, is for you.
Funches has built a fanbase with his special brand of positive humor, and now he's hosting a new game show on Quibi that tests comedians' abilities to find the best out of bad situations and people.
"I have always wanted to host a game show. I love hosting. It's one of my favorite things to do," Funches told Newsweek. "I'm really happy because this is the biggest way that I've ever shown my style of humor of being optimistic and positive and still sharp and still fun."
The concept of Nice One! came from a live show that Funches and others would do around Los Angeles, in which different comedians would get into "compliment battles," which are essentially the opposite of roasts.
Quibi approached the 37-year-old California native to expand the format into a game show and have him host, which is how Nice One! came to be. And if you think complimenting others is easy, think again.
"It's much easier to tear down than to build up," Funches said. "Comedians are so used to saying why something is horrible, but they weren't used to figuring out the positive, so it was really fun to see people's minds work in new ways."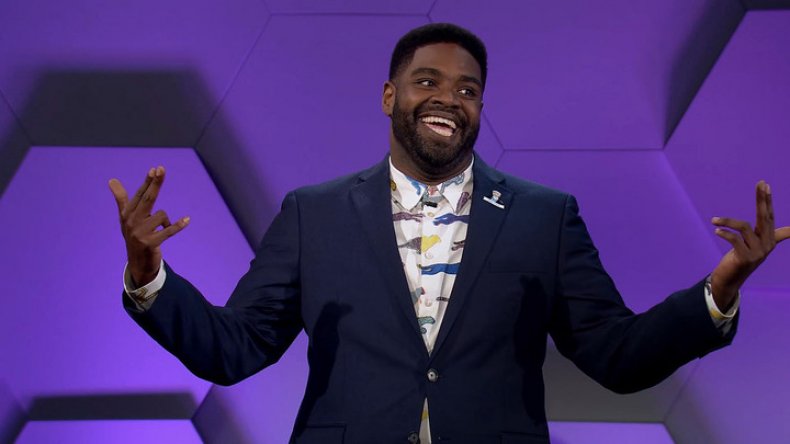 Each five-minute-ish episode of Nice One! consists of three rounds. The first sees Funches present a topic, like internet trolls, to the three participants, who have to say something "nice" about the subject. The second round lets the participants choose from a group of topics. For example, in one episode, "Hollywood monsters" gave the participants a chance to say something "nice" about Harvey Weinstein.
And the final round pits the top two contestants against each other in a compliment battle, forcing them to say something nice about each other in the funniest way possible.
"On the surface it sounds like a simple concept of trying to find the best scenario for a bad situation, or people complimenting each other, but people find a lot of ways and a lot of different avenues to talk trash or still get their personality across in the joke and I think that's what makes it a lot deeper," Funches said.
The first season was taped in front of a live studio audience, before the coronavirus pandemic, according to Funches, which is why you won't be hearing a ton of gags about quarantine or Zoom calls. And aside from feeling like a throwback to pre-pandemic life, having the audience there is key, because they grade each joke until ultimately a winner is crowned. And when the contestants have topics like Harvey Weinstein or the Challenger tragedy, things can get tricky.
"There are some things that you just can't joke about," Funches said. "We learned that when taping. If it's like a tragedy it had to be very, very old, you know? It had to be like Hindenburg or something like that. Anything fresh, anything in the last decade that was like a real, actual tragedy, we couldn't make jokes about. There were real feelings that people still had about them and we just had to learn to accept that."
While making people laugh—sometimes in an uncomfortable way—is always the key, Funches also said he hopes to accomplish something else with Nice One! He'd like for the show to introduce viewers to comedians that they might not be familiar with—much like how Funches' appearances on @midnight and Chelsea Lately brought him some exposure.
"That's the best part of the show: It showcases the people who I know that have been hilarious for years and introducing them to new people," Funches said. "Just as a person who loves comedy, I loved it when I met someone new, I never saw before and go, 'Wow, they're brilliant, they're hilarious, they're amazing.' And now that's my job, to introduce people to my friends like that. I genuinely love it."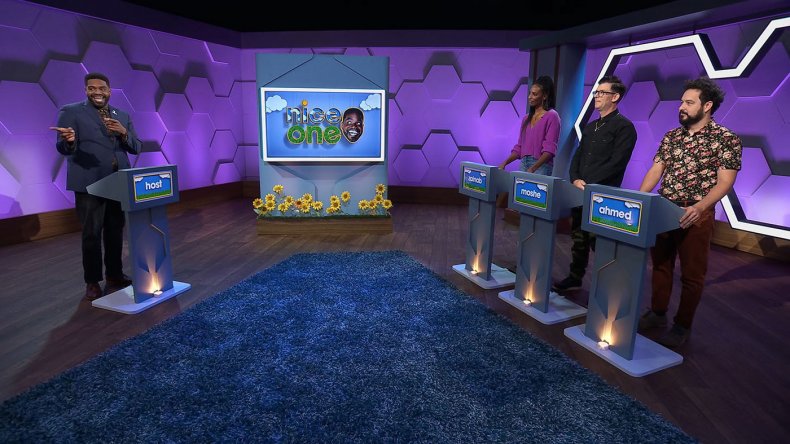 Nice One! was scheduled to premiere back in June on Quibi, but was pushed to August. Funches said that at the time, the protests surrounding the killing of George Floyd and the wider Black Lives Matter movement were happening, and it didn't feel like the right time to have the show premiere.
While issues like social injustice and the global pandemic are still a problem, Funches hopes that Nice One! can be a respite for viewers.
"It's the perfect time for this show," Funches said. "We're swimming, we're drowning, in negativity and I think for a show to come out and be fun and bright and positive, smart and hilarious, it is exactly what we need right now."
Nice One! premieres on Quibi August 24.
Comedian Ron Funches Is Building People Up, Not Tearing Them Down on Positive New Quibi Show | Culture