Ron Howard Can't Tell the Difference Between Daughter Bryce Dallas Howard and Jessica Chastain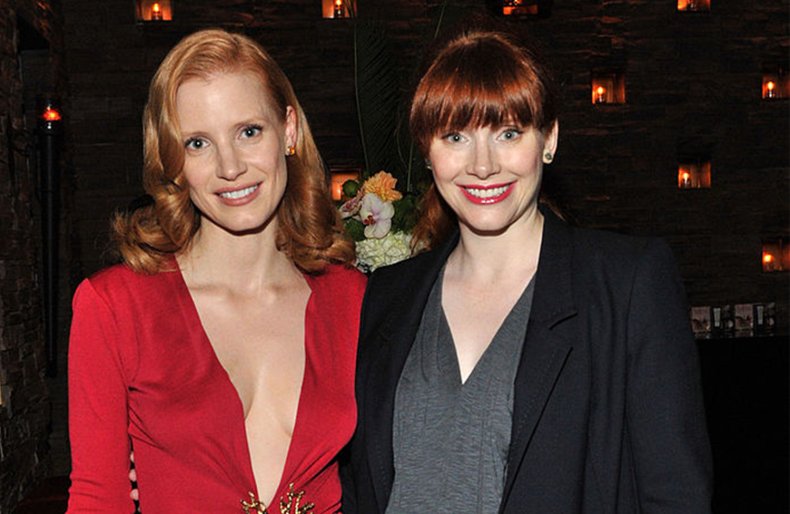 A parent confusing their child for another one of their children happens all the time, but a parent confusing their child for a stranger? That's exactly what happened to director Ron Howard when he confused the actress Jessica Chastain for his actual daughter, Bryce Dallas Howard.
"Legit," she The Associated Press at the opening of the Jurassic World ride at Universal Studios Hollywood on Tuesday. "And he was, like, shook. He really was."
"At first he was like, 'You really look so much alike,'" Dallas Howard later told Entertainment Tonight. "And I mean, obviously, I'm incredibly flattered, so it's great. Although something is wrong when people stop mistaking me for her. I'll be like, 'Gotta get it together.'"
"I was like, 'Oh, that's Ron Howard,'" Chastain told the Associated Press about the incident. "And then my friend was with me (and) said he turned to someone, he goes, 'I think I just saw Bryce.' We look so much alike."
"I don't want him to feel like, 'I couldn't recognize my daughter,'" Chastain said of the brief encounter, "but, no, I literally walked by, and he was like, 'I think I saw Bryce.'"
Ron Howard isn't the only person to point out the similarities between Bryce Dallas and Chastain. A viral video from 2015 called "I AM NOT JESSICA CHASTAIN (Bryce Dallas Howard) shows clips from the two actresses many films, with a song attached sung from the vantage point of Bryce Dallas.
"I am not Jessica Chastain / I'm the one from Lady in the Water / For Christ's sake I am Ron Howard's daughter / So we hold this sad refrain / I am not Jessica Chastain / So don't tell me I was great in Interstellar," part of the song goes.
Even Bryce Dallas and Chastain are in on the joke. Chastain posted a video to her Instagram of Bryce Dallas lip-syncing via a Dusmash to the song from the YouTube video.
"My friend emailed me about that [musical] video yesterday, and it had just posted two days ago," Bryce Dallas said at the premiere of Jurassic World in 2015.
I was like, 'This is brilliant!' And he said, 'You should totally do a Dubsmash,' so we did it..."
Bryce Dallas texted the video to Chastain, who then uploaded the video.
"[Jessica] was like, 'OK, this is totally a thing. We need to use this power for good, and do a movie together playing sisters,'" Bryce Dallas said.
If a movie about them playing sisters ever happens, it wouldn't be the first time the two shared the big screen. They originally played enemies in the 2011 drama The Help.