Ron Jeremy Charged With Sexually Assaulting 4 Women
Ron Jeremy, the adult film star with more than 1,500 film credits to his name, has been charged with committing sexual assault against four women.
On Tuesday, the Los Angeles County District Attorney charged the actor—whose real name is Ronald Jeremy Hyatt—with the forcible rape of three women and the sexual assault of another on separate occasions that date back to 2014. The 67-year-old is facing three counts each of forcible rape and forcible penetration by a foreign object, as well as one count each of forcible oral copulation and sexual battery. If he's convicted, Jeremy could face a maximum sentence of up to 90 years behind bars.
According to a press release from the L.A. District Attorney's office, Jeremy is accused of raping a 25-year-old woman at a West Hollywood home in May 2014. He is also accused of sexually assaulting two women—one age 33, the other age 46—on two separate occasions at a bar in West Hollywood in 2017. Prosecutors are also alleging that the porn star forcibly raped another woman at the same West Hollywood bar in July 2019, when she was 30.
The prosecutors are hoping to set Jeremy's bail at $6.6 million.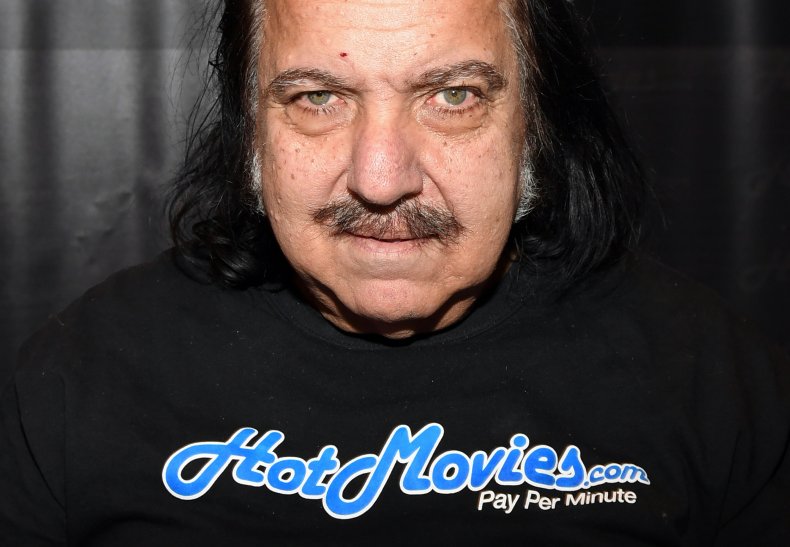 When contacted by Newsweek for comment, Golden Artists Entertainment, which manages Jeremy, announced in a statement that it's dropping him as a client.
"We are announcing today that we are dropping Ron Jeremy as one of our 80 management clients, " Dante Rusciolelli, owner of Golden Artists Entertainment, said in an emailed statement to Newsweek. "When Rolling Stone charged Ron with being in the ME TOO movement, he showed us proof against the allegations. At the time, the police and District Attorneys backed Ron up. He had never spent a day in court or in jail. Rolling Stone was given proof of his innocence and still printed the story anyway. However, today the District Attorney in Los Angeles is bringing charges of sexual misconduct against him, and we were not given any proof of his innocence at this time. We hope that these allegations against him are not true, but if they are, we hope that he is prosecuted."
The L.A. District Attorney's office declined to provide Newsweek with further comment.
The charges come several years after Ginger Banks' viral YouTube video, released in June 2017, in which the adult film actress and sex worker advocate discussed multiple allegations of sexual misconduct by Jeremy against various women. That video focused on accounts from several women who have alleged that Jeremy inappropriately touched, groped and assaulted them.
In a 2017 Rolling Stone report, Jeremy denied the accusations and said that the allegations were "pure lies or buyers remorse."
"I have never and would never rape anyone. All serious allegations have been investigated by police and dismissed by judges, as have most of the accusations of 'groping.' I have never been charged nor spent one day in court for any of this," he said at the time.
While Tuesday marks the first official charges to ever come down on Jeremy, there have been at least two complaints filed against him on suspicion of criminal sexual conduct, as revealed by Rolling Stone's 2017 report.
One incident allegedly occurred in Ypsilanti, Michigan, in 2003, during which a woman claimed Jeremy held her down and raped her in the back of a club where he was making an appearance. Jeremy claimed the sex was consensual, and the woman's friend corroborated his statement, which essentially brought the investigation to an end.
A complaint was also filed against him in 2007, by a woman who claimed he pulled out her breast and signed it without her permission at the Miami Beach Exxxotica festival. Jeremy denied wrongdoing, according to Rolling Stone.