Ron Johnson Defies CDC Guidance Over COVID Vaccination After Infection
Senator Ron Johnson has said he does not intend to follow official guidance and get vaccinated against COVID-19 because he has been infected.
Speaking with CBS 58, the Republican for Wisconsin, who contracted COVID in October, said he would not get the vaccine as he believes he has "immunity."
Asked if he had been vaccinated, or planned to, he replied: "No, I had COVID. I think that probably provides me with the best immunity possible [for] actually having the disease."
His comments stand in stark contrast to Centers for Disease Control and Prevention advice that strongly recommends those who have been infected get immunized, noting that experts are still learning about how long natural immunity lasts.
Guidance on the CDC website reads: "You should be vaccinated regardless of whether you already had COVID. That's because experts do not yet know how long you are protected from getting sick again after recovering from COVID-19.
"Even if you have already recovered from COVID-19, it is possible, although rare, that you could be infected with the virus that causes COVID-19 again."
Congress members were offered the vaccination in December 2020. Despite this, several lawmakers have still not been inoculated.
Johnson, 65, also would have been offered a vaccine in Wisconsin around January 25, when adults aged 65 and older in the state became eligible for shots.
"I could have got a vaccine, you know, right out of the blocks," the senator told CBS 58. "I decided not to do that so that other people can get the vaccine.
"It certainly appears the pandemic on its own is winding down and the vaccine is certainly helping this come to a close, and I think most Americans and Wisconsinites can't wait for the pandemic to be over."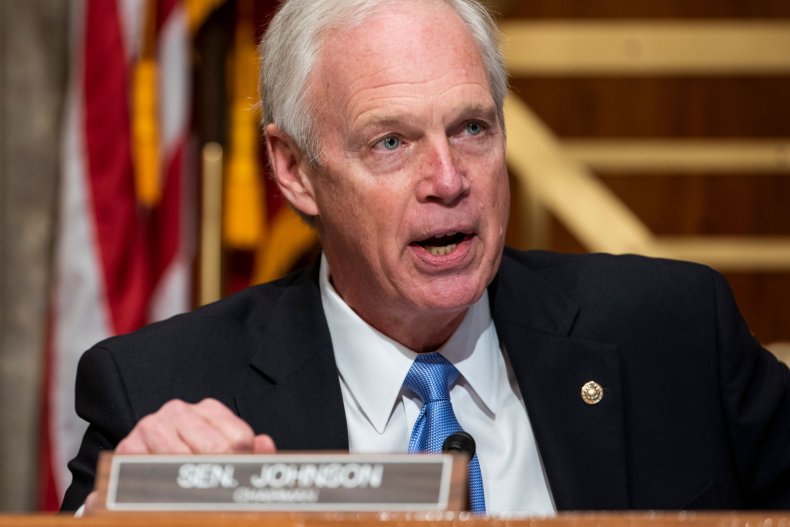 Johnson, considered to be one of former President Trump's most energetic supporters, has been critical of COVID-19 restrictions and previously hit out at health officials for refusing to endorse using hydroxychloroquine, a medication the 45th President praised multiple times last year.
Dr. Anthony Fauci, of the White House coronavirus task force, said in July that hydroxychloroquine was not effective against COVID-19.
According to the CDC, 20.1 percent of Wisconsin's 5.82 million residents have received at least one vaccine dose. It also stated that 11.2 percent of the population had gotten two doses. Amid the rise in vaccinations, health officials have warned against complacency.
Dr. Matt Anderson, University of Wisconsin Health senior medical director, said: "There may be some opportunities to increase contact with vaccinated individuals, but we need to be careful, because if we don't, we run the risk of broader community spread and that's going to delay the ultimate goal, doing all the things we want to be doing."