New York State Assemblyman Ron Kim is one of more than 1.9 million New Yorkers who contracted COVID-19 since health officials began tracking the virus' spread last year. After announcing his positive test in March, Kim said he was feeling much better by early April. But his own infection is not the only way the virus has affected his family: his uncle died after becoming infected, and his father was recently hospitalized after contracting the virus.
With Kim and his father both recovering from their bouts of COVID-19, the Queens Democrat told Newsweek his family is "very grateful" to be returning to a semblance of normal. New York was hit hard by the virus in the pandemic's early days, but the state now appears to be heading into recovery, as is much of the U.S.
The pandemic has been eye-opening for many Americans in terms of the powers held by state leaders, the speed with which hospitals can or cannot respond to sudden patient surges, protection gaps in long-term care facilities, and much more. New York's Democratic governor, Andrew Cuomo, became a popular leader in the fight against COVID-19 in the pandemic's early stages, but recent scandals involving sexual harassment allegations and the state's reporting of COVID-19 deaths among nursing home residents have left his administration in disarray.
As the scandals involving Cuomo heated up earlier this year, Kim began attracting attention at the national level as a Democratic state legislator openly criticizing the once-popular governor. In February, Kim accused Cuomo of using bullying tactics to threaten him, and Kim has called for Cuomo's removal from office over the state's controversial release of nursing home data. Cuomo has widely denied wrongdoing by his administration and said he does not intend to leave office before the end of his term.
Despite the upheaval in the executive branch, Kim and his colleagues have focused on pushing through a budget for the new fiscal year, many components of which Kim hopes will address issues that came to light over the course of the pandemic. In a time of intense political polarization, economic inequity and racial violence, Kim told Newsweek during a phone interview last month that he believes investing resources directly in the people will help society as a whole move in a brighter direction.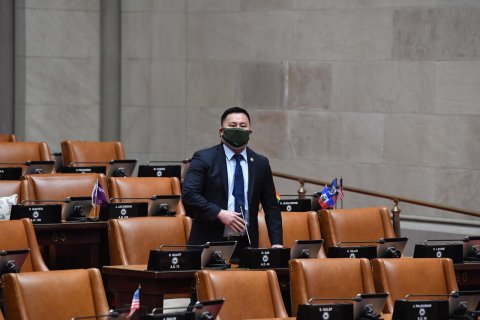 New York is taking steps to reopen as we all begin the recovery process from this pandemic. As a state legislator, what are your top priorities in the months ahead as New York recovers?
Investing in our people. We're wrapping up our state budget as we speak today. We have historic investments that will take care of marginalized communities that have been left out of the bailout and the support that people receive from the federal government. We all know, and economists have proven for many years now, that doing these types of economic, social and health meltdowns, the more we invest directly into people, the faster we'll recover and build an economically resilient society moving forward. That will be achieved in this budget, but there's still a lot more to do in the coming years.
Governor Cuomo recently signed legislation you have pushed for that peels back immunity protections for nursing homes implemented in the early days of the pandemic. Why was this such a vital piece of legislation for you?
It was a win for the 15,000-plus families who lost their loved ones and community groups that recognize giving out broad corporate immunity—to nursing home operators, CEOs and the business behind the facilities at the peak of the pandemic—served as a disincentive for these businesses to invest any more dollars to save people's lives. And that's exactly what happened.
The moment they received this broad immunity last April, they no longer felt the need to spend every dollar they had on PPE and hiring staff to provide social distancing protocols in these facilities. Coupled with the governor's mandate to ban people and families from entering these facilities, and also to waive medical-keeping records, it was a combination of failed policies that led to unnecessary deaths, while giving the businesses 'Get Out of Jail Free' cards at the peak of the pandemic.
When the government and the state fails to protect vulnerable members in places like nursing homes, the one recourse families and residents and patients have are the courts and an individual right to recourse. The governor took that away from them retroactively: he put the bill in April but he went retroactively to March. So patients or residents who thought that they had recourse, their rights were taken away.
What other pending pieces of legislation do you view as high-priority agenda items?
There's a number of items that we want in pertains to nursing homes. We have a couple of other bills that give specific guidelines for the Department of Health, his administration, to come in and take over facilities in the pandemic that clearly is incapable of protecting our residents. Right now, there aren't specific triggers for the public sector and the government to come in and put in temporary executives or temporary staffing to oversee these facilities—and if they continue to fail to comply, to take over the facilities to make sure that people inside the facilities are protected. That's one pending bill.
We're still trying to work toward safe staffing mandates at hospitals, as well as nursing homes and long-term facilities. This is an ongoing issue that had been going back and forth before the pandemic. We thought that we were able to achieve a compromise in this budget, but we weren't able to do that, so that's one thing that has been left behind.
Lastly, real investment for homecare workers is something that's desperately needed. Right now, homecare workers are barely making minimum wage, and there's a shortage of these workers at a time when we need them the most. This is very much related to nursing homes, because if we invest in homecare workers and wraparound service for older adults, many of them do not need to be admitted to a nursing home facility, and they can age with dignity in their homes. A number of studies have shown that the return on that investment is tangibly greater than leaving them at nursing home facilities.
Right now, in the state of New York, we spend about $135,000, per nursing home resident every year, while we invest about $7,000 to $10,000 per senior that needs services at home. So we need to fix that ratio and invest in homecare services and homecare workers.
What big policy area has become particularly poignant to you during this pandemic?
The Forbes billionaires list just came out, and New York hosts, once again, the most number of billionaires. Their collective wealth continues to skyrocket during this pandemic.
This is the first time in recent history, let's say the last 100 years since the Great Depression, where when our society and community is suffering through economic health or social meltdowns or downturns, the ultra-rich and billionaires got richer in significant ways where poor people or marginalized communities were either killed or died or imprisoned during this pandemic. The economic divide has never been as clear in history as we are witnessing now, and lawmakers in places like Albany are taking notice and understanding that this is not a sustainable way. This will result in deadlier outcomes if we continue to believe that subsidizing the growth of more billionaires and giant corporations in the middle of a pandemic is the way to get out of our economic downturns.
In this budget, that's one of the main reasons why we were able to push a few tax justice bills that allowed us to generate up to $4.3 billion of new revenues based on taxing the top 5% of the state of New York.
But there's a lot more we can do. There are a few other tax bills that we believe can generate between $10 to $15 billion sustainable revenues to finally put New York in a place where we're prioritizing the needs of our people over some of the ultra-rich.
You made headlines earlier this year when you accused Governor Cuomo of using bullying tactics against legislators like yourself. Has that always been your experience with the governor?
I think most politicians in New York, as well as the press, have known about his bullying tactics and his character. It was an open secret for all of us. Everyone talked about it. It was notorious how he treated people.
For most of us, it's not the bullying that we were concerned about—it's him escaping accountability for his abuse of power. I think there's a difference between him being abusive and just being a bully to lawmakers and his peers. The moment that he became abusive with me is when he asked me to lie to cover up for his top aide who had admitted to possibly obstructing justice for his administration. That was a clear line that he crossed that could not be undone. And the series of credible allegations that came out is a continuous reflection of his abuse of power and his abusive behavior, and that's why he needs to be held accountable.
I think we're at eight or nine credible women who have come forward already. And the nursing home data suppression—deflating public data to sell books and to hold on to this corporate immunity for his top donors—are clear indications of him abusing his power. Despite the wins for the people of New York in the budget, we need to be clear that he still needs to be held fully accountable for his abusive actions.
You recently penned an op-ed for Newsweek arguing in favor of impeaching Governor Cuomo, but polling in March and early April suggested public opinion among New York voters is split on whether they want him removed from office. Do those indications of New Yorkers' split support for Governor Cuomo's removal from office change your position?
Last year, when I saw the bad policies that were resulting in unnecessary deaths in communities like mine, I was warned not to criticize the governor because, especially at the beginning of the pandemic, his ratings were off the charts. He was popular, I was facing re-election. I had a primary and a general election, and my consultants were warning me not to criticize the governor.
But I didn't care about the polling back then, and I don't look at the polls now. This is about families who lost their loved ones. There are 15,000-plus people who went through similar traumatic, painful experiences.
The sad part is, he had plenty of opportunities at the beginning of the pandemic to completely own up to some of the bad decisions and mistakes and move forward with us. We left plenty of space for him to do that, but he made the choice to lie, cover up, to create this national profile that he was the heroic COVID savior. It was all about his brand and image.
When he felt like the world was treating him like a hero, he wanted all the spotlight; he didn't want to credit any other people around him. But the moment he was facing criticism, accusations of obstruction of justice and facing serious charges, now he's trying to implicate all of us.
Though the pandemic remains a threat, recovery appears to be underway as vaccination efforts ramp up. What are some of your legislative goals for New York in the years ahead?
I would like for us to finally create a caring economy for the state of New York. I think for far too long we stopped investing, whether it's monetary dollars or policies, to improve the social conditions that have been brewing, the violence and hatred that we are witnessing in real time.
Today it's against Asian Americans. Ten years ago, it was against Muslim Americans and Southeast Asians. But these types of hatred and violence we're witnessing are man-designed violence and hatred that stems from under-investment and lack of improving social conditions, and everyday people feeling like no matter how hard they work, there's absolutely no social and upward mobility in our society.
We have a number of bills, a number of funding priorities, that can get this right. If we invest in care, if we invest in people's ability to care for each other—whether it be public schools, after school, Pre-K, child care, nurses, the whole spectrum of care work. If we invest in people's ability to care for each other and our community, we will have a much better society and a community that roots out the violence that we're seeing right now.
I think many politicians fall trap to the knee-jerk reaction. When you see an ugly act of violence, we focus on the crime and the individual itself. We want to punish that person and call that justice and just leave it at that.
I think we're at a pivotal point where if we do not shift gear, and if we do not change the way we think about investing in our economy, and we frame things like economic development where we only think that subsidizing big companies like Amazon is the way to go and shift toward actually investing in people directly, we will continue to see more violence in the future.
I can't blame people putting on band-aids. When you see an older Asian American grandma getting pushed to the ground and getting beat up, you need to put some band-aids on right away. But oftentimes we never get to the root causes of where the violence is coming from, and we celebrate the band-aid and leave it at that. I think this is a unique time and opportunity where lawmakers, instead of being absolved of our responsibility, can actually get to the root causes. We can be held accountable to actually resolve the brewing and growing violence that we're witnessing in our communities.