Ron Kim Says Cuomo Need to Share Blame on Pandemic Response, 'We Can't Just Scapegoat Trump'
New York Assemblyman Ron Kim said that Governor Andrew Cuomo needs to share the blame on the controversy surrounding his response to the COVID-19 pandemic and nursing homes, instead of using former President Donald Trump as a "scapegoat."
In an interview with The Critic published on Wednesday, Kim was asked about Cuomo's handling of nursing homes during the ongoing pandemic and how his administration's suggestion of Trump politicizing the situation explained a delayed request for data from state Democrats.
"I do agree that there was a lack of leadership from Washington, a lack of support and overall leadership. However, we can hold Washington and this state and this city accountable—to the same standards," Kim said. "We can't just scapegoat Trump for everything that went wrong. That's what the governor was trying to do."
"There is a number of things he could have done differently. But what he chose was to scapegoat Trump and even use him to potentially obstruct justice by not providing information to the Department of Justice," Kim said of Cuomo.
In an email sent to Newsweek Thursday, Kim's office wrote: "Governor Cuomo gave off the presumption of confident leadership, but under further scrutiny, he should now ask, how many lives could have been saved under different leadership."
Earlier this month, Cuomo's top aide, Melissa DeRosa apologized via a virtual call to state Democrats for setting aside their request for data on nursing home deaths from COVID-19, as Cuomo's office dealt with a similar request from the Department of Justice.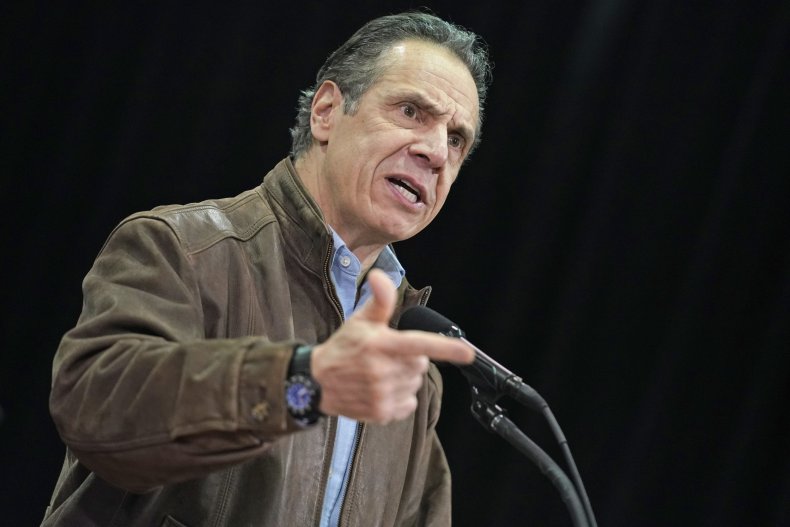 After Cuomo declined the request from state Democrats, he was criticized by Trump, which DeRosa spoke about during the call.
"The letter comes in at the end of August and right around the same time, President Trump turns this into a giant political football," DeRosa said. "He directs the Department of Justice to do an investigation into us.... And basically, we froze, because then we were in a position where we weren't sure if what we were going to give to the Department of Justice or what we give to you guys, what we start saying was going to be used against us while we weren't sure if there was going to be an investigation."
DeRosa added: "That played a very large role into this."
Since DeRosa's comments, Cuomo has continued to face criticism from many, including Kim. Most recently, the governor was accused of sexual harassment by his former aide, Lindsey Boylan, on Wednesday.
"Today I am telling my story. I never planned to share the details of my experience working in the Cuomo administration, but I am doing so now in hopes that it may make it easier for others to speak their own truth," Boylan wrote in a tweet with her blog post, that went on the detail the "sexual harassment and bullying" she faced while working in Cuomo's administration.
Shortly after the blog post, Kim issued a response on Twitter, in which he wrote: "Cuomo is a coward who has abused his powers. His pattern of abuse and harassment toward his aides, journalists, lawmakers, and critiques is despicable. As a lawmaker, I have the duty to hold him accountable. I will not stand down. I will stand with Lindsey Boylan."
In response to Boylan's claims and the criticism Cuomo faced, the governor's press secretary, Caitlin Girouard, issued a statement calling the claims "quite simply false."
Newsweek reached out to Cuomo's office for comment, but did not receive a response in time for publication.