Former Texas Congressman Ron Paul called Russian President Vladimir Putin the "new coronavirus" in a Monday column and suggested U.S. President Joe Biden, Congress and the Federal Reserve are using the Ukraine-Russia conflict as "a ready-made excuse for their failures."
Paul, a long-time member of the U.S. House of Representatives who ran for president three times, has been a member of the Republican Party as well as a Libertarian at various points in his political career. He's also been an outspoken critic of numerous government policies on issues ranging from the war on drugs to the war on terror. More recently, he's spoken out against COVID-19 mandates.
He made the remarks regarding the Russian invasion in his most recent weekly online column for the Ron Paul Institute for Peace and Prosperity—the think tank he founded.
"President Biden's 'maskless' State of the Union signifies the near-end of the COVID tyranny we have lived under for the past two years," Paul wrote. "Fortunately for Congress, the President, and the Federal Reserve, the Ukraine-Russia conflict is replacing COVID as a ready-made excuse for their failures and a justification for expanding their power."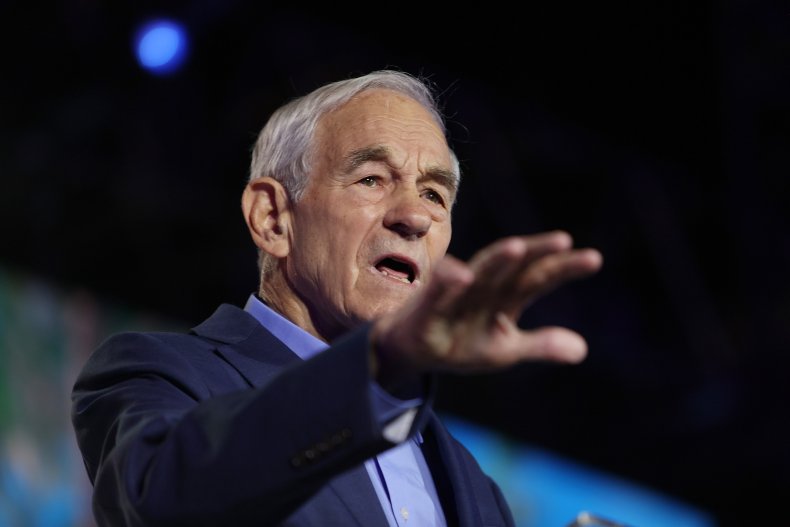 In his column, he also disputed widely-accepted claims from the scientific community regarding the coronavirus regarding lockdowns and mandates, which he said "did more harm than the coronavirus itself," adding, that such evidence-backed measures "were based on lies promoted by the government and its allies in the 'private' sector."
Paul, who is the father of Kentucky Senator Rand Paul, stated that similar to how many Americans didn't second-guess the government regarding COVID safety rules, the public has largely resisted to "even question the U.S. government's claims regarding the Ukraine crisis or question whether Russia is really responsible for our economic problems as opposed to a spendthrift Congress, successive spendthrift Presidents, and an out-of-control Federal Reserve."
He went on to write that sanctions imposed on Russia gives the government an excuse to raise gas prices, even while it doesn't ban Russian oil imports. Paul also suggested that the Putin-ordered invasion gave the Federal Reserve an opportunity to postpone what he said were "planned interest rate increases."
"The Ukraine crisis also provides an excuse for Congress to do what Congress does best: increase federal spending. President Biden has requested Congress provide an additional $10 billion in emergency military aid to Ukraine," the former congressman wrote. "Congress will likely quickly approve the President's request. This will not likely be the last time Congress rushes billions of 'emergency' money to Ukraine."
He theorized another consequence of the invasion could be lobbyists for military industries seeking to expand the country's military budget, in which Congress would likely agree to, he said.
Paul also critiqued social media companies who "did the government's bidding by 'de-platforming' anyone who expressed skepticism of vaccines or promoted alternative treatments..." He said these same companies are again following the government's directions of "de-platforming" anyone who questions "the official narrative" about what's happening in Ukraine.
"The only way to stop authoritarians from using crises like these to grow their power is to make enough people understand a simple truth: authoritarian politicians will always lie to the people to protect and increase their own power," he concluded.
Newsweek contacted Paul for further comment, but did not hear back in time for publication.
Follow our live blog for updates on the Russia-Ukraine conflict.