Scott Bray and Ronald Moultrie—the UFO Pentagon Officials Set for Congress
Unidentified flying objects (UFOs) may be a pillar of science fiction, but the topic will be seriously discussed in the upper echelons of the U.S. government for the first time in decades next week as security officials outline the potential national security threats they pose.
Outside of science fiction, the topic of UFOs—which the government now calls unidentified aerial phenomena (UAP)—may be disregarded as a dubious conspiracy theory. But last year the subject made national headlines after the Office of the Director of National Intelligence released a nine-page report on them with reference to 144 incidents reported by U.S. government sources dating back to 2004.
The report, which had been requested by Congress, did not explain any of the incidents except for one, which was identified as "a large, deflating balloon." What the report did do was provide proof that reports of UFOs or UAPs were being taken seriously by the U.S. government.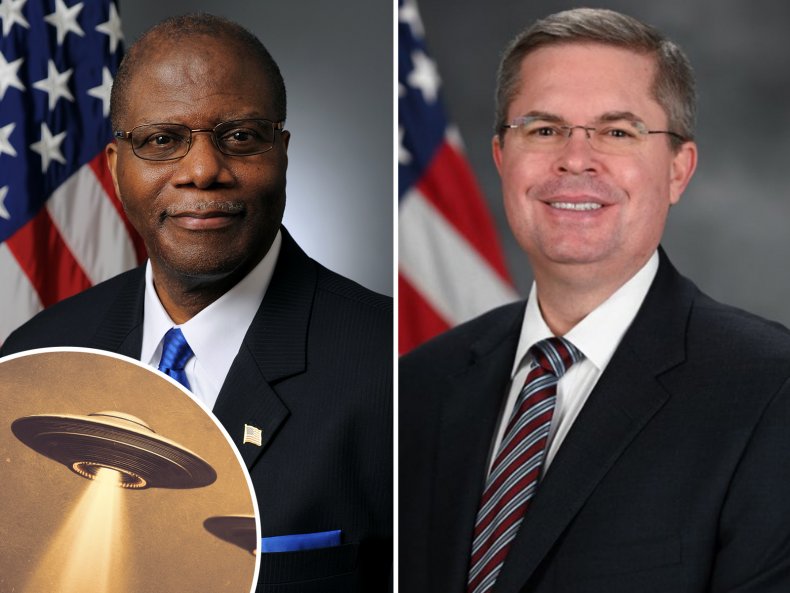 The report even makes reference to "sociocultural stigmas" getting in the way of effectively collecting data on these mysterious objects, which it said, "clearly pose a safety of flight issue and may pose a challenge to U.S. national security".
It added that there were 11 incidents of "near misses" between pilots and UAPs. In a number of UAP incidents, flying objects "reportedly appeared to exhibit unusual flight characteristics" including moving at "considerable speed, without discernable means of propulsion".
On Tuesday next week, a House subcommittee is due to start the first open congressional hearing on UFOs/UAPs in over 50 years with testimony from two defense officials, according to The New York Times: Ronald Moultrie, under secretary of defense for intelligence and security, and Scott Bray, deputy director of naval intelligence.
Moultrie was sworn in on June 1 last year. It is his job to advise Secretary of Defense Lloyd Austin, on matters of intelligence, counterintelligence, and security matters. His career spans over 36 years, during which he has served as a senior member of both the CIA and the NSA.
Significantly, a new office organized by the Defense Department specifically to investigate UAPs—the Airborne Object Identification and Management Synchronization Group (AOIMSG)—was organized within the office of Moultrie.
Bray, meanwhile, is a naval intelligence officer responsible for providing intelligence assessments to Navy leadership. His experience includes intelligence collection and analysis.
His position within the Navy is notable as Navy pilots are among those who have officially reported UAP sightings in the past.
Adam Schiff, chairman of the House Intelligence Committee, said that the purpose of next week's hearing is to "break the cycle of excessive secrecy and speculation with truth and transparency," The New York Times reported.