Reagan, the upcoming movie about the life of Ronald Reagan from the age of 11 through his presidency, has had a setback due to an outbreak of COVID-19 on the set that has caused production to temporarily shut down.
On Wednesday, the two-square-mile set location, which is located in Guthrie, Oklahoma, and doubles for scenes involving the Oval Office and Situation Room at the White House, the Coconut Grove nightclub in Hollywood and more, was bustling with crew members. Meanwhile, its stars, Dennis Quaid and Penelope Ann Miller, who play Ronald and Nancy Reagan respectively, and Jon Voight, who plays a KGB spy, roamed around the grounds.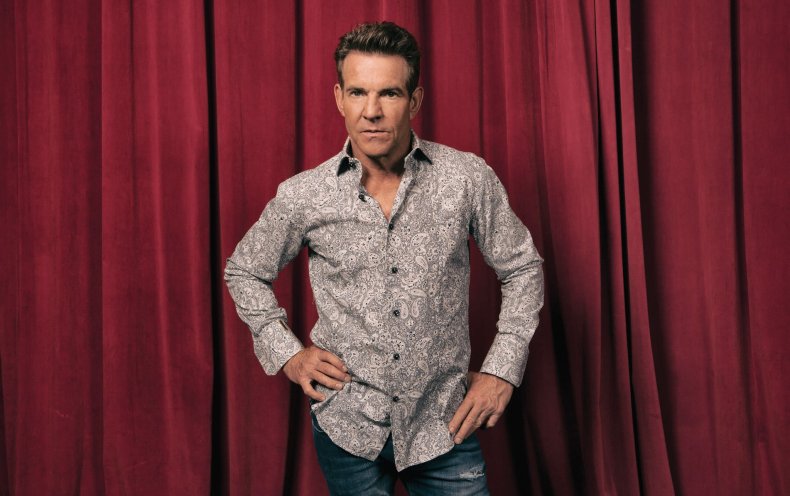 All crew and cast members wore masks, except when they were in front of the cameras, including during an interview with Entertainment Tonight to promote the film, which is expected to hit theaters in fall 2021.
But on Thursday, the area was almost barren, including the medical tent where nearly 10,000 coronavirus tests have been administered since shooting began September 17. The expansive area was shut down after several people on the set tested positive for COVID-19, though insiders will not say how many.
"The health and safety protocols on set were very good, if sometimes annoying," Quaid told Newsweek. "You can do everything right, but things still happen. I'm praying for a speedy recovery for each of our crew members, and we'll resume as soon as everybody's healthy."
Hollywood has been attempting to get back into the business of producing motion pictures and TV shows in the pandemic era, but several productions, Reagan being the latest, have had to close down due to positive tests. The Batman was among the first to halt production in early September when that movie's star Robert Pattinson tested positive for the virus. Early this month, Jurassic World: Dominion paused production for two weeks after several members of the production team tested positive for coronavirus.
"We have had some positive tests from members of our crew, so, out of an abundance of caution, we have decided to pause production until we get the go-ahead to return to work from our medical team," Reagan director Sean McNamara told Newsweek. "The health and safety of our entire team is my greatest concern."
Industry insiders say that the film was about three-quarters through with shooting when the coronavirus outbreak forced them to temporarily shutter while medical authorities quarantine those infected and figure out when production may resume.
According to the Johns Hopkins Coronavirus Resource Center, to date, Oklahoma has seen 110,855 confirmed cases and 1,210 deaths.