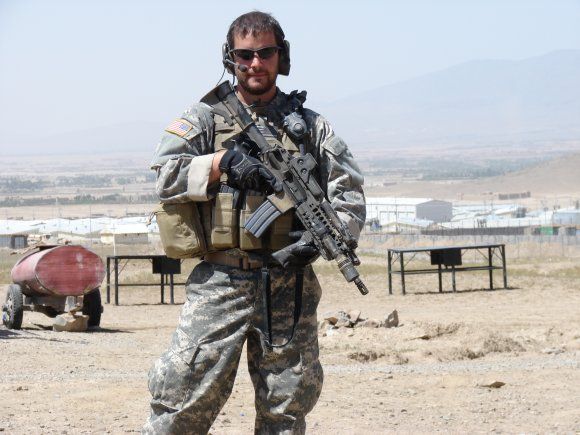 President Donald Trump will award the Medal of Honor to a former U.S. Army special forces medic, who saved scores of his fellow service members and Afghan commandos during a fierce firefight in 2008, the White House announced late Friday.
U.S. Army Staff Sergeant Ronald J. Shurer II of 3rd Special Forces Group (Airborne), out of Fort Bragg in North Carolina, will receive the nation's highest military honor in a White House ceremony scheduled for October 1. The news was first reported by USA Today .
Shurer will receive the medal for his actions during a firefight that occurred on April 6, 2008, in Afghanistan's Skok Valley. Shurer was a senior medical sergeant with Special Forces Operational Detachment Alpha 3336, Special Operations Task Force-33, according to the White House press briefing.
During a partnered combat patrol with Afghan commandos, the team came under intense enemy fire from more than 200 enemy fighters, equipped with machine guns, sniper rifles and rocket-propelled grenades.
The team suffered several casualties from the onslaught of incoming fire as they were pinned down on the mountainside. Shurer noticed a fellow injured soldier and immediately sprinted through enemy fire to treat the downed soldier.
After stabilizing the soldier, Shurer fought his way back up the mountain, killing several militants along the way, before linking back up with the main assault element to render medical treatment to four more soldiers, who were critically wounded.
In total, Shurer treated four U.S. soldiers and 10 injured Afghan commandos under intense enemy fire and coordinated their medical evacuation down the mountainside. According to Shurer's previously awarded Silver Star citation, the mountain was an almost vertical 60-foot cliff.
Shurer's Medal of Honor was upgraded from his previous Silver Star Medal after further review.
After loading the wounded onto a helicopter, Shurer assumed command of his special forces team and headed back into the gun fight. "Shurer's heroic actions saved the lives of his teammates," the White House statement concludes.
A graduate of Puyallup's Rogers High School in Washington state, Shurer went on to earn a bachelor's degree in business administration from Washington State University in 2001.
Shurer enlisted into the U.S. Army from Spokane, Washington in September 2002. He was promoted to staff sergeant in December 2006 and served in Afghanistan from November 28, 2007, to May 31, 2008 as apart of the Combined Joint Special Operations Task Force in Afghanistan.
After being honorably discharged from the armed forces in May 2009, he began his career with the Secret Service as a special agent assigned to the Phoenix Field Office, later serving as a member of the Secret Service's Counter Assault Team and assigned to the Special Operations Division, according to the White House press statement.
Shurer lives in Burke, Virginia, with his wife and two children.