Cristiano Ronaldo: Portugal Star Wins Battle of Real Madrid With Gareth Bale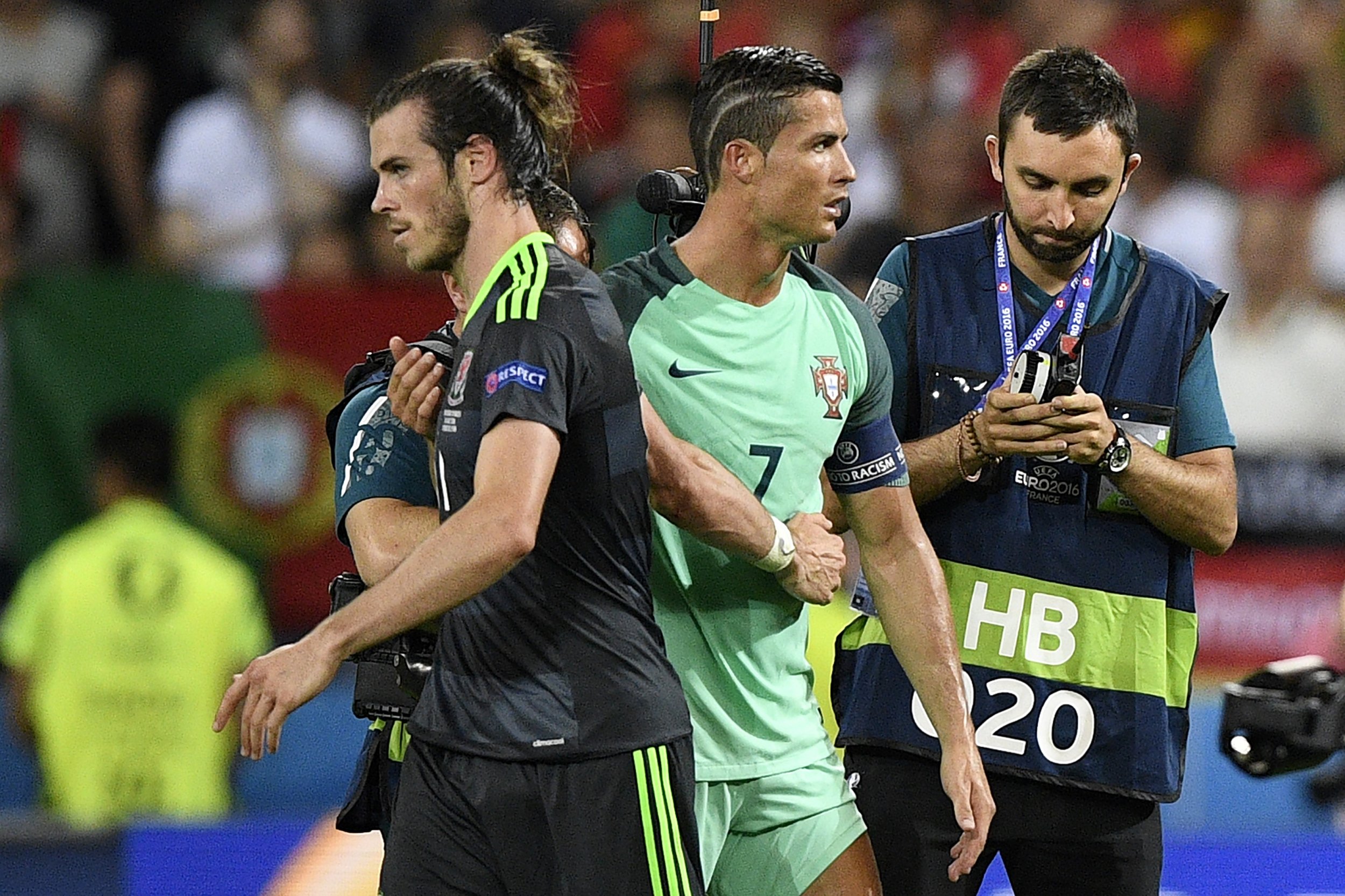 Wales versus Portugal was billed, somewhat unfairly to the other 19 men on the pitch—excluding perhaps Jonas Eriksson, the referee—as Cristiano Ronaldo versus Gareth Bale. And if one were looking for a passing of the mantle in the Stade des Lumieres, well, no one goes in search of confirmation bias and doesn't find it.
Many pitted one man's brilliant strength against the other's exceptional brawn, a man who would be Real Madrid's new King against an incorrigible yet tiring monarch. Bale had, along with Arsenal's Aaron Ramsey and captain Ashley Williams, dragged Wales along to this most unlikely of events: a major tournament semifinal. A fitful Ronaldo had half-dragged and hauled by a spluttering Portugal to this stage, with narrow knockout victories against Croatia and then Poland.
The stage was set for a linear narrative, but the trouble is, star actors have a way of bending scripts to suit their wills. Ronaldo was near-anonymous in the first half; it was Bale making the running, making Wales tick. Everything positive in a game with little positive about it went through him—a thrilling burst down the right wing, conjuring memories of the 2014 Copa del Rey final, when he turned Marc Bartra into dust.
Bale drifted, dangerously, "between the lines" as commentators are fond of saying, from side to side, stretching Portuguese fibers. On the rare occasions he and Ronaldo came up against each other, physically, it was Bale who had the edge, brushing off Ronaldo's attempt at tracking back to whip in a dangerous cross close to halftime.
Perhaps, if this had been the archetypal fairy tale with the child-pleasing ending, Wales might have pressed more for a goal before halftime, when Portugal was at its worst. And perhaps Ronaldo, the antihero in the simple morality play, might have slipped on 50 minutes when he rose to nut the most aesthetically pleasing of headers past Wayne Hennessey in the Wales goal. Perhaps, 3 minutes later, he might have hit his shot cleanly from 25 yards, instead of the sleepy effort that Luis Nani turned past Hennessey for what was always going to be an unassailable two-goal lead. "Bale, Bale," the fervent Wales supporters cried in a chant that sounds plaintive when it is celebratory.
But their hero is no Ronaldo in tight spaces. Forced to make all of Wales' play, his touches grew heavy and his passes wayward. On 80 minutes, attempting to spring an attack from deep, force the play, he gave the ball away, and Portugal should have had a third.
There was one more Bale-ism—with 10 minutes remaining, a powerful shot beaten away by Rui Patricio. One of the final acts? Ronaldo, chest pumped out prouder than at any point so far in the tournament, pumping an impossible free kick into Bale's body, in the wall. Ronaldo won the battle, Portugal the skirmish.
Bale may yet win the strange, passive-aggressive, civil war to become Real Madrid's main man. In Lyon, on the final whistle, there were warm words between them, a hug, a bittersweet sense of what might have been—and a reminder that football, when played on a strip of grass rather than in newsprint or the imagination, can still be pleasingly chaotic.
If the mantle existed, it remains unpassed.