After Exposing Weinstein, Ronan Farrow Cautions Innocent Men Could Become 'Causalities' of #MeToo Movement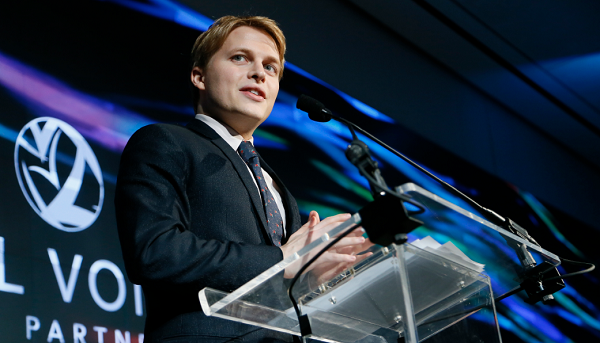 Ronan Farrow was instrumental in exposing the allegations against Hollywood mogul Harvey Weinsten. However, the journalist believes that, as more and more women come forward with accounts of abuse, some innocent men will become "casualties" in the war on sexual harassment and assault.
While speaking at a Silurian Society luncheon on Wednesday, the son of actress Mia Farrow and director Woody Allen said, "decades of silence on this issue" has caused this moment of "white hot anguish."
When asked if he was concerned about a risk of miscarriage of justice for accused men, he encouraged caution. "In a perfect world, everyone involved from the press is careful enough to suss out how serious each potential charge is and exercise caution where it is needed, but there's no way of guaranteeing that."
However, he added, "My feeling is that this is a net benefit to society and that all of the people, men, and women, pouring forward and saying me too deserve this moment. I think you're right to say that we all have to be conscious of the risk of the pendulum swinging too far, but in general this is a very positive step. I also think this is a moment of turmoil and chaos culturally, and it will pass."
The journalist's October 23 report in The New Yorker featured 13 women alleging that Weinstein had sexually harassed or assaulted them. Three of the women in Farrow's exposé, including actress Asia Argento and Lucia Evans, claimed they were raped.
On October 5, the New York Times published the first stories about Weinstein; Farrow's was published less than a week later, on The New Yorker's website, then in the magazine. Since then, more than a hundred women have accused the former Weinstein Company co-owner of sexual misconduct.
Farrow's reporting, along with that of New York Times reporters Jodi Kantor and Megan Twohey, has been credited with encouraging women to share their stores. In the days following those first allegations, the social media campaign #MeToo began, and over 50 other famous and powerful men (to date) have been accused, including Kevin Spacey, Louis C.K., Charlie Rose, Matt Lauer, U.S. Senators Al Franken and John Conyers. All have seen their reputations destroyed; some have lost their careers.
Farrow noted that personal experience shaped his understanding of "some but not all" of what Weinstein's accusers were facing. In 1992, his older sister, Dylan Farrow, accused their father of sexually abusing her when she was seven years old. Woody Allen has long denied the allegations.
Although Farrow believes there is a chance that innocent men will become casualties of allegations, he was "really confident that as with so many moments of seismic change, we will reach an equilibrium eventually."