Ronda Rousey Reportedly Leaving WWE After WrestleMania 35
Update: A WWE rep told TMZ Sports, "Ronda Rousey is under contract with WWE until April 10, 2021. Whether she wants to start a family is a private matter."
Original Story
Ronda Rousey is reportedly expected to leave the WWE after WrestleMania 35 in April.
Dave Meltzer in his Wrestling Observer Newsletter wrote about rumblings backstage in the WWE that Rousey will finish her run in New York after WWE's biggest show of the year, WrestleMania 35 in April.
"There is a very good chance that Ronda Rousey will be finishing up with WWE at WrestleMania," Meltzer wrote. "There was a decent amount of talk this past week internally, since we heard it from several people, that Rousey would finish up at WrestleMania. That may not be decided as that aspect is just the feeling people had since it's the logical ending everyone came to based on the situation. As of today, this was the plan."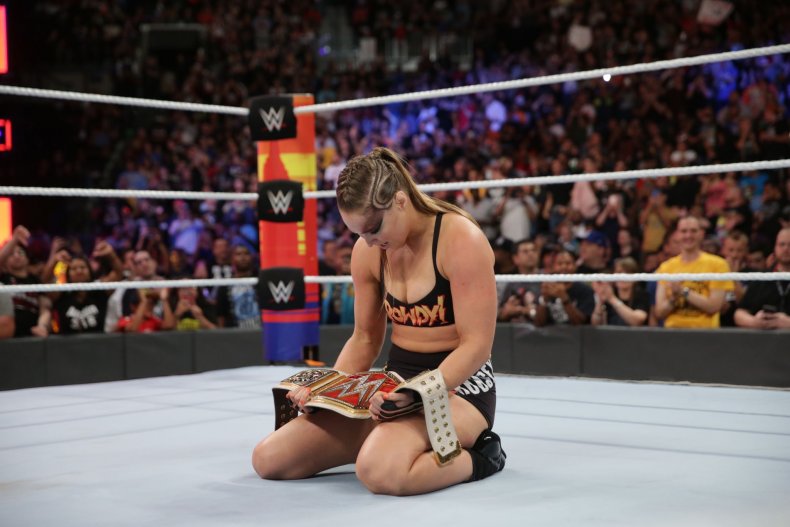 Ronda Rousey made her WWE in-ring debut at WrestleMania 34 when in a mixed-tag match with Kurt Angle against Triple H and Stephanie McMahon. In her short tenure in the company, Rousey became the RAW Women's Champion at SummerSlam in August, and now she takes the title into this Sunday's Royal Rumble event against Sasha Banks.
It's being reported that the WWE is setting up this WrestleMania to be the first time the female superstars main event the company's biggest show, with Ronda Rousey being a big part of the plan. Meltzer also reported that Ronda will face Becky Lynch at WrestleMania 35. However, some speculate that Charlotte will be a part of the match as well. The Women's Royal Rumble this Sunday will likely confirm this.
This Sunday's results will give a better picture on how WWE will handle Rousey, Charlotte and Lynch's paths to WrestleMania 35.
Rousey has expressed her desire to start a family with husband Travis Browne, a former UFC fighter. She posted a video on her YouTube channel in November sharing her feelings regarding her WWE run and how it takes up time with her family.
"Sometimes I feel like I can't do it all. I have to pick one thing. I can't wrestle forever because I feel like I'm failing my family," Rousey said. "I wouldn't be leaving home unless it was to do the most fantastic things ever and I really really do enjoy it and love it, but all that energy I spend on the WWE is energy I don't spend on my family."
WrestleMania 35 is set for Sunday, April 7 at MetLife Stadium in New Jersey.
What do you think of Ronda Rousey possibly leaving the WWE? Who do you want to see her face? Let us know in the comments section below.