Highlights From Ronda Rousey's Reddit AMA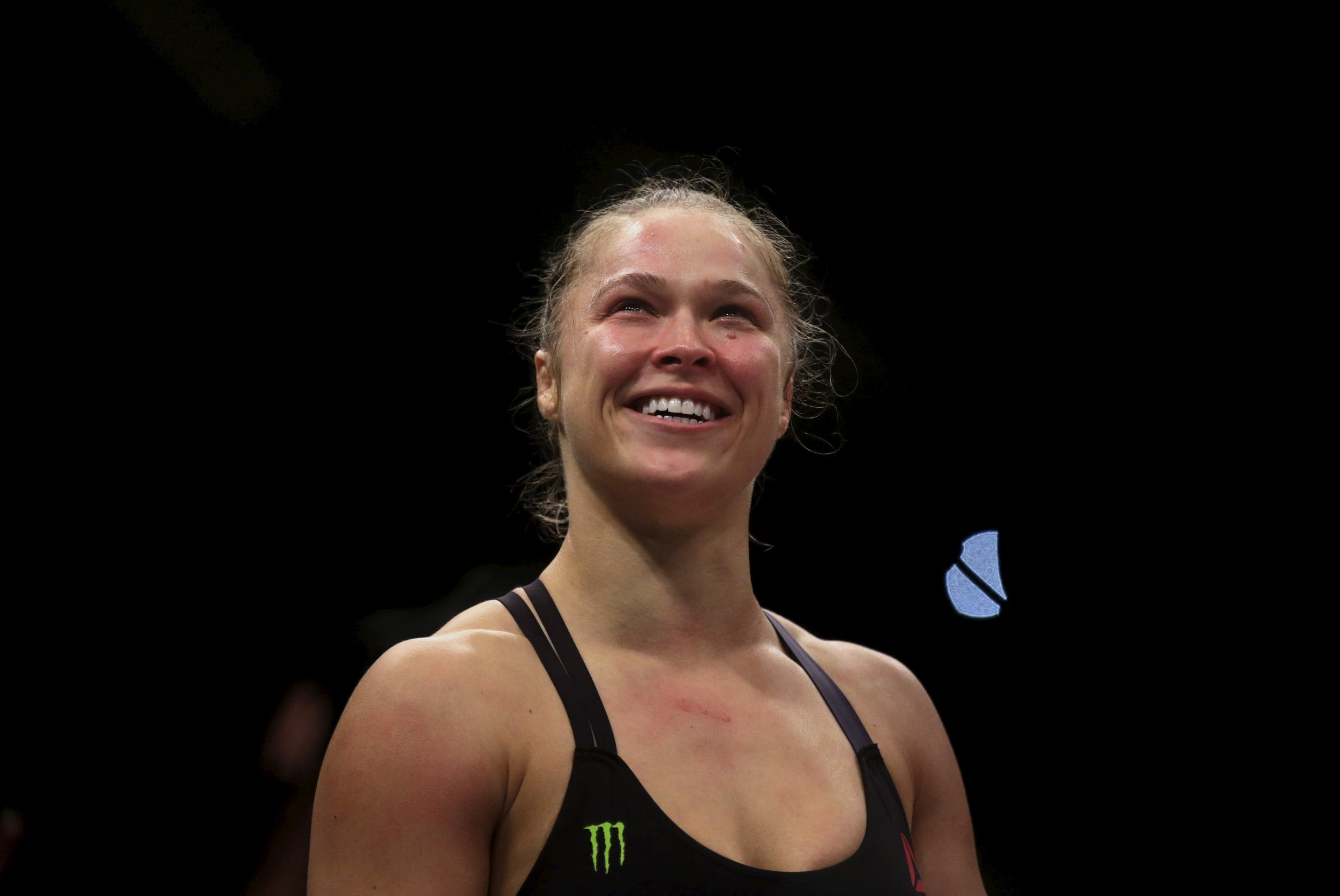 Ronda Rousey fights people for a living, and in her spare time she fights opposing Pokemon trainers. That's when she's not fighting...whatever it is you fight in World of Warcraft.
Rousey took to Reddit to field fan questions on Tuesday. Reddit users had about 35 seconds to post questions for the popular MMA fighter, who has skyrocketed to fame with an undefeated record, an ESPY for best fighter, appearances in film—well, if Entourage qualifies—and praise from other fighters of both sexes. Rousey introduced herself to the fans by saying "Ronda here. My favorite Pokemon is Mew." It was almost certainly harder for Rousey to catch Mew than it was for her to defeat Cat Zingano in 14 seconds.
Here's what else we learned from "Rowdy" Rousey's Reddit AMA.
She's Reading Game of Thrones
Rousey is making her way through the books, but apparently she's refraining from the TV show: "I'll shank a bitch who tries to give shit away about the series cause you watched the show already," she wrote. Her favorite character is Daenerys Targaryen, whom she called "the opposite of a DNB [Do Nothing Bitch]." If she was the head of a noble house in the medieval world of Thrones, her sigil would be—you guessed it: Mew.
She Decries the Historical Narrative of Manifest Destiny
When somebody asked what historical figure Rousey would choose to fight, she replied with Buffalo Bill. She blames William F. Cody for the appalling destruction of the American bison (whose plight is "near and dear" to her) and for America's violent treatment of Native Americans during westward "expansion." Both valid historical critiques, though not necessarily the sole fault of Buffalo Bill. She also said she could eat at least 60 buffalo chicken wings in one sitting.
Her Favorite Movie Is Leon: The Professional
She also likes Dragonball Z. But Goku is "a fucking goody-goody."
She Could Take Floyd Mayweather
"I fight for a living," Rousey wrote. While she thought that Mayweather would win in a structured boxing match, in a "no rules fight" she believes she could take anyone on the planet. No Newsweek reporters will be assigned to investigate.
But There's One Person She's Scared to Fight
This guy:
No, not Gerard Butler. The fucking giant.
She Has Overcome Childhood Apraxia of Speech
Rousey had some encouraging words for children dealing with CAS: "I'd like to tell any kid struggling with speech that anything can be overcome with hard work regardless of how insurmountable the odds seem. Shout out to all speech therapists." Thanks to her therapists, she said, she was never made to feel inferior while recovering from the disability.
"Speak Softly, and Knock a Bitch Out"
One Reddit user attributed this quote to Rousey. "I didn't say that," she clarified. "But it sounds like a good idea <3." Maybe that's why Cyborg doesn't want to get in the ring with her.
She Doesn't Have a Pump Up Fight Song
Rousey says that she needs complete silence in the locker room before a fight. No talking, no music, no cellphones. Not even a beep. Anyone violating this policy receives a "Rowdy Glare." She does have an entrance song, though: "Bad Reputation," by Joan Jett.
She Isn't Thinking About Her Increased Exposure
"I accept that I have NO control over my image already. So, I try not to let the state of my perception have any effect on my happiness. You can never truly know anyone through only media anyway. If anything, I just try to keep in mind that I'm an entertainer and not a politician or Miss America."
She Plays a Night Elf Hunter on World of Warcraft
She also has a blood elf rogue that she's working on leveling up. Whatever that means.